'Pitiful and patronising' excuses for lack of women in FTSE boardrooms revealed
'As you read this list of excuses you might think it's 1918 not 2018'
Samuel Osborne
Thursday 31 May 2018 19:01 Comments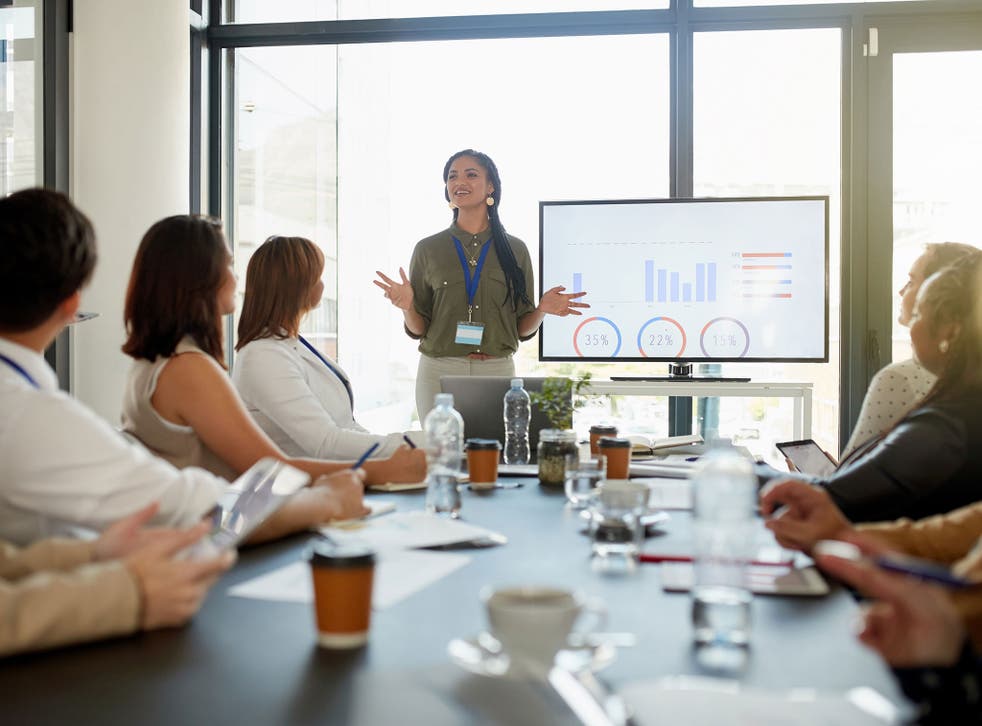 Women "don't fit in" to the boardroom environment or "don't want the hassle of top jobs", according to excuses given by leading businesses to explain why not enough women work in senior positions.
The business minister, Andrew Griffiths, accused businesses of using "pitiful and patronising excuses".
The excuses were revealed in a government-backed review of gender balance in the FTSE 350.
Mr Griffiths said: "It's shocking that some businesses think these pitiful and patronising excuses are acceptable reasons to keep women from the top jobs.
"Our most successful companies are those that champion diversity."
Among the excuses given were:
"I don't think women fit comfortably into the board environment"
"There aren't that many women with the right credentials and depth of experience to sit on the board – the issues covered are extremely complex"
"Most women don't want the hassle or pressure of sitting on a board"
"Shareholders just aren't interested in the make-up of the board, so why should we be?"
"My other board colleagues wouldn't want to appoint a woman on our board"
"All the 'good' women have already been snapped up"
"We have one woman already on the board, so we are done – it is someone else's turn"
"There aren't any vacancies at the moment – if there were I would think about appointing a woman"
"We need to build the pipeline from the bottom – there just aren't enough senior women in this sector"
"I can't just appoint a woman because I want to"
Amanda Mackenzie, chief executive of Business in the Community, said: "As you read this list of excuses you might think it's 1918 not 2018.
"It reads like a script from a comedy parody but it's true. Surely we can now tackle this once and for all.
"Maybe those that give credence to these excuses are the ones that are not up to sitting on boards and should move over: we are in the 21st century after all."
Business news: In pictures

Show all 13
The review was released on Wednesday by the Department for Business Energy and Industrial Strategy (BEIS) ahead of the Hampton-Alexander Review reaching its halfway mark in June.
In April, oil giant BP and retailer Sports Direct were among 35 of the UK's biggest companies taken to task for failing to meet targets to increase the number of women in the boardroom.
The Investment Association (IA) and the Hampton-Alexander Review wrote to 35 firms in the FTSE 350 who had no or low female representation on the board, calling for urgent action.
On Wednesday, BEIS said the number of male-only FTSE 350 company boards fell from 152 in 2011 to 10 in 2017.
The Hampton-Alexander Review has recommended a third of senior FTSE positions are filled by women by 2020.
The chairman of the review, Sir Philip Hampton, added: "Around a third of FTSE 350 companies still have very few women either on their boards or in senior leadership roles.
"We used to hear these excuses regularly a few years ago, thankfully much less so now.
"However, leaders expressing warm words of support but actually doing very little to appoint women into top jobs – or quietly blocking progress – are really not much better."
Additional reporting by PA
Register for free to continue reading
Registration is a free and easy way to support our truly independent journalism
By registering, you will also enjoy limited access to Premium articles, exclusive newsletters, commenting, and virtual events with our leading journalists
Already have an account? sign in
Join our new commenting forum
Join thought-provoking conversations, follow other Independent readers and see their replies