The world's most valuable brands revealed
The monetary value of Google's brand rose by 24 per cent last year to $109.5bn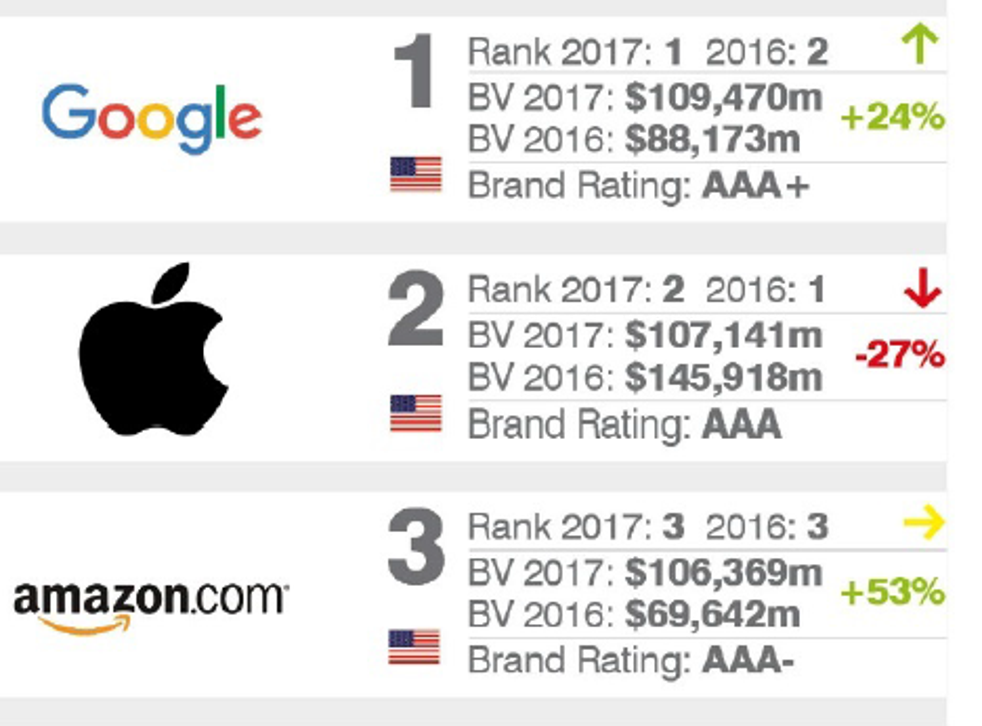 Google has snatched Apple's title as the world's most valuable brand, ending the iPhone maker's five-year reign.
According to a study by valuation and strategy consultancy Brand Finance, published on Wednesday, the monetary value of Google's brand rose by 24 per cent last year to $109.5bn, propelling it to the top spot for the first time since 2011.
Apple's value fell from $145.9bn in the previous year to $107.1bn.
"[Google] remains largely unchallenged in its core search business, which is the mainstay of its advertising income," Brand Finance wrote in its report.
David Haigh, chief executive officer of Brand Finance, commented that Apple has recently struggled to maintain its technological advantage over rivals.
"New iterations of the iPhone have delivered diminishing returns and there are signs that the company has reached a saturation point for its brand," he said.
"The Chinese market, where Apple has enjoyed a dominant market share, is becoming far more competitive with local players entering the market in a meaningful way."
But late Tuesday, before Brand Finance's sturdy was published, Apple posted forecast-beating results for the most recent quarter, reclaiming the throne as the world's top smartphone seller for the first time in five years – even beating arch rival Samsung.
Alphabet, Google's parent company, reported in January better-than-expected revenue for the most recent quarter thanks to a fast-growing cloud-computing business and booming YouTube video advertising, but profits were hit by a one-off tax payment.
The study of 500 brands deemed Amazon the third most valuable, at $106.4bn, followed by AT&T at $87bn and Microsoft at $76.3bn. Facebook claimed the ninth spot in the rankings with a value of a slither under $62bn.
In Wednesday's report Brand Finance also crowned Lego the world's most powerful brand, which is defined as one whose enterprise value is most positively impacted by the strength of its brand.
The study found that much of the Danish family-owned company's success is owed to its partnerships with the Star Wars, Harry Potter and Batman franchises.
Other brands that made it into the top five "powerful" ranking included Google, Nike, Ferrari and Visa.
Walt Disney, which nabbed the title of most powerful brand last year, fell to sixth place.
The world's most valuable brands

Show all 10
"This may be because its 2016 Star Wars release was a spin-off and less successful than 2015's reboot of the main franchise, one of the highest grossing films of all time," Brand Finance wrote in the report.
The company noted, however that it "remains a hugely powerful brand and will be closely watched during 2017 when the eighth instalment of Star Wars is released and could propel the brand up the rankings again".
Register for free to continue reading
Registration is a free and easy way to support our truly independent journalism
By registering, you will also enjoy limited access to Premium articles, exclusive newsletters, commenting, and virtual events with our leading journalists
Already have an account? sign in
Register for free to continue reading
Registration is a free and easy way to support our truly independent journalism
By registering, you will also enjoy limited access to Premium articles, exclusive newsletters, commenting, and virtual events with our leading journalists
Already have an account? sign in
Join our new commenting forum
Join thought-provoking conversations, follow other Independent readers and see their replies