Zero-carbon energy to power majority of UK's electricity generation for first time, says National Grid
Country reaches a 'tipping point' as green energy surpasses fossil fuels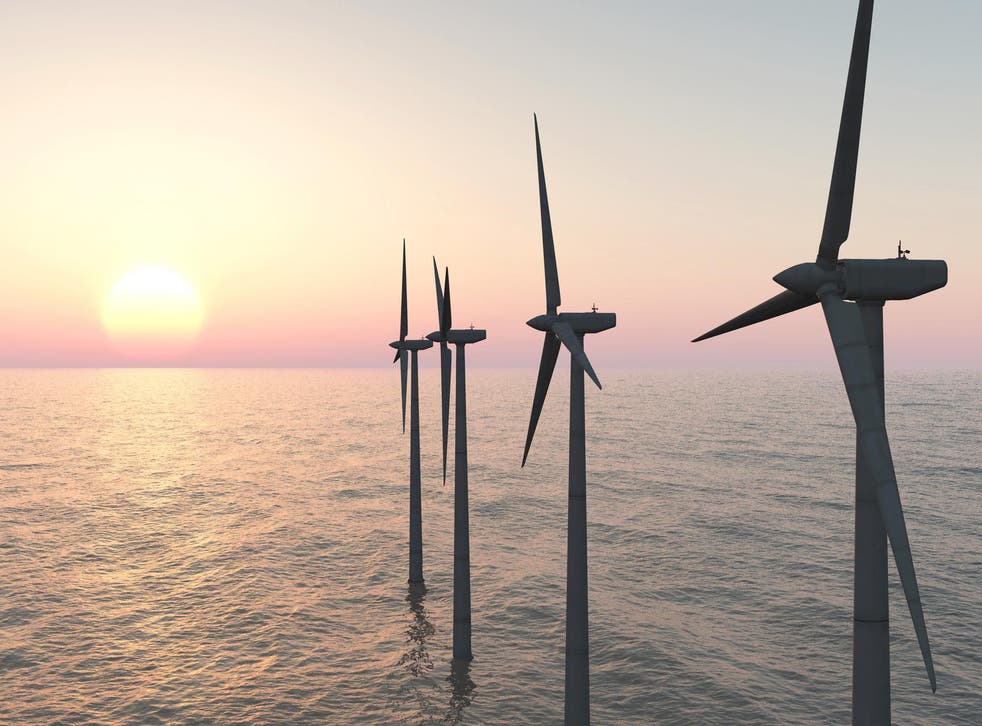 More UK electricity is to come from zero-carbon sources than from fossil fuels this year – the first time since the industrial revolution, according to the National Grid.
Wind, solar, nuclear and hydropower are on course to outstrip supply from coal and gas-fired power stations after the closure of a number of older plants in recent years and a rapid expansion in renewable capacity.
Green energy sources have more than doubled their contribution to Britain's energy mix from 22.3 per cent in 2009 to 47.9 per cent in the first half of 2019.
The country has now reached a "tipping point" on renewable energy, National Grid said.
John Pettigrew, chief executive of the utility firm, described this as a "key milestone" on the journey towards the net zero emissions target recently set out by the government.
Environment news in pictures

Show all 8
"The incredible progress Britain has made in the past 10 years means we can now say 2019 will be the year zero-carbon power beats fossil fuel-fired generation for the first time," he said.
"As the UK decarbonises and we've more intermittent wind, the opportunity – when we've got too much – to export to Europe means renewable sources will be better used and that's beneficial to consumers in terms of cost."
There are now just seven coal-fired power stations left in the UK, with the last one planned to close in 2025.
The dominant source of energy in the country has been in terminal decline for several decades, with the pace quickening since 2009. Coal now supplies just 2.5 per cent of national electricity needs, down from 30.4 per cent 10 years ago.
Meanwhile, the cost of renewables has tumbled, with onshore wind and solar power frequently cheaper than fossil fuels.
Onshore and offshore wind now account for 18.8 per cent of electricity generation, up from just 11.3 per cent a decade ago.
In May, Britain registered its first coal-free fortnight and generated record levels of solar power for two consecutive days, powering more than a quarter of the country's daily electricity consumption.
National Grid said innovative approaches including linking up Britain's electricity grid to neighbouring countries with more interconnectors would help cut carbon emissions in the future. An interconnector is a connection between the electricity transmission systems of different countries.
By 2030, Britain will have six interconnectors linking it up to other countries, and 90 per cent of the power they import will be zero-carbon – up from 63 per cent today.
These connections will allow British homes to use electricity generated overseas. They are forecast to cut carbon emissions from the electricity sector by 17 per cent by 2030.
Register for free to continue reading
Registration is a free and easy way to support our truly independent journalism
By registering, you will also enjoy limited access to Premium articles, exclusive newsletters, commenting, and virtual events with our leading journalists
Already have an account? sign in
Register for free to continue reading
Registration is a free and easy way to support our truly independent journalism
By registering, you will also enjoy limited access to Premium articles, exclusive newsletters, commenting, and virtual events with our leading journalists
Already have an account? sign in
Join our new commenting forum
Join thought-provoking conversations, follow other Independent readers and see their replies