Coronavirus: Oil producing nations agree unprecedented output cut in bid to boost prices
'Great deal for all!,' says Donald Trump as Saudi Arabia and Russia end price war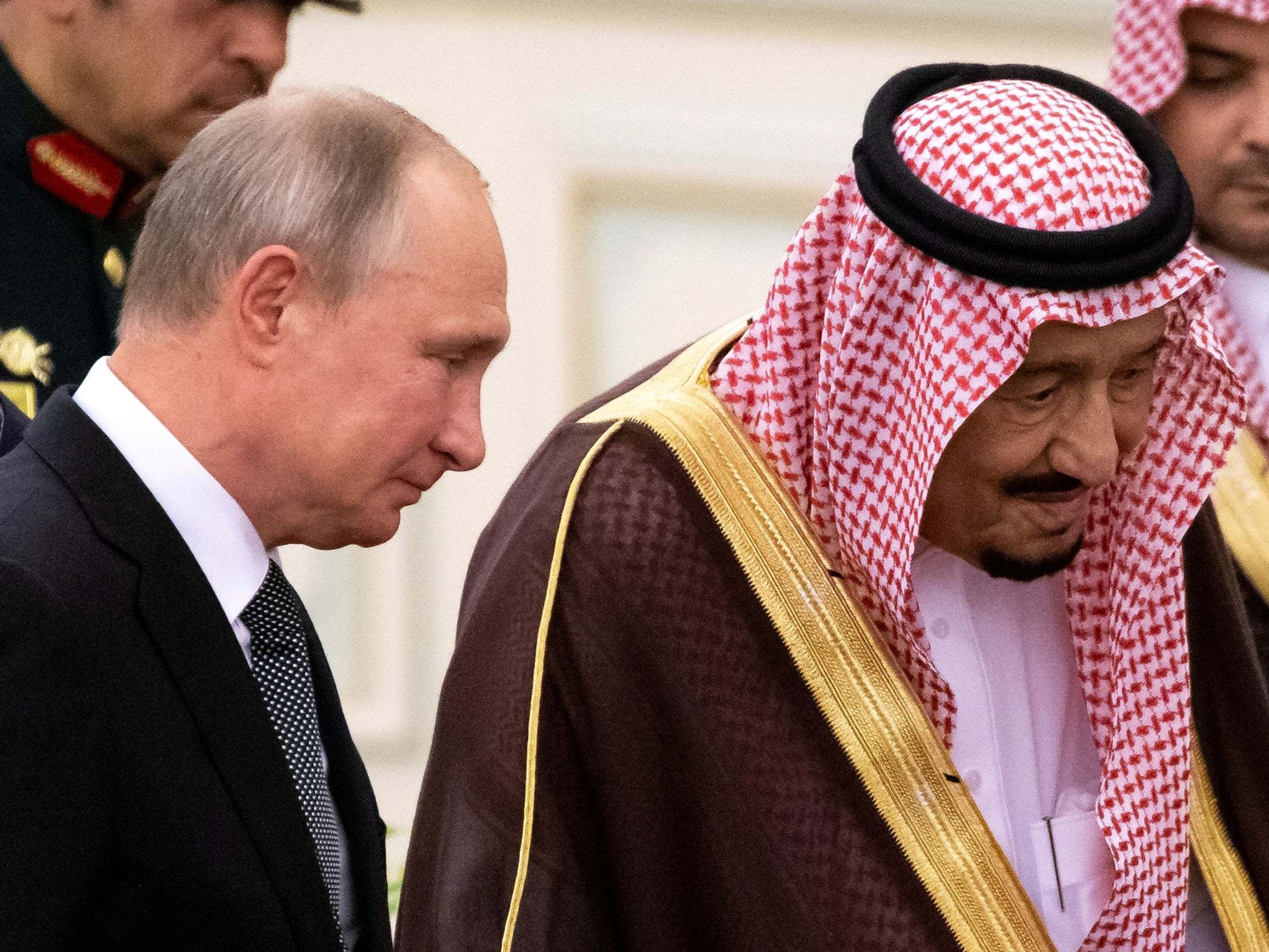 The world's major oil producers have agreed to slash output by a tenth in a bid to reverse a slump in prices amid the coronavirus pandemic.
Following a marathon video conference between 23 nations, the Opec cartel backed an unprecedented cut of at least 9.7 million barrels a day from next month.
The deal also brought an end to a price war between Saudi Arabia and Russia, which saw Brent crude, the key international oil price benchmark, fall to its lowest level in 18 years.
US president Donald Trump personally thanked the leaders of both countries, King Salman and Vladimir Putin, in a tweet hailing the "big oil deal".
He added: "This will save hundreds of thousands of energy jobs in the United States... Great deal for all!"
The Kremlin said Mr Putin held a joint call with US president Donald Trump and Saudi King Salman to express support for the agreement.
World news in pictures
Show all 50
And video aired by the Saudi-owned satellite channel Al-Arabiya showed the moment that Saudi energy minister Prince Abdulaziz bin Salman, a son of King Salman, assented to the deal.
"I go with the consent, so I agree," the prince said, drawing a round of applause from those on the video conference call.
Demand for oil has fallen by more than half in the past month as billions of people stay at home, companies cut back on production and airlines ground their fleets. It is expected to slump further as the world economy contracts and unemployment soars and analysts said the world economy had already entered a recession.
The new deal – which Opec said in a draft statement could amount to a total cut of 20 million barrels – was reached just hours before Asian markets reopen on Monday. Oil prices are trading at just over $31 (£25), up from a low of $22.58 two weeks ago.
It came after Republican senators from oil-rich states who recently introduced legislation to remove American troops from Saudi Arabia urged the kingdom to cut crude oil output.
"They've spent over the last month waging war on American oil producers while we are defending theirs. This is not how friends treat friends," said Kevin Cramer, a Republican senator from North Dakota, before the Opec deal.
"Frankly, I think their actions have been inexcusable and they are not going to be easily or quickly forgotten. Whether we can even have a strategic partnership will depend largely on their next steps."
One sticking point in the deal was resolved after Opec agreed Mexico would only have to reduce its output by 100,000 barrels for two months.
The Mexican president, Andres Manuel Lopez Obrador, said the US president had agreed to compensate for Mexico's smaller cut.
Iranian oil minister Bijan Zanganeh told state television that Kuwait, Saudi Arabia and the United Arab Emirates had agreed further cuts on top of the Opec deal to help rebalance the markets.
"The minister of Saudi Arabia said that the Saudi Arabia, Kuwait and the UAE agreed to reduce more two million barrels than the agreement voluntarily," Mr Zanganeh said. "We hope that the market returns to a balanced way."
Nigeria's Petroleum Resources Ministry said in a statement that the the deal involved an 8 million barrel per day cut from July through the end of the year and a 6 million barrel cut for 16 months beginning in 2021.
"This will enable the rebalancing of the oil markets and the expected rebound of prices by $15 per barrel in the short term," the ministry said in a statement.
Analysts offered a cautious welcome for the deal but said it may not be enough. "This is at least a temporary relief for the energy industry and for the global economy," said Per Magnus Nysveen, the head of analysis at Rystad Energy.
"Even though the production cuts are smaller than what the market needed and only postpone the stock building constraints problem, the worst is for now avoided."
Additional reporting by agencies
Join our commenting forum
Join thought-provoking conversations, follow other Independent readers and see their replies