Power List 2015: The 50 most influential people in the world
For better or worse, these people's decisions affect millions, shake industries, and change nations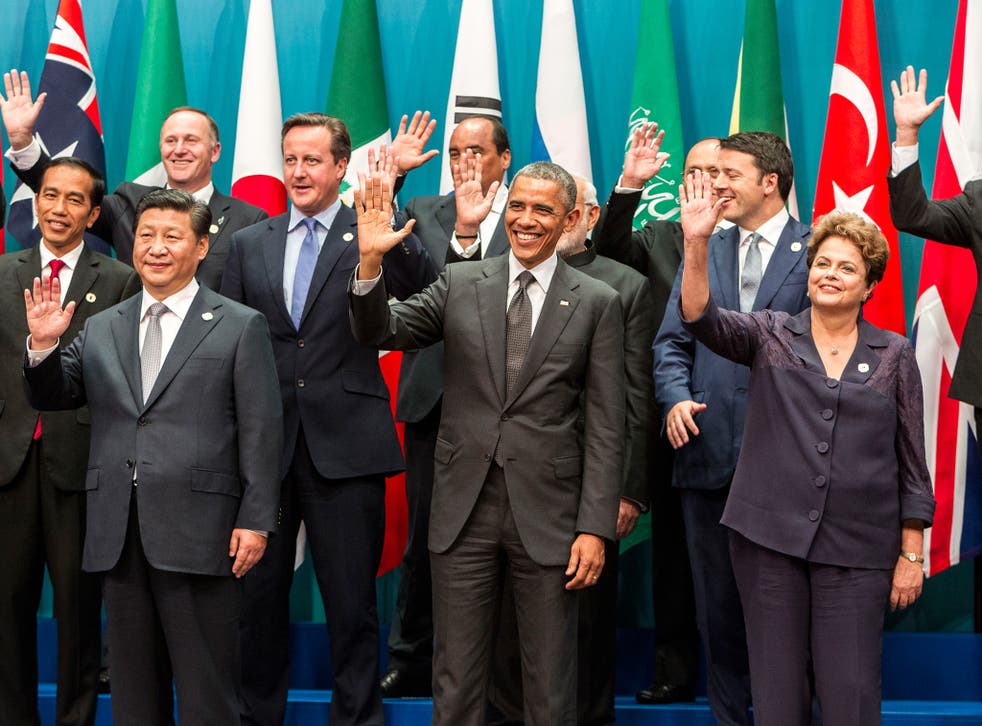 It isn't just wealth. And it isn't just control over people or resources. No, true power is a potent combination of money and influence that enables people to help shape the world. But only a select group of people really possess the economic and political clout to effect global change. For better or worse, their decisions affect millions, shake industries, and change nations.
Business Insider has compiled the following list of the world's most powerful people — heads of state, billionaires, CEOs, and entertainers. To determine the ranking, we considered more than 100 of the most influential players in business, politics, and entertainment, and we evaluated their influence by using metrics in four major areas: economic power, command, newsworthiness, and impact — a subjective measure that captures how important they are in their respective spheres.
Because the majority of these people span several industries, we took the logarithm of each and mapped those logarithms to a standardized scale, which allowed BI to combine the metrics. (See the full methodology here.)
US President Barack Obama, leader of the world's chief superpower, takes top honours, followed by Chinese President Xi Jinping, ruler of the a country making a serious challenge to US supremacy. Read on to see the full list of the world's 50 most powerful people right now:
Editing by Alex Morrell with additional research by Andy Kiersz
50. Jay Z and Beyoncé​
Titles: Singer (Beyoncé), rapper and entrepreneur (Jay Z)
Country: US
Age: 34 (Beyoncé), 45 (Jay Z)
Music's biggest power couple, Beyoncé and Jay Z turn nearly everything they touch into gold, which has helped them mint a combined fortune of $950 million.
Beyoncé shocked the music industry in 2013 when she released an album on iTunes without promotion — it went on to sell over 5 million copies thanks to hits like "Drunk in Love" and "Partition."
Jay Z is consistently one of the highest earners in music, reportedly raking in $56 million last year through his many ventures, including his Roc Nation music label and its sports division. Though his streaming service, Tidal, encountered some turbulence — the hip-hop mogul himself forgot he owned it — Jay Z is still just about everywhere in the entertainment industry.
49. Mukesh Ambani
Title: Chairman, managing director of Reliance Industries
Country: India
Age: 58
Mukesh Ambani took over as the chairman of Reliance Industries when his father, the company's founder, Dhirubhai Ambani, died in 2002. The enormous industrial conglomerate generates $61 billion in annual sales from its interests in energy, petrochemicals, textiles, natural resources, retail, and, more recently, telecommunications.
Ambani is the richest person in India with a personal fortune of over $23 billion. He owns a 27-story Mumbai mansion that cost $1 billion to build.
And if Ambani's projections for India's economy prove correct, expect that net worth to soar. Four years ago, Ambani predicted that India would grow from a $1.4 trillion economy in 2011 to a $30 trillion economy by 2030 — a bullish estimate considering that India's GDP today stands at $2.2 trillion.
48. Joaquín 'El Chapo' Guzmány
Title: Sinaloa Cartel leader
Country: Mexico
Age: 60
Mexican drug lord Joaquín "El Chapo" Guzmán is perhaps the wealthiest and most notorious gangster on the planet, with a net worth of $1.1 billion. The leader of the infamous Sinaloa Cartel, El Chapo has been accused of importing over 180,000 kilos of cocaine into the US. Drug-enforcement experts estimate his cartel's annual revenues at greater than $3 billion.
Cunning and evasive, El Chapo escaped from a Mexican prison in July (not for the first time) by way of a labyrinthine tunnel he may have paid $50 million in bribes and construction costs to have built. The US State Department is offering a reward of up to $5 million to anyone with information leading to his arrest.
47. Rupert Murdoch
Title: Executive chairman, 21st Century Fox and News Corp.
Country: Australia
Age: 84
Though he announced in June that he'll be stepping down as CEO of 21st Century Fox, the media company he cofounded, Rupert Murdoch will stay on as the executive chairman of one of the largest mass-media empires in the world.
Murdoch has recovered from the 2011 News Corp. phone-hacking debacle, which The Economist suggests may have even left him better off since he and his family have more than doubled their wealth since the scandal. He's now worth $13 billion. The Australian media mogul remains hungry for premier media properties, buying a majority stake in the established nature magazine National Geographic in September. He wasted no time cutting staff by 9%.
46. Sheldon Adelson
Title: Chairman, CEO of Las Vegas Sands
Country: US
Age: 82
The "King of Las Vegas" is expected to dole out millions by this time next year, taking a gamble on one of his favorite things: politics. The casino magnate, who owns 13 private jets, is a staunch supporter of the Republican party, famously donating tens of millions from his $25 billion fortune to past candidates such as Newt Gingrich.
For his day job, he runs Las Vegas Sands — parent of the Venetian Resort and Casino and Sands China, a subsidiary that's planning to open its fifth casino in Macau next year. And while Adelson's vision to make China the gambling capital of the world isn't outlandish considering his industry dominance, it may not pan out under political restrictions and President Xi Jinping's push to make Macau a family-friendly destination. Amid the flux, Sheldon's fortune has reportedly lost several billions in the past year after a 25% decline in the price of Las Vegas Sands stock.
45. Benjamin Netanyahu
Title: Israeli prime minister
Country: Israel
Age: 66
Reelected this year as the prime minister of Israel, Benjamin Netanyahu recently compared the Middle East to "Game of Thrones." It isn't a game he's always played well — disputes over the Iran deal and the Israeli-Palestinian conflict have left US-Israeli relations at a crisis point. But Israel has remained relatively stable during a time of turmoil throughout the Middle East, and Netanyahu has dominated his country's politics like few Israeli leaders.
Overall, many say that Netanyahu has done a good job of boosting Israel's economy and putting the country at the forefront of technological and medical advances. Even so, the fallout over the Iran nuclear deal, and his strained relations with Washington, don't fare well for his legacy.
44. Ginni Rometty
Title: Chairman, CEO of IBM
Country: US
Age: 58
Last year, IBM CEO Ginni Rometty had to break some tough news: The tech company would beabandoning its years-long promise to hit $20 earnings per share by 2015. But the company's top leader has hatched a new plan: IBM will invest $4 billion to grow $40 billion in revenue in areas such as cloud computing, mobile, and big data by 2018. The plan would nearly double what IBM is making in these markets now, though it also means straying from the hardware focus that's defined IBM for decades.
Rometty's mandate is to keep one of tech's most iconic companies — which employs 380,000 people, on par in size with the population of New Orleans — relevant and profitable for the long haul, even if it means changing some of the most fundamental things about the company. The IBM lifer isn't apologizing for adapting. "Reinvention is not about protecting your past," she said at the Fortune Global Forum earlier this year.
43. Robin Li
Title: Baidu CEO
Country: China
Age: 46
There's a trio of internet kings in China, collectively known as "BAT" — Baidu, Alibaba, Tencent. For his part, Robin Li commands the market in internet search as the chairman and CEO of Baidu, China's Google equivalent.
As with Google, Li's Baidu is constantly investing in the future. In May, Baidu announced a partnership with Daimler, the maker of Chinese Mercedes-Benz, to provide software for their cars that allows drivers to access content from their smartphones. And in conjunction with BMW, Baidu is building a self-driving car prototype that it hopes to reveal by year-end.
Li, whose net worth is upwards of $11 billion, also said this year that his company would invest $3.2 billion in "online to offline" services, which allow mobile users to perform traditionally non-digital tasks such as buying movie tickets, hailing cabs, and finding deals at restaurants.
42. Park Geun-hye
Title: President of South Korea
Country: South Korea
Age: 63
South Korean President Park Geun-hye is the first female leader of her country — an especially impressive accomplishment considering South Korea has the highest level of gender inequalityin the developed world. Her election generated the nation's highest turnout rate in 15 years.
Park has the difficult but critical responsibility of diffusing threats from the ever-combative North Korea. Last year, she tried to get her mercurial neighbors to the north to abandon their nuclear-weapons program by promising humanitarian aid and an investment in its weak industries, but to no avail. Park has flexed her muscles by testing missiles that can reach all of North Korea, but Kim Jong-un hasn't blinked, and hasn't quashed any nuclear ambitions.
41. Steve Schwarzman
Title: Founder, CEO of Blackstone Group
Country: US
Age: 68
Steve Schwarzman is the unparalleled king of private equity, with a fortune of $11 billion that includes splashy homes in Manhattan, the Hamptons, Jamaica, and Saint-Tropez. His vaunted buyout firm Blackstone Group is the largest on earth, with $334 billion in assets under management, and it has completed some of the most high-profile acquisitions in the industry. The company's $26 billion leveraged buyout of the Hilton hotel chain in 2007 is considered by some the most profitable of all time.
Schwarzman had a short but prosperous career with investment bank Lehman Brothers before leaving in 1985 to start Blackstone with ousted Lehman CEO Peter Peterson. They opened shop with $400,000, but Schwarzman gained a reputation as savvy and lucrative dealmaker, and Blackstone grew into a juggernaut. In 2014 it generated a record $7.5 billion in revenue. Never satisfied, Schwarzman wants Blackstone to double in size in the next eight years. Schwarzmandonated $150 million in May to build a student commons at Yale.
40. Ban Ki-moon
Title: UN secretary-general
Country: South Korea
Age: 71
As the secretary-general of the United Nations, Ban Ki-moon leads its 193 international member nations in fighting for peace and safety worldwide. Throughout his tenure, Ban has worked to support unstable countries with UN peacekeeping efforts, promote sustainable development to lessen climate change and poverty, and empower women worldwide. His position gives him the authority to determine how and where the UN uses its resources and allows him to facilitate conversations between world powers.
Most recently, Ban led the 70th annual meeting of the UN General Assembly, one with the highest attendance in years. He adopted new UN goals for the next 15 years, with a focus on eradicating poverty and preserving the planet.
39. Satya Nadella
Microsoft
Title: CEO, Microsoft
Country: US
Age: 48
Since becoming Microsoft's third CEO last year, Satya Nadella has been busy helping the technology company become relevant again. While Microsoft is still a software giant — it pulls in $95 billion in sales — it's far from its former glory as tech's innovative, undisputed leader.
But Nadella, a Microsoft veteran of 23 years, has made significant progress in rejuvenating the company: He successfully released Windows 10, a huge hit that attracted over 110 million users in three months; he converted Microsoft rivals like Salesforce and Oracle into partners; helaunched Microsoft into the growing Internet of Things market with a new database, cloud service, and big-data analysis service; and he oversaw Microsoft's biggest layoff round everwhile still maintaining his likability among employees.
38. Elon Musk
Title: CEO, Tesla and SpaceX
Country: US
Age: 44
The man who believes there's "no such thing as business, only the pursuit of a goal" has invested in, founded, or run 18 companies to date, including two of the most innovative technology firms in America: Tesla Motors and SpaceX. It was a big year for both companies, with retail deliveries of the Tesla Model X crossover vehicle starting in September and the launch (and failure) of a SpaceX rocket bound for the International Space Station in June. Anticipation is already high for the mass-market Model 3 sedan, which Tesla plans to unveil next March, and another SpaceX supply launch set for December.
Musk, who first hit it big cofounding PayPal in the late 1990s, has a growing fortune of more than $11 billion that enables him to experiment with technology of the future. In January, he announced via Twitter that he would build a five-mile Hyperloop test track to invite students and companies to test out their ideas for the high-speed transportation system. He alsodonated $10 million to the Future of Life Institution this year to keep artificial intelligence safe and beneficial to humans.
37. Larry Ellison
Title: Founder, executive chairman of Oracle
Country: US
Age: 71
Oracle's billionaire cofounder Larry Ellison stepped down as the company's CEO last year but hasn't pumped the brakes: He still serves as chairman and CTO of the $38 billion (sales) database and software titan. Ellison announced plans this year for Oracle to take over as the primary provider of cloud-computing products and services, revealing at the company's tech conference in October that 20% of its customers — and counting — bought tech via the cloud rather than traditionally.
Ellison, who routinely ranks as one of the 10 richest people in the world, holds a fortune of nearly $50 billion and a growing real-estate portfolio that spans the globe. His latest side project? Reviving the sport of tennis through investments at the "fifth grand slam" site in Indian Wells, California, and as lead sponsor for the Intercollegiate Tennis Association. Ellison is determined to "restore tennis to prominence in the US and make the game more profitable globally" — something he also recently accomplished with sailing.
36. Oprah Winfrey
Title: CEO, OWN
Country: US
Age: 61
Worth nearly $3 billion, Oprah Winfrey is the only black female billionaire in the US. Despite a traumatic upbringing of living in poverty and enduring years of physical and sexual abuse, Winfrey became one of the most successful and beloved media personalities of the 21st century.
Winfrey is the founder of the award-winning production studio Harpo Productions — responsible for the 2014 critical darling "Selma" — and the Oprah Winfrey Network. She also owns the "The Oprah Winfrey Show," which brought in $300 million a year at its peak. She's a top cultural influencer, particularly among women, with a book club that is followed with cult-like dedication and an annual "favorite things" gift guide. Recently, she also extended the "Oprah effect" to the weight-loss industry when she bought a 10% stake in Weight Watchers in October and caused the stock to jump 105% as a result.
35. Christine Lagarde
Title: Managing director of the IMF
Country: France
Age: 59
Appointed managing director of the International Monetary Fund in 2011, Christine Lagarde is the first woman to head the organization, which serves as the economic adviser and backstop for 188 countries.
Along with the European Central Bank and the European Commission, the IMF under Lagarde has been preoccupied with propping up Greece's failing economy, which has required three bailouts in five years, the latest coming in August and requiring $95 billion of aid.
In November, Lagarde endorsed the Chinese yuan as an IMF reserve currency — a historic move that, if approved, would further cement China's rise as a top economic power.
34. Rex Tillerson
Title: CEO of Exxon Mobil
Country: US
Age: 63
Rex Tillerson runs the world's largest publicly traded oil company, commanding about 75,000 employees and generating nearly $400 billion in annual sales. But the oil industry can be a beast of its own, regardless of a company's size.
After a joint venture in the Arctic Sea between Exxon Mobil and the Russian firm Rosneft went up in smoke because of sanctions against Russia, Tillerson said in March that Exxon had been compensating by cutting costs and ramping up production in US shale fields. The company alsocame under investigation in November after reports suggested the company had for decades lied to the public about climate-change data.
The lifelong Texan and Exxon employee will reach the company's mandatory retirement age of 65 in 2017, but until he steps down, Tillerson retains control over one of the wealthiest and most influential companies on the planet.
33. Michael Bloomberg
Title: CEO of Bloomberg LP
Country: US
Age: 73
Michael Bloomberg is back — and he's making sure his presence is known. After leaving Bloomberg LP, the financial data and media giant that he founded in 1981, and spending 12 years as mayor of New York City, Bloomberg was expected to devote his time to giving away his immense fortune, which stands at $42 billion. Instead, Bloomberg made waves by returning to the helm of his company in 2014, effectively ousting CEO Dan Doctoroff.
Bloomberg didn't return as a figurehead — he immediately began shaking up the company. The newsroom saw layoffs, a management overhaul, and a website relaunch — as well as the exits ofnews head Matthew Winkler and top digital editor Joshua Topolsky — as Bloomberg flexed his authority over the company.
The former mayor has had less luck asserting his vision over public policy. Though he effectively instituted a smoking ban in New York City, his efforts to eradicate big sodas fizzled out in the courts last year. He has pledged $50 million to combat the NRA, though little progress has been made on gun control thus far.
32. Ali Khamenei
Title: Supreme Leader of Iran
Country: Iran
Age: 76
Ayatollah Ali Khamenei, who has been the ultimate authority in Iran since 1989, is openly opposed to Western influence in both his country and the broader Middle East. A hardliner even within Iran's clerical regime, Khamenei has long championed the slogan "Death to America," and he has sought to position Tehran as both a geopolitical and ideological enemy of the US and Israel.
After over 18 months of negotiations, Khamenei conditionally agreed to a landmark nuclear deal reached with six world powers this past July. The deal outlines Iran's promise to curb its nuclear program in exchange for the US and its partners lifting economic sanctions. The agreement is set to open Iran's economy to outside investment and has generally raised the prestige of Khamenei's government, which is quickly shaking its status as one of the world's pariah states.
31. King Salman bin Abdulaziz al Saud
Title: King of Saudi Arabia
Country: Saudi Arabia
Age: 79
Salman bin Abdulaziz al Saud took the throne as king of Saudi Arabia in January after the death of his half brother. His short tenure hasn't been without controversy: Eight of the 12 surviving sons of the country's founding monarch reportedly support a coup to oust King Salman and replace him with his younger brother, Prince Ahmed bin Abdulaziz, a sign tensions are at a high within the royal family.
But as the leader of Saudi Arabia, King Salman wields incredible influence over the Middle East and his country's massive oil reserves. Even with oil at historically low prices, Saudi Arabia — the world's largest oil exporter — continues to ramp up production to depress prices and protect its global market share, despite the negative impact it has on the global oil economy.
30. Dilma Rousseff
Title: President of Brazil
Country: Brazil
Age: 67
Dilma Rousseff, Brazil's first female president, leads the largest country in Latin America and the seventh-largest economy in the world. Rousseff is credited with nearly eradicating extreme poverty in Brazil during her first term by raising the monthly stipend for struggling families.
But Rousseff has hit a rough patch lately, and it appears to be getting worse. Protests broke out and gained traction in March in part because of Brazil's crumbling economy. The country's growth has plummeted — low commodity prices, high interest rates, and austerity measures are partly to blame — and it officially entered a recession in 2015. The value of its currency devalued by 45% this year through mid-November.
Also contributing to her near record-low approval rating: A group of high-profile lawyers filed for the impeachment of Rousseff in October in connection to the corruption scandal involving the state-run oil company Petrobras (Rousseff has maintained her innocence).
29. Wang Jianlin
Title: Chairman of the Dalian Wanda Group
Country: China
Age: 61
Wang Jianlin is one of the richest self-made billionaires in the world, claiming a fortune of $33.5 billion. The real-estate mogul, who served in the Chinese military from 1970 to 1986 before going into business, has his hands in dozens of sectors and his name on hundreds of companies, including the yacht maker Sunseeker and the US-based AMC Entertainment. His wealth has nearly doubled after last year's initial-public-offering listings of his companies Wanda Commercial Properties — China's largest property developer — and Wanda Cinema Line, cementing his title as the richest person in China.
In early 2015, Wang purchased a 20% stake in the Spanish soccer club Atlético Madrid for $52 million, adding athletics to his already diversified portfolio of more than 200 luxury hotels, movie theaters, shopping malls, and karaoke bars across China. Later this year he continued his investments in the global sports industry by purchasing the World Triathlon Corporation, parent company of the iconic Ironman triathlon, for $650 million.
28. Tim Cook
Title: CEO of Apple
Country: US
Age: 54
Tim Cook runs the most valuable company on the planet in Apple, which is worth $645 billion. Under Cook's continued direction as CEO, 2015 has been one of the company's best years yet.
Chief among Cook's 2015 successes has been the launch of Apple Music, the company's music-streaming service. The service went live in June and as of October counted 6.5 million paid subscribers and another 8.5 million people using the free trial service. And the iPhone is more popular than ever. At the company's annual fall event, Cook unveiled the iPhone 6s and iPhone 6S Plus, which sold 13 million in the first weekend, shattering previous records. Lately, Cook has been alluding to a forthcoming "massive change in the auto industry," sparking rumors that an Apple Car is on the horizon.
Cook was presented with the Human Rights Campaign Visibility Award this year where he spoke about his deeply personal decision to come out as gay: "I wanted to lend my voice to people who might not be ready to exercise theirs," he said.
27. Amancio Ortega
Title: Founder of Inditex
Country: Spain
Age: 79
Billionaire Amancio Ortega may keep a low profile, but his control of the Spanish fashion behemoth Inditex makes him one of Europe's most powerful business executives. He is also the second-richest man in the world, with a net worth that exceeds $73 billion, and by some estimates he even surpassed Bill Gates as the richest person in the world earlier this year.
His surge in wealth is directly tied to Inditex's rapid growth. The company reported a sharp rise in sales and profits and nearly 100 new stores in September, hitting a $100 billion valuation. The company now has nearly 6,800 stores worldwide. The secret to this success is the fast-fashion giant Zara, the company's biggest brand. The chain is changing the landscape of retail as its chic yet affordable designs continue to appeal to demanding customers who constantly crave new styles at low prices.
26. Rob and Jim Walton
Titles: Board members and controlling shareholders of Walmart
Country: US
Ages: 71 (Rob) and 67 (Jim)
Rob and Jim Walton control perhaps the most powerful company on earth in the mega-retailer Walmart, which employs 2.2 million people in 28 countries and generates annual revenues of $486 billion. Combined, the Walton brothers' fortunes are worth more than $60 billion.
Their father, founder Sam Walton, warned his children not to sell their stakes and to keep the company under family control, writing in his book, "If you start any of that foolishness, I'll come back and haunt you." Sam and Rob have heeded his wishes. While neither manages day-to-day operations, both sit on the board, and the company remains majority-owned by the Walton family.
Rob stepped down as chairman of the company in June 2015 after 23 years on the job, and his son-in-law Gregory Penner succeeded him. The company, long maligned for its low pay,announced in February 2015 it would increase wages for 500,000 US employees.
25. Carlos Slim Helú
Title: Founder of América Móvil and Grupo Carso
Country: Mexico
Age: 75
The richest man in Mexico, Carlos Slim Helú owns more than 200 companies in his home country — a conglomerate known as Slimlandia. He's also one of the wealthiest self-made people in the world, with a net worth of at least $27 billion.
His interests lie in the financial, industrial, telecommunications, and media sectors, and he invested $4 billion in 2015 to further expand his empire in Mexico. A savvy investor, Slim Helú bought a 6.4% stake in the New York Times for $127 million in 2008 after the stock had cratered, making him the largest shareholder. He has since increased his ownership to 17%, a stake worth $365 million thanks to The Times' resurgence.
24. Mario Draghi
Title: President of the European Central Bank
Country: Italy
Age: 67
As president of the European Central Bank since 2011, Mario Draghi has made major strides toward lifting the 19-country eurozone out of its recession. This year he launched a massive stimulus program to purchase $64.2 billion a month in government bonds from eurozone countries — a strategy he says will continue at least through September 2016.
With the value of the euro continuing to decrease, Draghi said last month that the ECB planned to reevaluate the program before the end of the year, signaling that more quantitative easing — the controversial monetary policy in which central banks increase the money supply to encourage lending and stimulate the economy — could be in the future.
Draghi, a Goldman Sachs vet and former governor of the Bank of Italy, has also played a key role in preventing a widespread financial crisis stemming from Greece's ailing economy, which has continued to teeter on the brink of insolvency despite three bailouts in five years from the ECB, the IMF, and the European Commission. The latest debt-relief package, approved in August and worth $95 billion, helped prevent Greece from exiting the Eurozone.
23. Jack Ma
Title: Founder and CEO of Alibaba
Country: China
Age: 51
The second-richest person in China, Alibaba founder and CEO Jack Ma broke records with the e-commerce company's $25 billion initial public offering in 2014 — the world's largest ever. Post-IPO, however, Alibaba's good fortune began to slip. The company's shares dropped throughout 2015 and were down 25% through November, most likely in part because of China's slowing economy and concerns over counterfeiters using the company's platform.
Ma, who has a net worth of more than $25.6 billion, isn't worried, though. Alibaba remains dominant in one of the world's biggest markets, and he says the West's concern over China's economic slowdown is an "overreaction." In fact, Ma believes China is in the midst of an economic transition — one Alibaba will no doubt help facilitate — and will come out stronger.
22. Li Ka-shing
Title: Chairman of CK Hutchison Holdings
Country: China
Age: 87
Despite humble beginnings, business magnate Li Ka-shing has become the wealthiest man in Hong Kong, with a net worth estimated at more than $21 billion. After his father died of tuberculosis, Li dropped out of school at age 16 to support his family, working in a factory making plastic flowers. Six years later he opened his own factory, the predecessor to what's known today as CK Hutchison Holdings, a vast business empire with interests in real estate, manufacturing, energy, telecommunications, and technology. A savvy investor, Li with his venture-capital fund Horizon Ventures has backed companies like Facebook, Skype, Spotify, and the egg-replacement food startup Hampton Creek.
This year Li reorganized his business affairs under two new listed companies, one entity for property holdings and another for all other global assets. The move is most likely in preparation to hand over control of his empire to his son, but the 87-year-old doesn't have any plans of slowing down quite yet.
21. Sergey Brin
Title: Cofounder, president of Alphabet
Country: US
Age: 42
Along with fellow cofounder Larry Page, Sergey Brin helped orchestrate Google's massive restructuring, announced in August. The move made Google a subsidiary of a new holding company called Alphabet, run by Brin as president and Page as CEO. All of Google's other ventures, such as Nest and Google X, are now separate companies under the Alphabet umbrella as well. The tech conglomerate generated $66 billion in sales in 2014.
The restructuring frees the founding duo from the nitty-gritty details of running the massive company, instead allowing them to focus on exploring inventive new "moon shot" projects and ideas. With top talent and an abundance of resources at their disposal, the company has already made automated homes and self-driving cars a reality.
Brin, who emigrated from Moscow to the US as a child, connected with Page in 1995 at Stanford, where they were each pursuing a Ph.D. They founded Google three years later, and today Brin and Page have personal fortunes of $38 billion and $42 billion today, respectively.
20. Jamie Dimon
Title: Chairman, CEO of JPMorgan Chase
Country: US
Age: 59
For a decade now Dimon has helmed JPMorgan Chase, the largest commercial bank in the US with $2.6 trillion in assets, and during his tenure he's become one of the most respected voices in finance. His performance has also made him one of the few bank CEOs to become a billionaire.
Dimon attained Wall Street rock-star status after the financial crisis. No major bank weathered the collapse as well as JPMorgan did under Dimon's guidance, earning him praise for the company's "fortress balance sheet" and ability to make a profit amid the downturn. But his reputation took a hit in 2012 with the more than $6 billion loss incurred by the London Whale trading scandal, which resulted in stiff fines and a slew of lawsuits, some still ongoing. JPMorgan remains exceptionally profitable though, reporting record earnings of $21.8 billion in 2014.
He has recovered from a recent bout with throat cancer, and he said in September he's not planning on retiring anytime soon.
19. Larry Fink
Title: Founder, CEO of BlackRock
Country: US
Age: 63
Few have more responsibility for the US's economic well-being than Fink — CEO of BlackRock — the world's largest asset-management firm.
After rising to prominence and then flaming out on Wall Street — he was forced out at investment bank First Boston after losing $100 million on a poor interest-rate bet — he started BlackRock in 1988. It quickly grew into one of the largest money managers in the country.
Fink is well regarded as a master of risk analysis and one of the savviest leaders in finance. His prowess and the company's state-of-the-art risk-management system (dubbed "Aladdin") made BlackRock a go-to adviser for sorting out toxic assets during the financial crisis, both to top banks and the US government. Today he's trusted with overseeing $4.5 trillion in assets, a large chunk of it comprised of the hard-earned dollars from the average US citizen's pension or retirement account. Fink is a popular and often speculated potential candidate for US Treasury secretary.
18. Mark Zuckerberg
Title: Founder and CEO of Facebook
Country: US
Age: 31
The leader of the world's largest social network had a prosperous year. In May, Facebook-owned virtual-reality company Oculus VR made a buzzworthy announcement: It will finally sell its first consumer headset, Oculus Rift, starting early next year. A few months later, Facebookannounced for the first time that its site had a billion users in a single day and 8 billion daily video views, double the number it reported in April. The company's stock is up about 40% through November 2015, and as a result Mark Zuckerberg's net worth has soared to $47.6 billion.
The Facebook founder also continues to invest hundreds of millions of his personal wealth in education, mainly through Startup:Education, a nonprofit he and his wife, Priscilla, founded in 2010 to improve schools in the Bay Area, and AltSchool, a company that promotes personalized education. He also gave $100 million to Newark, New Jersey's public schools, withdisappointing results. After revealing in a July Facebook post that the couple is expecting their first child, they've announced plans to open a K-12 school in Palo Alto by next year that provides both education and health care to low-income families.
17. Larry Page
Title: Cofounder, CEO of Alphabet
Country: US
Age: 42
Larry Page made some major moves this year, starting with a massive overhaul of Google's business structure in August. He announced via press release that Google would become a subsidiary of new holding company Alphabet, which would oversee all of Google's ventures, such as Nest, Calico, and Google X, as standalone entities.
Previously the chief executive of Google, Page moved up to helm Alphabet as CEO, leaving company veteran Sundar Pichai in his spot. The change became official in October, and Page even dropped Google's famous "don't be evil" slogan from the new company.
Page cofounded Google with Sergey Brin, who will help run Alphabet as president, in 1998, and they've earned fortunes of $42 billion and $38 billion today, respectively. The pair grew the company from a Ph.D project at Stanford into one of the biggest and farthest-reaching tech companies in the world. In addition to its ubiquitous search engine, the company has its hands in everything from home automation and self-driving cars to prolonging human life.
16. Jeff Bezos
Title: CEO, Amazon.com
Country: US
Age: 51
Amazon.com is an undeniable superpower in e-commerce. The company, which generates $89 billion in sales but has often failed to turn a net profit, surprised investors in July by reporting quarterly earnings of $92 million, handily beating analyst expectations. Amazon stock shot up, making founder and CEO Jeff Bezos worth an estimated $55 billion. Despite negative media reports in August claiming Amazon's warehouses are high-pressure, toxic work environments — claims Bezos disputed — the company has continued to thrive.
This year, Bezos led the growth of Amazon Web Services, the company's cloud-computing branch, announced a plan for high-speed package delivery via drones, and opened Amazon's first brick-and-mortar bookstore in Seattle.
Bezos' privately owned space company Blue Origin successfully launched its first spacecraft this year and has plans to test rocket engines and launch manned rockets within the next decade.
15. Abigail Johnson
Title: CEO of Fidelity
Country: US
Age: 53
In late 2014, Abigail Johnson succeeded her father Edward as CEO of Fidelity, the second-largest mutual fund company in the US, which manages more than $2 trillion in assets. Johnson keeps a low profile, but it's no secret she was groomed to take over the company from an early age. She started working at the firm in high school, and officially joined Fidelity as an analyst in 1988. Since 2012, Johnson had served as president.
Johnson wasn't slow to wield her power and effect change after assuming the top role last year, quickly moving to cut costs and fire ineffective managers. She's no stranger to power plays, reportedly maneuvering to oust her father in 2004 over a disagreement in vision (the effort failed, and Edward remains the chairman of the company).
Not only is the new Fidelity CEO responsible for millions of Americans' retirement accounts, but through her roughly 24% stake in the company, Johnson holds a personal fortune of $18.5 billion, making her one of the wealthiest women in the world.
14. Shinzo Abe
Title: Prime minister of Japan
Country: Japan
Age: 61
Three years into his second term as prime minister of Japan, Shinzo Abe continues to craft bold plans for his country's future. At the forefront is a desire to bring the excitement and innovation of Silicon Valley to Japan to jump start the country's fading tech sector. In a recent visit to the US, Abe met with tech titans like Facebook CEO Mark Zuckerberg to learn "how we can take Silicon Valley's ways and make them work in Japan." This plan comes on top of "Abenomics," the three-pronged approach the prime minister implemented to boost Japan's economy upon starting his second term in 2012.
On the same visit to the US in April, Abe also became the first Japanese prime minister toaddress a joint session of US Congress, which he used to push forward talks on the Trans-Pacific Partnership, a trade deal that would bring together nations including Australia, the US, Japan, Mexico, and Vietnam.
13. Jiang Jianqing
Title: Chairman, executive director of Industrial and Commercial Bank of China
Country: China
Age: 62
Jiang commands Industrial and Commercial Bank of China, the world's largest commercial bank with $3.5 trillion in assets. Before starting as a teller at ICBC in 1984, he toiled on farms and in coal mines during the Chinese Cultural Revolution. When he took over as president in 2000 (he was tapped as chairman five years later), the bank was almost insolvent; today it generates $45 billion in annual profit, more than twice as much as JPMorgan Chase, the largest US commercial lender.
Jiang has also been an alternate member of the Communist Party's Central Committee — the country's top political governing body — since 2002. In 2014 he became the first Chinese banker to serve as cochairman of the annual World Economic Forum in Davos, Switzerland.
12. Francois Hollande
Title: President of France
Country: France
Age: 61
It hasn't been an easy 12 months for French President Francois Hollande. He's dealt withmultiple terrorist attacks in Paris, stepped up France's role in the fight against ISIS, and instituted reforms to the country's social policy, like extending the retirement age for private-sector workers.
Hollande also saw his approval ratings continue to dip down to 20% as the year wore on. Though he's slowly making progress in his attempts to lift both French morale and favor among his constituents, Hollande has a long way to go. But he still commands the fifth-richest nation on the continent and one of the most influential members of the EU, giving him immense power regardless of approval ratings.
11. David Cameron
Title: UK prime minister
Country: UK
Age: 49
Reelected for a second term in May with a majority, British Prime Minister David Cameron has strengthened his negotiating position with the EU. Cameron is committed to gaining concessions from the 28-nation bloc, including looser rules on welfare for immigrants an regulation of businesses, but many Britons are skeptical that the prime minister can secure a better deal. He's promised an "in or out" referendum for the country, but Cameron believes remaining in the EU is in his country's best interest and has been visiting EU leaders to sell them on his proposal.
Cameron met with Queen Elizabeth after the election to talk about his plan for the next five years, which, in addition to renegotiating his country's terms with the EU, includes a controversial plan to crack down on immigration.
10. Bill Gates
Title: Cochair, trustee of the Bill and Melinda Gates Foundation
Country: US
Age: 60
Gates cofounded Microsoft in 1975 with childhood friend Paul Allen, building an iconic software company and becoming the richest man on earth in the process, with a net worth of $87.3 billion. Though he still sits on the company's board, he's no longer actively involved in Microsoft.
Instead, Gates is fixated on giving away his wealth and running one of the most powerful charities in the world with his wife, Melinda. They founded the Bill and Melinda Gates Foundation in 2000 after reading an article about curable diseases causing millions of child deaths in developing countries.
Since then, the organization has given away $34.5 billion to an array of causes, including efforts to eliminate HIV, malaria and many other infectious diseases. They also support agricultural development, emergency relief, global libraries, urban poverty, and education.
Gates and good friend Warren Buffett started the Giving Pledge to encourage billionaires to follow their lead and give away half or more of their wealth — 135 have signed up.
9. Charles and David Koch
Titles: CEO (Charles), executive VP (David) of Koch Industries
Country: US
Ages: 80 (Charles), 75 (David)
Billionaire brothers Charles and David Koch run multifaceted conglomerate Koch Industries, the second-largest private company in America. Outspoken in the world of conservative politics, the Koch brothers, who have a combined net worth of $87 billion, wield a heavy influence over the upcoming 2016 presidential race. The two have publicly announced they're considering backing Republican candidate and former HP CEO Carly Fiorina for president. But they, along with their vast donor network, plan on pitching in a total of $889 million during the 2016 election cycle.
Though politically divisive, the brothers' business success is undeniable. The company employs 100,000 people and generates $115 billion in sales from its diverse company, which makes everything from petrochemicals and Dixie Cups to raw clothing materials.
8. Janet Yellen
Title: Chair of the Board of Governors of the Federal Reserve
Country: US
Age: 69
As the head of the Federal Reserve — the first woman to hold the job — Janet Yellen is the guardian of the US economy. The results have been good so far: The US is closing out the year with a period of growth, adding 271,000 jobs in October and lowering unemployment to 5%,according to the latest jobs report. The strong economic performance has many speculating that an interest rate hike from the Fed is imminent. It would be the first in almost a decade.
It's a hefty decision with profound economic implications, and investors and company executives worldwide parse Yellen's every word for hints to her plans. A small rate hike would indicate the economy is thriving and strong, but some worry that lifting rates too early will damage individuals' spending ability and hamper growth. But too much growth and improvement in the labor market without a rate hike could lead to inflation. Either way, Yellen holds a position of immense power, and her decision will affect the entire country.
7. Pope Francis
Title: Pope
Country: Vatican City
Age: 78
The leader of the Catholic faith, which has more than 1 billion followers worldwide, has staked more outspoken, progressive views on public issues than popes before him. At an address to the US Congress in September, Pope Francis called on lawmakers to empathize with immigrants and refugees and to welcome them into their country.
To the delight of liberal Catholics, he urged more action to stop the effects of climate changeand endorsed a more forgiving stance on divorce and homosexuality. Many American Catholics predict that within the next 35 years the church will approve of contraception, married priests, and recognition of same-sex marriages, according to a recent Pew survey.
6. Narendra Modi
Title: Indian prime minister
Country: India
Age: 65
Now in his second year as prime minister of India, Narendra Modi is introducing initiatives to improve the lives of the 1.2 billion people who make up the world's largest democracy. In May, he announced plans to reform and modernize the government and business sectors by implementing a uniform sales tax and boosting foreign direct investment to India.
Modi, the second-most followed political leader on Twitter behind Barack Obama, is also pushing India to integrate with the digital world. He believes tech innovation holds the key to lifting India out of poverty, and he traveled to Silicon Valley in September seeking advice and help from tech executives at companies like Google and Facebook.
5. Warren Buffett
Title: CEO, Berkshire Hathaway
Country: US
Age: 85
Berkshire Hathaway CEO Warren Buffett bought his first stock at age 11 and never looked back. Since then, Buffett has continued to amass a fortune of $65 billion through a near-clairvoyant knack for making smart, long-term bets on companies like Coca-Cola and American Express. His shareholder letters are a must-read for investors looking to glean his wisdom.
His company has grown exponentially since he took over in 1964: $1,000 invested in Berkshire Hathaway stock then would be worth more than $10 million today. It remains one of the titans of the business world, announcing its largest acquisition ever in August with the $37.2 billion buyout of nuts and bolts maker Precision Castparts.
Buffett is a friend of Microsoft cofounder Bill Gates, whom he collaborated with on the Giving Pledge, a promise for billionaires to give away at least 50% of their wealth to charity. Buffett has given away nearly $3 billion in each of the past two years, and $21.5 billion in his lifetime.
4. Angela Merkel
Title: Chancellor of Germany
Country: Germany
Age: 61
With 10 years and three terms in office under her belt, German Chancellor Angela Merkel is a strong and indispensable leader in Europe. She has faced a host of challenges throughout her tenure and come out on top: She helped hold the eurozone together during the financial collapse and global recession, she has stood up to Russian President Vladimir Putin in his aggression toward Ukraine, and, currently, she's managing Europe's refugee crisis. At her hand, Germany stands above the rest of Europe with a strong economy and low unemployment rate. Though she's not universally liked, Merkel has proved a stabilizing force amid turmoil.
3. Vladimir Putin
Title: Russian president
Country: Russia
Age: 62
Approval ratings for Vladimir Putin, Russia's president and former prime minister, reached an all-time high in October: 89.9%. After seizing Crimea last year in the wake of the Ukrainian Revolution, Putin is determined to resurrect Russia as a superpower.In the past year, he's supported a pro-Russian insurgency in eastern Ukraine, and launched a military operation in support of Syria's Bashar al-Assad. Unlike with most Western heads of state, Putin's control over Russia is subject to few constitutional checks and balances.
At the annual UN meeting in late September, Putin criticized Obama, asserting that US interventions have backfired in the Middle East, creating a haven for extremists and terrorists. Shortly after, Putin launched the Russian air campaign to target Islamic forces in Syria and weaken rebellion against the country's president. The airstrikes are costing Russia an estimated$2.5 million a day, and are quickly escalating tensions with Western powers.
2. Xi Jinping
Title: President of the People's Republic of China
Country: China
Age: 62
Xi Jinping, the general secretary of China's Communist Party, has been labeled by many the most powerful Chinese leader since Mao Zedong. Considering the domestic grip he's secured in just three years since becoming president of the world's largest country — nearly 1.4 billion people — it's hard to argue. Xi holds at least 10 titles governing the world superpower (some of which he created), overseeing everything from the military and the internet to the economy.
That economy has stalled, and the nation's stock market endured a tumultuous summerrequiring a bailout that may have topped $200 billion. Still, China's growth in recent years puts it in elite company, and by one measure its economy even eclipses that of the US, according tothe IMF.
Xi has fulfilled a vow to wage an extensive and controversial anticorruption campaign within the country. He has investigated hundreds of thousands of people and locked away some high-ranking party officials for life — his former political enemies among them.
1. Barack Obama
Title: US president
Country: US
Age: 54
President Barack Obama presides over the world's most influential country, giving him unparalleled responsibility and power. He's caretaker of the largest economy, and he's helped nurse it back to health since the financial crisis. Since taking office in early 2009 — amid a full-blown recession — the US has grown its GDP by $3 trillion, to $17.4 trillion, and in October unemployment hit 5%, the lowest mark since 2008. His legacy-making overhaul of the health-care system has helped trim the uninsured rate by a third, and it has now survived multipleSupreme Court challenges.
Obama's international track record is mixed. As commander-in-chief of the world's largest military — more than 2 million active and reserve forces and a defense budget of $560 billion — he's taken heat for failing to deal adequately with the growing turbulence in the Middle East, highlighted by the bloody Syrian civil war, the rise of ISIS, and the Taliban's growing strengthin Afghanistan. Relations with longtime ally Israel have grown icy. Yet his sway in foreign affairs is still strong, as evidenced by his historic move to warm ties with Cuba and themomentous nuclear deal he brokered with Iran.
He may have just a year left in office, but Obama isn't sitting idle: In November he flexed his power again, killing off the controversial Keystone XL pipeline proposal once and for all, arguing it would have harmed the environment without improving US energy security.
Read more:
• Chart shows how London house prices have soared
• Only the rich can afford to buy a house in Britain​
• Corbyn's position on terror opens split in Labour party
Read the original article on Business Insider UK. © 2015. Follow Business Insider UK on Twitter.
Join our new commenting forum
Join thought-provoking conversations, follow other Independent readers and see their replies