Rolls-Royce slumps to record £5.4bn loss as demand for air travel plummets
Four-thousand jobs already axed at engine manufacturer since May, with 5,000 more to be lost by end of 2020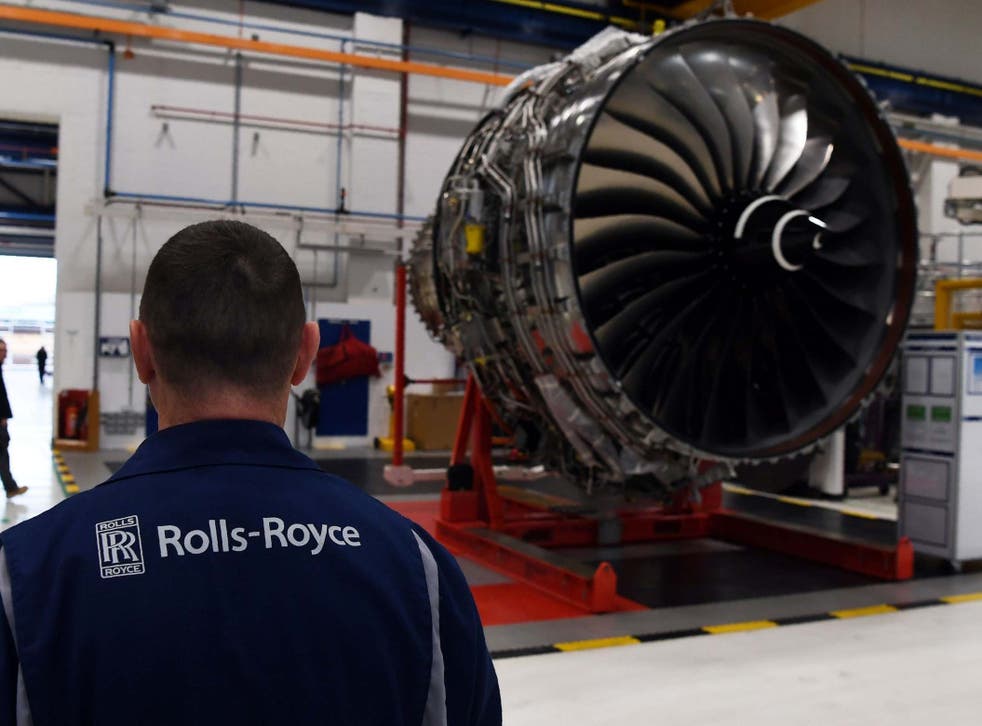 Engine manufacturer Rolls-Royce has revealed a record £5.4bn loss for the first half of 2020 due to a nosedive in demand for air travel during the coronavirus pandemic.
The company announced plans to sell off parts of its business to raise £2bn to boost its balance sheet, and 4,000 jobs have already been axed since May under the biggest-ever shake-up of its civil aerospace business, with 5,000 more set to be cut.
Rolls-Royce said demand for large engines is set to remain below 2019 levels until 2025, warning that the pandemic has caused "material uncertainties" that could cast dark clouds over its future.
Last year, the group made a loss of £791m. On an underlying basis, the company plummeted to a £3.2bn loss from profits of £93m in the last 12 months.
The company announced in May it would shed 9,000 jobs globally to adapt to the sharp drop in demand as the pandemic closed borders and grounded flights. At least 5,000 jobs are expected to be axed by the end of 2020 across the UK, Germany, Singapore and other worldwide bases.
On Wednesday, Rolls-Royce announced plans to shut its aerospace factory in Annesley, Nottinghamshire, and merge sites in Lancashire. It has also earmarked ITP Aero in Spain for sale, among other businesses it plans to offload.
Warren East, CEO at Rolls-Royce, said in a statement: "The Covid-19 pandemic has significantly affected our 2020 performance, with an unprecedented impact on the civil aviation sector with flights grounded across the world.
"We have made significant progress with our restructuring, which includes the largest reorganisation of our civil aerospace business in our history.
"This restructuring has caused us to take difficult decisions resulting in an unfortunate but necessary reduction in roles."
He added that there would be more action to offset the hit from Covid-19.
"In light of ongoing uncertainty in the civil aviation sector, we are continuing to assess additional options to strengthen our balance sheet to enable us to emerge from the pandemic well placed to capitalise on the long-term opportunities in all our markets," he said.
Rolls-Royce said in its announcement that some aerospace sites in the UK would be consolidated into fewer facilities in Derby, as well as Singapore and Germany.
The proposals were criticised by Rhys McCarthy, national officer for aerospace at workers' union, Unite. He said: "These plans are a horrible blow for staff, particularly as Rolls-Royce is proposing to abandon production in the UK and move work to Singapore and Germany.
"For Rolls-Royce to lay out plans to lay off the majority of staff at its Barnoldswick sites whilst moving work to Singapore is a complete betrayal of a skilled and loyal workforce."
Register for free to continue reading
Registration is a free and easy way to support our truly independent journalism
By registering, you will also enjoy limited access to Premium articles, exclusive newsletters, commenting, and virtual events with our leading journalists
Already have an account? sign in
Register for free to continue reading
Registration is a free and easy way to support our truly independent journalism
By registering, you will also enjoy limited access to Premium articles, exclusive newsletters, commenting, and virtual events with our leading journalists
Already have an account? sign in
Join our new commenting forum
Join thought-provoking conversations, follow other Independent readers and see their replies