Singles' Day: Alibaba breaks record with $1 billion sales in first 20 minutes
China's annual event is the biggest online shopping day in the world
Lizzie Dearden
Tuesday 11 November 2014 09:53 Comments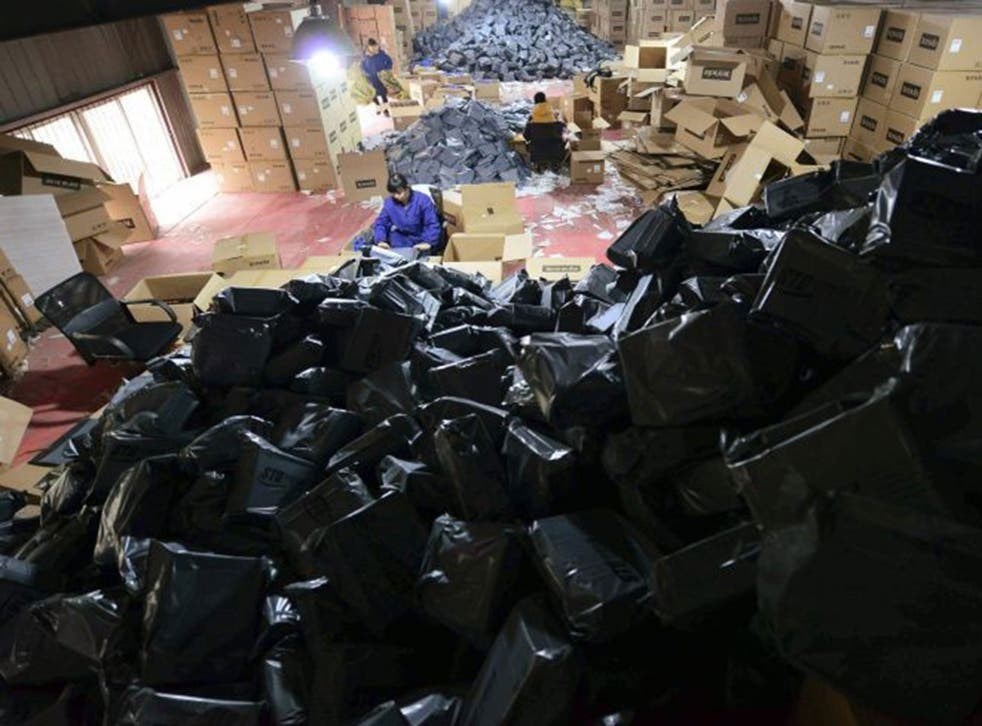 The biggest day of online shopping in the world is in full swing, with one website taking $2 billion (£1.2 billion) in the first hour alone.
Alibaba, China's biggest online retailer, is capitalising on the country's annual Singles' Day, when singletons treat themselves with presents.
An incredible $1 billion (£630 million) of goods was sold in just 20 minutes as sales started, according to the website, which has several online platforms.
Last year, Alibaba took $5.8 billion (£3.7 million) on Singles' Day and expects to comfortably break that record today, offering promotions and discounts.
The event started at Chinese universities in the 1990s as an alternative Valentine's Day, with the numbers in the 11 November being representative of four "ones", and is also celebrated with parties and traditional food.
More than $8.2 billion (£5 billion) is expected to exchange hands through online channels today, far outstripping the US equivalent of "Cyber Monday" and "Black Friday" combined, according to the Boston Consulting Group.
David McCorquodale, the head of retail at KPMG, said China will soon overtake the US to become the world's biggest online market and sales will continue to grow as more of the population gains access to the internet.
According to management consultants A.T Kearney, the Chinese e-commerce market is expected to rise by 25 per cent a year, from $390 billion (£246 billion) in 2014 to $718 billion (£453 billion) in 2017.
The boom is attributed to the rapidly growing number of online shoppers out of China's 600 million internet users. But the huge number is less than half of the country's population - meaning millions more will be joining the frenzy over the coming years.
Disposable income is also increasing alongside the country's economy.
International firms are expected to attempt to cash in on the success of Single's Day, as Chinese companies spread their operations overseas.
"By 2020, China's e-commerce market is forecast to be larger than those of the US, UK, Japan, Germany and France combined," Mr McCorquodale said.
"It has the potential to deliver massive future growth for UK retailers suffering from flat-lining sales in Western Europe.
"Offering attractive, targeted, Singles' Day promotions, could deliver a timely boost to British brand owners' sales."
Register for free to continue reading
Registration is a free and easy way to support our truly independent journalism
By registering, you will also enjoy limited access to Premium articles, exclusive newsletters, commenting, and virtual events with our leading journalists
Already have an account? sign in
Join our new commenting forum
Join thought-provoking conversations, follow other Independent readers and see their replies