Turkey's economic centre continues to shine
In association with Hilton Garden Inn
Thursday 28 May 2015 10:37 Comments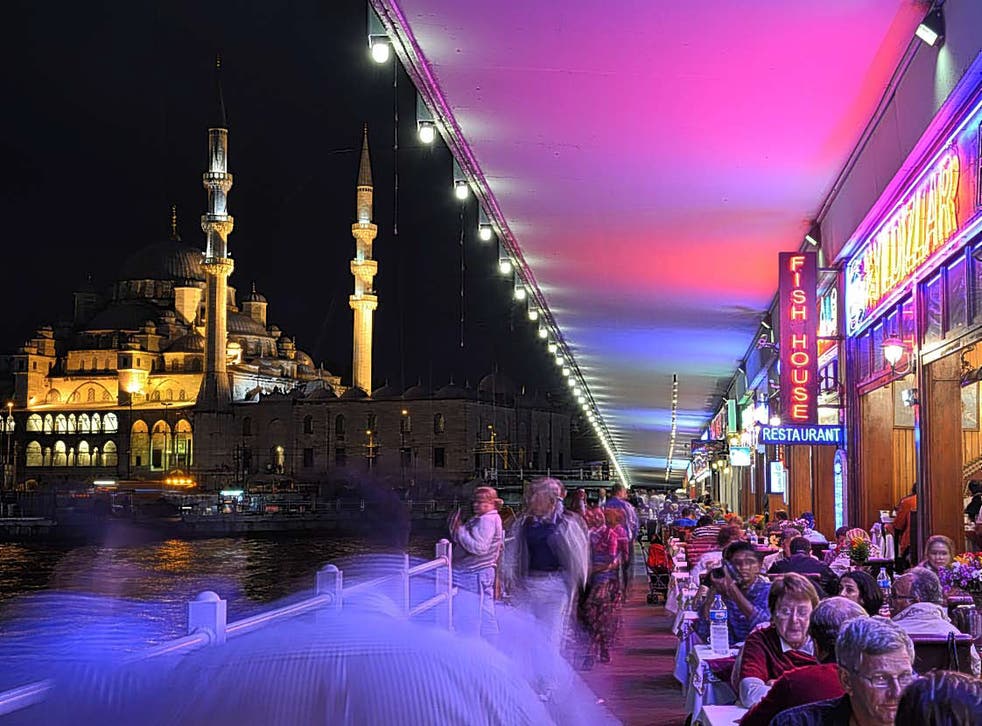 As the only city in the world that straddles two continents, perhaps it's no surprise that Istanbul is filled with contrasts. While its opulent palaces and ancient domes pay homage to the bygone Byzantine and Ottoman Empires, the Turkish capital is a cosmopolitan hub with design-driven hotels, a lively nightlife and a strong contemporary arts scene. The city was thrust into the spotlight in 2010 when it was named European Culture Capital.
Whether marvelling at the ancient domes of Hagia Sophia and Süleymaniye or being seen at the latest outpost of Soho House, visitors flock to Istanbul in droves, helping boost Turkey's tourism income by 6.2 per cent to $34.3bn (£22.9bn) last year.
Istanbul is Turkey's economic heartbeat. Here you'll find the Borsa Istanbul (BIST), the headquarters of Turkey's largest companies, the offices of major global firms such as Citibank and Merrill Lynch, as well as the bases of manufacturing plants producing clothing, tobacco and industrial goods.
With a growing middle class, it's a city that many international retailers are swooping in on. Apple opened its first store in the country last year, Clarks has several branches in the city while famed French department store group Galeries Lafayette will make its debut in the country with a store in the capital in 2016.
Istanbul has its fair share of very wealthy residents. With 28 Turkish citizens with a net worth of one billion USD or more, the city ranked in Forbes' 2015 top 10 cities with the most billionaires. Among these was Murat Ulker, chairman of Yildiz Holding, owner of United Biscuits and Godiva chocolates. Ulker is the richest person in Turkey, with a net worth of a cool $4.4bn (£2.9bn).
Ulker is just one of the business people reaping the rewards of a strong Turkish economy that's enjoyed steady growth over the past decade. The future looks rosy too: research indicates Turkey is set to be a future powerhouse thanks to its prime geographical position and strong economic ties with Europe, Asia and the Balkan regions. The country's annual GDP growth is expected to reach 3.2 per cent in 2015, up from 2.9 per cent last year, according to the European Commission. In 2016, it's predicted to rise further to 3.7 per cent.
With a population of 76.5 million, Turkey is the world's 16th and Europe's sixth largest economy and forecast to become the world's 12th and Europe's fifth biggest economy by 2050, according to HSBC's The World in 2050 report. Turkey is currently the fastest emerging market of Europe and in the Organisation for Economic Co-operation and Development. In September 2010, the FTSE Group promoted Turkey from 'secondary emerging' status to 'advanced emerging' status. Meanwhile, economist Jim O'Neill has identified the Mint countries – Mexico, Indonesia, Nigeria and Turkey – as having favourable demographics for economic growth.
One area of Turkey's economy that's performing strongly is textile production. With its closeness to home compared to the Far East and Asia, many British retailers choose to manufacture in Turkey for the sheer speed of getting the product from the factory to the shopfloor. In fact, three years ago George at Asda acquired Istanbul-based supplier GAAT and renamed it George Turkey.
During forthcoming years, Istanbul's economy is estimated to continue growing much faster than the rest of the country. Between 2012 and 2017, the city's real GDP is forecast to rise by a Compound Annual Growth Rate (CAGR) of 6.6 per cent compared to a CAGR of 3.6 per cent in the rest of the country, according to Euromonitor International.
Like many thriving cities, there's an emerging startup scene. Numan Numan, MD of VC firm 212, says incubation centres, accelerators and angel networks are proliferating. "At the beginning we had lots of interest in ecommerce, however now we are seeing a number of software-based startups providing SaaS solutions to market. With more capital and experienced entrepreneurs, we will see more success sto- ries and faster growth at startups."
WIN A 3 NIGHT TRIP TO ISTANBUL
We've teamed up with Hilton Garden Inn to give away a fantastic 3 night trip to Istanbul
Nuri Keles from Hilton Garden Inn gives us his top tips to enjoy Turkey's largest city.
ENTER HERE...
Register for free to continue reading
Registration is a free and easy way to support our truly independent journalism
By registering, you will also enjoy limited access to Premium articles, exclusive newsletters, commenting, and virtual events with our leading journalists
Already have an account? sign in
Join our new commenting forum
Join thought-provoking conversations, follow other Independent readers and see their replies