Coronavirus: Redundancies at highest rate in over 10 years, government statistics show
Unemployment in the UK now stands at 1.52 million as unions warn of jobs crisis
Rory Sullivan
,
Ben Chapman
Tuesday 13 October 2020 16:10 Comments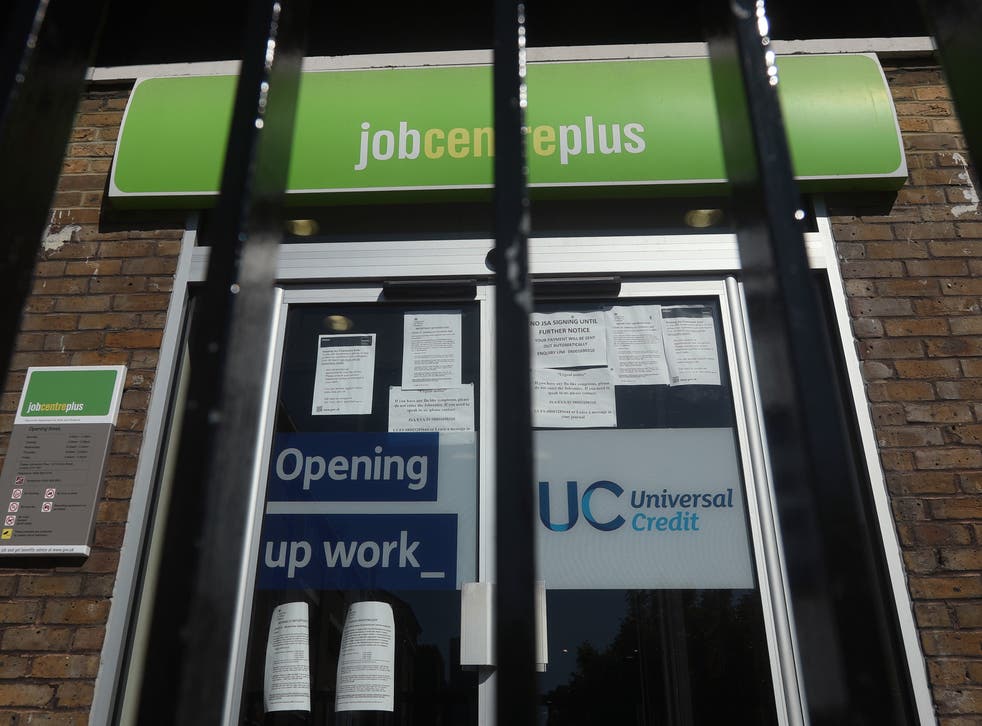 Redundancies rose last month to their highest level in more than a decade, the Office for National Statistics (ONS) has said. 
Figures released on Tuesday show that unemployment continues to rise as a result of the economic downturn caused by coronavirus, with redundancies reaching their highest level since May to July 2009. 
Unions warned the UK was on the precipice of an unemployment crisis as the furlough scheme comes to an end in little over two weeks, and urged the chancellor to reform his job subsidy measures.
From June to August this year, the number of unemployed people in the UK jumped by 138,000, increasing UK unemployment to 1.52 million.
The unemployment rate rose to 4.5 per cent, up from 4.1 per cent in the previous quarter.
Young people have been hit hardest, with employment among those aged 16 to 24 dropping to a record low of 3.54 million.
In total, 673,000 jobs were lost between March and September.
However, the true unemployment picture is likely to be significantly worse than the headline figures suggest because furloughed workers are classified as employed.
Some 4.8 million people were on the Job Retention Scheme in September. It comes to an end in little over two weeks, to be replaced by the less generous Job Support Scheme (JSS), which requires employers to make a far larger contribution to wage costs.
Under the JSS – unlike schemes in Germany and elsewhere – it is cheaper for firms to make staff redundant than to keep them on and reduce their hours.
The official data show that weekly hours worked, which some economists believe give a more accurate picture of the jobs market, remain well down on pre-pandemic levels.
That's before a new three-tier lockdown system announced yesterday begins to impact on businesses and jobs.
Forecasts for job losses vary wildly, with the Bank of England's central scenario pointing to 7.5 per cent unemployment and the Office for Budget Responsibility pencilling in 12 per cent – equal to the level reached at the depths of the early 1980s recession.
Jonathan Athow, deputy national statistician at the ONS, said: "The latest monthly tax numbers show that the number of employees on the payroll was little changed in September.
"However, in total there were still nearly 700,000 fewer than in March, before the lockdown.
"Our newly adjusted survey figures show that in the latest period almost half a million fewer people were in work than just before the pandemic, while almost 200,000 others said they were employed but were currently not working nor earning any money."
The ONS data comes the day after some business leaders expressed their disappointment at Boris Johnson's new Covid-19 alert level, which they fear will lead to more closures and job losses unless further government support is forthcoming.
Responding to the latest figures, Rishi Sunak, the chancellor, said: "I've been honest with people from the start that we would unfortunately not be able to save every job.
"But these aren't just statistics, they are people's lives. That's why trying to protect as many jobs as possible, and to help those who lose their job back into employment, is my absolute priority."
Labour shadow chancellor Annelise Dodds labelled the figures "deeply concerning".
"Sadly, more people are going to lose their jobs until the government gets a grip," she said. "That means fixing test, trace and isolate, putting in place a proper job recovery scheme, and making clear, consistent and fair funding available to local areas as soon as restrictions are applied.
"The chancellor's chaotic habit of trying to fix problems of his own making at the last possible minute risks unemployment spiralling to levels we haven't seen in decades."
Frances O'Grady, TUC general secretary, said: "We are on the precipice of an unemployment crisis. Ministers must act now to protect and create jobs. The expansion of the job support scheme is a step in the right direction, but it still falls short.
"Wage replacement should be 80 per cent for businesses who have to shut. We need a more generous short-time working scheme for firms which aren't required to close but will be hit by stricter local restrictions. And self-employed people in local lockdown areas need help too."
Register for free to continue reading
Registration is a free and easy way to support our truly independent journalism
By registering, you will also enjoy limited access to Premium articles, exclusive newsletters, commenting, and virtual events with our leading journalists
Already have an account? sign in
Join our new commenting forum
Join thought-provoking conversations, follow other Independent readers and see their replies