Café owner warns would-be customers who are 'allergic to black people' not to enter
Heather Saul
Thursday 11 July 2013 09:24 Comments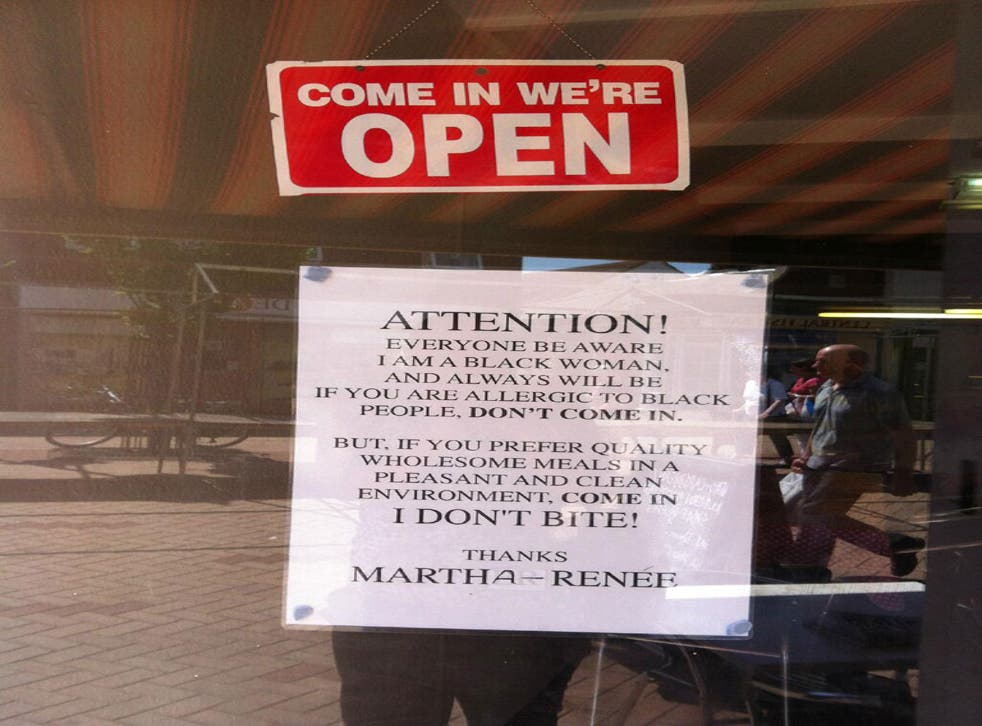 A café owner who says people walk out as soon as they see she is black has received the backing of her West Yorkshire community – and the wider world – after placing a sign in the window telling customers who are "allergic" to black people not to enter the premises.
Martha-Renee Kolleh, from Ossett, near Wakefield, claims racism is damaging her business at the Yeanon Café. Figures from the 2011 census showed that Ossett is 97.5 per cent white.
Ms Kolleh said that last week she decided she had "had enough" of losing custom and chose to communicate her frustrations more directly.
"I was so cross that people kept walking into the café and then walking out, so I made the sign," she explained. "I wanted to vent my frustration and have people take notice."
The sign Ms Kolleh stuck to her café door read: "Attention! Everyone be aware, I am a black woman, and always will be. If you are allergic to black people, don't come in. But if you prefer quality wholesome meals in a pleasant and clean environment, come in". It added: "I don't bite!"
Ms Kolleh said the effect of racial prejudice was underlined by the boost her business received when she hired a young white woman to serve behind the counter. "I thought I was being paranoid so I hired a lady who is white. I let her stand and serve people while I waited out the back.
"She did very well and we had a lot of custom, but as soon as I was back behind the counter, nobody comes in."
Ms Kolleh, who has three children, has owned the café in the centre of Ossett for two years, serving a mixture of British, African and Caribbean specialities. She said her business is "an English café where we sell traditional meals but we also cook Caribbean food. I make everything from fresh because I want to make the best food I can. I would think people would like that."
However, she believes she may have to close by autumn if her business does not improve. "This is my livelihood, which I need to support myself and my children," she said.
"If my business does not improve I will have to pack up in just a number of months. I am a qualified chef, and if I worked anywhere else I would be lost. I am here to cook and I am good at it so it's such a shame people won't come in here."
The café's Facebook page has been inundated with hundreds of messages of support from as far away as New York and Istanbul, though her sign has received more mixed reactions from residents in the area.
The café owner said some residents had acknowledged racism in the area. "Some people find the sign amusing and they say: 'Oh yes, it's about time you put that up,' so I think they all realise what's going on here. Some others just read it and walk away. I've heard one or two swear words as well regarding the notice."
One Wakefield resident wrote on the café's Facebook page that she would continue to tell everyone about the "wonderful food" served there.
The message continued: "Was so saddened to find out about your troubles and the need for the notice you've put on your door.
"Haven't seen you in a little while as I've been so busy and not up in Ossett nearly so much, but hope to see you soon."
Another said: "Beautiful talented lady, please go on providing some of the most delicious food in the world! God bless you and may you and your business flourish."
Wakefield Council denied having received any other reports of racist incidents, and said that it was working to support Ms Kolleh through a community interest company.
Sarah Pearson, Wakefield Council's service director for economic growth, said: "We abhor racism in any form... it saddens us that Martha-Renee Kolleh felt it necessary to take this action. We are supporting her in any way we can."
"Building Ossett Better, a community interest company to promote local businesses, is also supporting Martha-Renee, as it would any other Ossett business."
Register for free to continue reading
Registration is a free and easy way to support our truly independent journalism
By registering, you will also enjoy limited access to Premium articles, exclusive newsletters, commenting, and virtual events with our leading journalists
Already have an account? sign in
Join our new commenting forum
Join thought-provoking conversations, follow other Independent readers and see their replies