Cafe Society review: one of the most poignant of Woody Allen's late movies
But those who've already decided that Allen is a lecherous old creep will find elements here to cling onto, writes Geoffrey Macnab
Tuesday 30 August 2016 14:46 Comments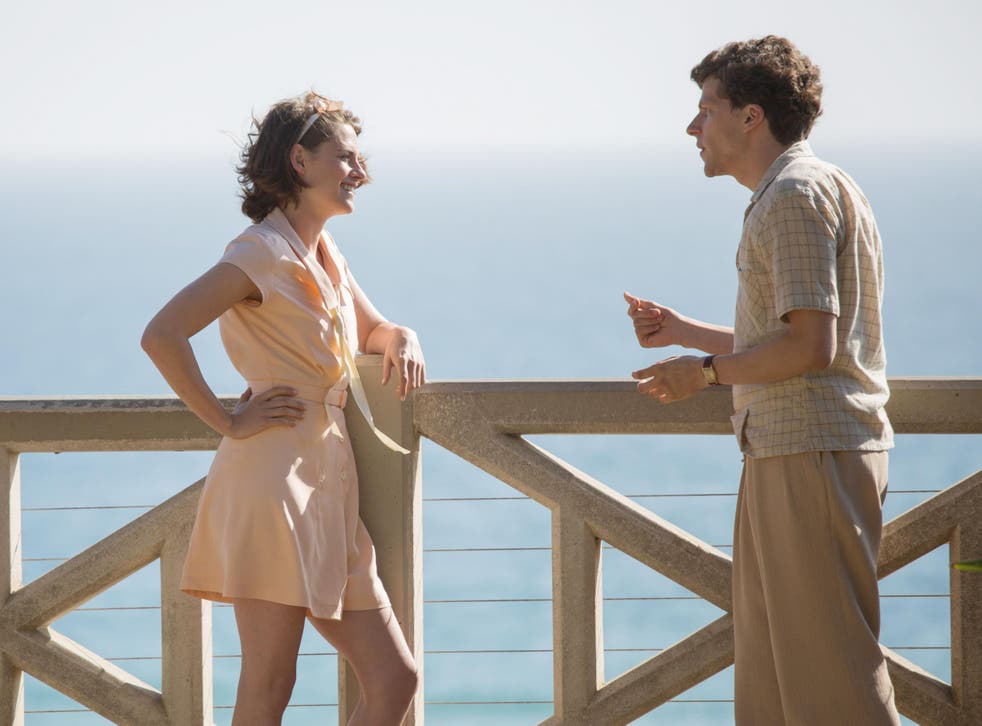 Dir. Woody Allen, 96 mins, starring: Steve Carell, Jesse Eisenberg, Blake Lively, Parker Posey, Kristen Stewart
There was a strange commotion in Cannes earlier this year, which underlined just how divided opinion remains over Woody Allen and his legacy. On the eve of the screening of his 47th feature Café Society, the press carried respectful and flattering interviews with the 80-year-old director, who has always been venerated in France.
On the day of the screening itself, though, an American trade paper ran an explosive interview with his son, Ronan Farrow, in which the allegations about Allen molesting his sister Dylan Farrow were repeated. Farrow referred darkly to Allen's formidable PR and spin machine and the way it protected him. Farrow's article was itself subsequently attacked by Allen supporter, filmmaker Robert B Weide, director of Curb Your Enthusiasm and of a biographical documentary about Allen.
All this background noise can't help but intrude when you watch the new Woody Allen film. You can't approach the work innocently any more. It's as if each new movie has become a referendum on its director's reputation. There is a prurient fascination with his private life and a temptation to read the work through the prism of that private life.
In the case of Café Society, it doesn't help that the story is partially about an illicit relationship between a rich older man (Hollywood agent Phil, played by Steve Carell) and a vey much younger woman, Vonnie (Kristen Stewart.) There are jokes about Errol Flynn and underage sex. Those who've already decided that Allen is a lecherous old creep will find elements here to cling onto. Yet Café Society is also one of the richest and most poignant of Allen's late movies; fans will relish it and enjoy the many echoes of the director's earlier movies.
Set in the 1930s, this is a tale of two cities. Bobby Dorfman (Jesse Eisenberg) is a young man from a Jewish family in the Bronx, New York. He lives in the kind of cramped tenement building that rekindles memories of Clifford Odets plays. He has a nagging, domineering mother (Jeannie Berlin) and a gruff, sardonic father (British actor Ken Stott, gurning away in vest and braces). The Dorfman family members have veered off in many different directions. Bobby's brother Ben (Corey Stoll) is a cheerily amoral gangster, always ready to resolve a dispute by burying anyone who disagrees with him in cement. His sister is a school teacher with a very prissy intellectual husband. His uncle Phil is the big shot agent in Hollywood. And it's to LA that Bobby heads in search of a new life.
In Annie Hall, Alvie Singer (Allen) famously detested Los Angeles. ("It's so clean out here," Diane Keaton observed to him as they drove across town. "That's because they don't throw their garbage away. They make it into television shows," he responded.) Bobby here is slightly more partial to the city: "half bored, half fascinated," as he puts it.
Assisted by the brilliant cinematographer Vittorio Storaro (The Conformist, Apocalypse Now), Allen makes 1930s LA look magical. It's full of glamorous movie stars and studio executives in white suits and tuxedos, having poolside parties in Technicolor-like twilight, at their sleek modernist and stucco homes. The sun shines incessantly as they gossip, backstab and drink their highballs. By contrast, New York is dark and dingy.
The plot throws Bobby and uncle Phil together unknowingly in competition for the same woman, Phil's beautiful but down-to-earth secretary, Vonnie (played with ingenuous charm by Stewart).
In Allen's films in which he doesn't himself appear, there will invariably be an alter ego, someone who speaks in his familiar whining drawl and has his neuroses as well as his deadpan ability to put over one-liners. In Café Society, both Eisenberg's and Carell's characters share some of the comedian's traits.
Neither is entirely sympathetic. There is an uncomfortable scene early on in which Bobby chastises an inexperienced prostitute (Anna Camp); he is priggish and has an unattractive arrogance about him. Uncle Phil, meanwhile, is cheating on his wife and telling lies to his girlfriend, while fielding calls from Ginger Rogers and other luminaries. There's more arrogance here, which Carrell captures, as well conveying Phil's insecurities and chronic inability to make up his mind.
Café Society is a love story of sorts, but Bobby isn't the conventional romantic lead. He has a "deer-in-the-headlights quality," an appealing vulnerability, but he is also a go-getter, as ruthless as his gangster brother (albeit a little more subtle in his methods). He seems confused by his own feelings, unsure why he might prefer Vonnie to the very svelte, glamorous, reefer-smoking, jazz loving but anti-Semitic Veronica (Blake Lively). For all the gilded settings of the movie, the characters experience disappointment and frustration.
You can sense a reduction in the energy with which the octogenarian tackles his story. There isn't the zest and crackle that Allen would have brought to the film earlier in his career. His voiceover sounds laboured; the pacing is on the torpid side. Not even the jazz-filled soundtrack can galvanise affairs.
At times, the director's intentions seem muddled and tentative. On the one hand, he is making a breezy romantic comedy. On the other, he is dealing with yearning and dashed expectations. Bobby is exasperated by the superficiality of Hollywood but that doesn't stop him setting up his own nightclub in New York with his gangster brother, catering to precisely the egotistical, narcissistic clientele he affects to despise.
"Socrates said that the unexamined life is not worth living but the examined one is no bargain" – one character expresses a paradox that Allen himself continues to wrestle with in his work, even as his own private life continues to be pored over in such exhaustive fashion by detractors and supporters alike.
The film is only fitfully funny but it is beautifully crafted and performed. It also ends on a surprisingly moving note as the characters, and their director, ponder the roads not taken and speculate about what might have been.
Register for free to continue reading
Registration is a free and easy way to support our truly independent journalism
By registering, you will also enjoy limited access to Premium articles, exclusive newsletters, commenting, and virtual events with our leading journalists
Already have an account? sign in
Join our new commenting forum
Join thought-provoking conversations, follow other Independent readers and see their replies