CNN sends sketch artist to Sean Spicer press briefing after cameras are banned
The White House has held only two on-camera briefings over the past two weeks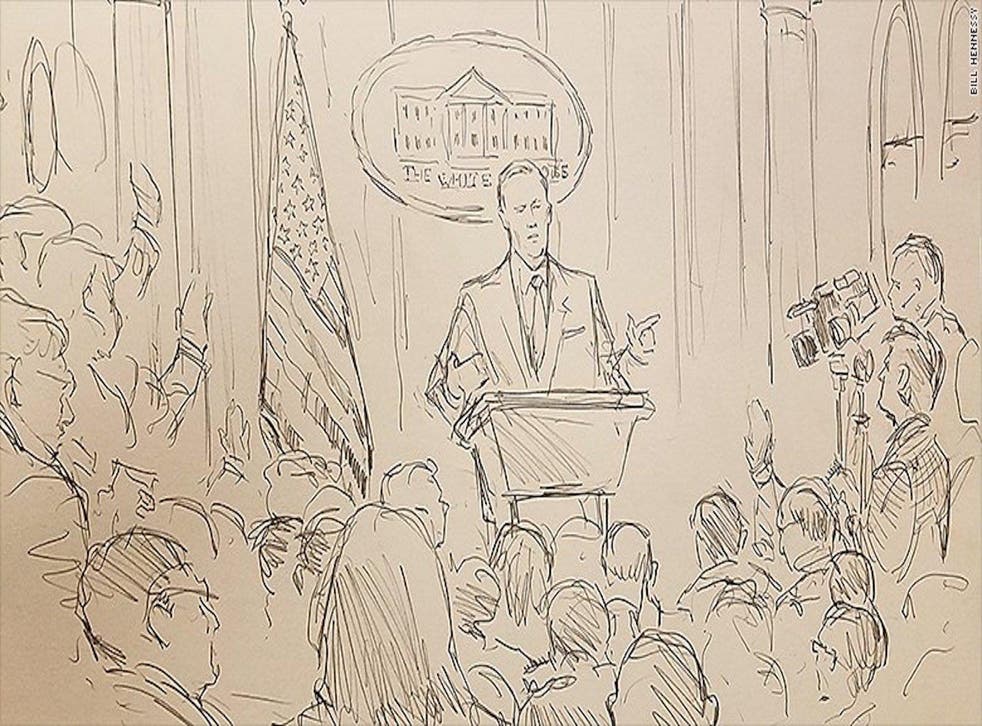 With the White House banning cameras at some press briefings, CNN sent a sketch artist to "paint a picture for viewers who couldn't be in the room".
Over the duration of Donald Trump's first six months as president, White House Press Secretary Sean Spicer has more routinely favoured off-camera gaggles, which tend to be shorter and more informal, over traditional on-camera briefings. The move has drawn outcry from the press.
Equating Friday's briefing to oral arguments at the Supreme Court – where cameras are also prohibited – CNN sent Bill Hennessy, the network's regular sketch artist for the high court's proceedings, to the White House to depict the off-camera event.
Mr Hennessy was not equipped with his usual easel, but he stood at the back of the briefing room to draw the scene, CNN said.
While some voices at conservative media outlets have criticised the sketch session, CNN is arguing that it "did serve a journalistic purpose, in the same way that courtroom sketches do."
Press secretaries for both Republican and Democratic presidents have regularly held on-camera press briefings for the past 25 years.
The biggest names involved in the Trump-Russia investigation

Show all 17
"Some days we'll do it" on camera," Mr Spicer said on Friday. "I think it's great for us to come out here and have a substantive discussion about policies. I don't think that the be all and end all is whether it's on television or not."
But the White House Correspondents' Association is still urging the Trump administration to stop holding off-camera gaggles as a substitute for on-camera press briefings.
"We are not satisfied with the current state-of-play, and we will work hard to change it," said the association's president and Reuters reporter, Jeff Mason, in a statement.
"We believe strongly that Americans should be able to watch and listen to senior government officials face questions from an independent news media, in keeping with the principles of the First Amendment and the need for transparency at the highest levels of government," he said.
Join our new commenting forum
Join thought-provoking conversations, follow other Independent readers and see their replies