David Cameron in race row after posing with blacked-up Morris dancers
Prime Minister criticised after photo opportunity at Banbury Folk Festival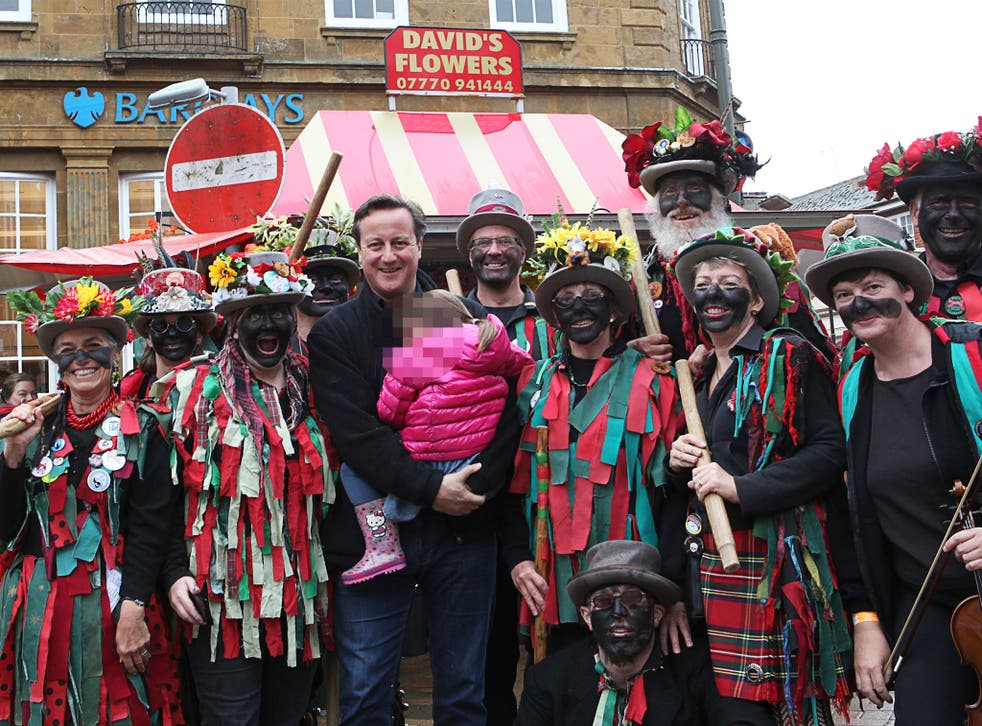 David Cameron has courted controversy by posing with a group of blacked-up Morris dancers at a folk festival in Banbury.
The Prime Minister was on a day out with his family when a group of Morris dancers asked him to pose for a picture with them.
The image was immediately shared on Twitter, with the Prime Minister drawing widespread criticism.
One tweet described his decision as "crass and insensitive." Another read: "If you're a Morris dancer and you want to black up, ask yourself if it's really appropriate. If the answer is yes, you're wrong."
Another suggested: "Maybe Cameron could organise an impromptu photo shoot with Morris dancer to show Putin who is real man."
Martin de Vine, founder and Squire of the Foxs Morris dancers, said: "David Cameron was having a coffee and we saw him and just asked if he would have a picture taken," The Telegraph reported.
"They blacked their faces with soot because it was illegal to beg and they didn't want to be recognised. It was a disguise, in the same way that the leader of the troupe wears a top hat and is called the squire to take the mickey out of the local squire.
"It's not racist and offence is never taken. People from other cultural backgrounds don't see it as that at all. We have had an Arab person dancing with us in the past - it's not seen as racist."
It is not the first time such an image has provoked criticism. In April, a Labour Parliamentary candidate defended a photo he shared online which showed him with a pair of Morris dancers with their faces painted black.
Will Straw, the son of former Home Secretary Jack Straw, was criticised by anti-racism campaigners who said that so-called "blacking-up" was "out of date" and "unacceptable in modern day Britain".
Mr Straw said at the time: "Accusers [should] mug up on their history before making false accusations. The dance, which marks the return of spring, is believed to trace its roots to Moorish pirates who settled in Cornwall and became employed in local mining.
"As more mines and quarries opened in Lancashire in the 18th and 19th centuries, a few Cornishmen are said to have headed to the area, taking with them mining expertise and the costume of red and white kilts, breeches, bonnets and blackened faces."
To many people, a blacked-up face evokes a racist music hall tradition in which white performers pretended to be black.
In the 1960s, one of the most popular shows on British television was the Black and White Minstrel Show.
Morris dancers who black up their faces claim that there is no racial connotation at all. They say they are reviving a tradition associated with Border Morris dancing, in which Welsh Morris dancers on the English border used black cork to disguise themselves as they went begging in the streets.
Join our new commenting forum
Join thought-provoking conversations, follow other Independent readers and see their replies