Dog welfare groups warn teacup puppy craze is harmful to pets
'If you care at all about dogs, the very worst thing you can do is buy a teacup puppy and help fuel this industry,' says Humane Society International
Chantal da Silva
Sunday 02 July 2017 19:10 Comments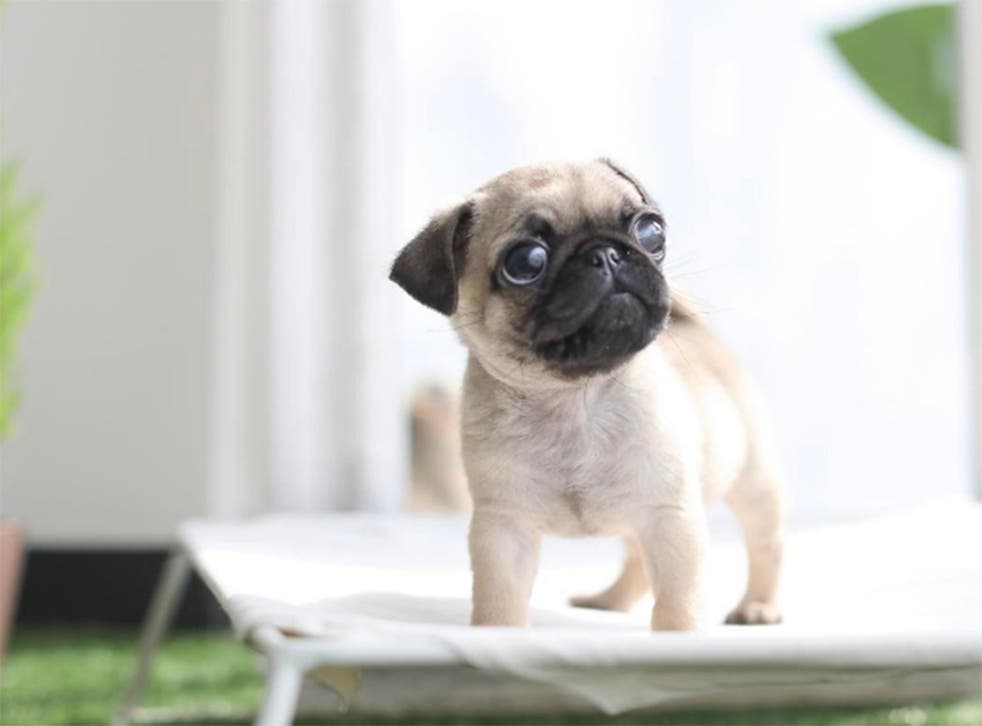 Cute puppies are easily the most Instagrammable creatures on earth – but dog welfare organisations are warning that a growing trend of miniature "teacup" breeds is putting the lives of pets at risk.
While teacup puppies are more popular in South Korea and the US, UK breeders have increasingly been found to be breeding dogs at miniature sizes, which welfare groups warn could lead to health issues, such as congenital defects, organ failure, respiratory problems and fragile bones.
The puppies are sold for thousands of pounds, with some companies advertising the micro-puppies online through social media sites including Instagram and Facebook for as much as £6,300.
"Teacup pups may be tiny, but their capacity to suffer is huge," Wendy Higgins, the Director of International Media at Humane Society International told The Independent.
"In fact, miniaturisation means misery for these little dogs in what is fast becoming a worrying trend.
"No animal should ever be seen as a fashion accessory, but unfortunately that's precisely what's happening with these micro-puppies. It's unnatural for dogs to be so small, so they often suffer from fragile bones and even organ failure."
Ms Higgins also warned that pet owners tend to treat micro-puppies as "toys" rather than living and breathing creatures that require care.
"Because they tend to be treated like toys, they can be denied proper exercise and socialisation play which is essential for their mental and physical well-being."
The Kennel Club Charitable Trust has also warned on its website that "to produce small dogs, breeders may use unscrupulous practices, such as breeding from runts in litters, denying the pups essential nutrition, selling the puppy before it is eight weeks old or breeding from the [mother] at the beginning and at the end of her heat cycle so that the pups conceived may be premature".
"Sadly, the advertising of such dogs is becoming more and more common," the Kennel Club says.
"Often it may be no more than a marketing ploy to describe a traditionally small breed, when the puppy will not grow up to be any smaller than a standard dog within the breed concerned."
However, in other cases, breeders are intentionally subjecting puppies and pregnant dogs to potentially dangerous selective breeding and treatment.
The Kennel Club refuses to recognise any teacup breed and will not record dogs as being teacup on its register. The charity also warns that buyers should take extreme caution if considering purchasing a dog advertised as a "teacup" puppy.
Boutique Teacup Puppies is a popular site that claims to have sold its teacup puppies to a number of celebrities and royals, including Dre Dre, Fred Durst, and "Royal Families in Saudi Arabia, Israel, Dubain [sic], Bahrain, and many more".
It lists puppies for sale on Instagram, Facebook and on its website for as much as £6,300, stating its puppies are "of the highest quality and standards from a Korean Partner that we have worked with since 2007".
The company did not immediately respond to requests for information on its ethical standards or breeding practices, nor does it list any such information on its website.
Ms Higgins says the trend towards buying miniature puppies over the internet and social media sites is worrying – and trivialises the decision to buy a pet.
"The fact that it's possible to buy these dogs over the internet encourages impulse buying by people ill-prepared for the animal's needs," Ms Higgins warned.
"But also, the proliferation of sales on social media and community sites such as Facebook and Gumtree trivialises the decision to have an animal and perpetuates the idea that they are little more than accessories."
She added that by purchasing pets online, owners won't know the conditions the animal was bred or raised in.
"What you won't see in the ads is that many of these dogs start life on filthy intensive breeding farms and that many pups will die from deformities and illness before they ever reach the point of sale.
"If you care at all about dogs, the very worst thing you can do is buy a teacup puppy and help fuel this industry. Instead, go to visit your local rescue centre and open up your home and your heart to one of thousands of adorable dogs longing for a forever family."
The RSPCA has also advised potential buyers to consider adopting over buying from breeders. It also recommends potential buyers consult its online 'Puppy Contract' as a guide for purchasing a new puppy ethically.
Register for free to continue reading
Registration is a free and easy way to support our truly independent journalism
By registering, you will also enjoy limited access to Premium articles, exclusive newsletters, commenting, and virtual events with our leading journalists
Already have an account? sign in
Join our new commenting forum
Join thought-provoking conversations, follow other Independent readers and see their replies