Prosecutor in Georgia election case against Trump and others seeks protections for jurors
The Georgia prosecutor who has brought charges accusing former President Donald Trump and others of illegally trying to overturn the results of the 2020 election in the state is asking the judge in the case to take steps to protect jurors in the case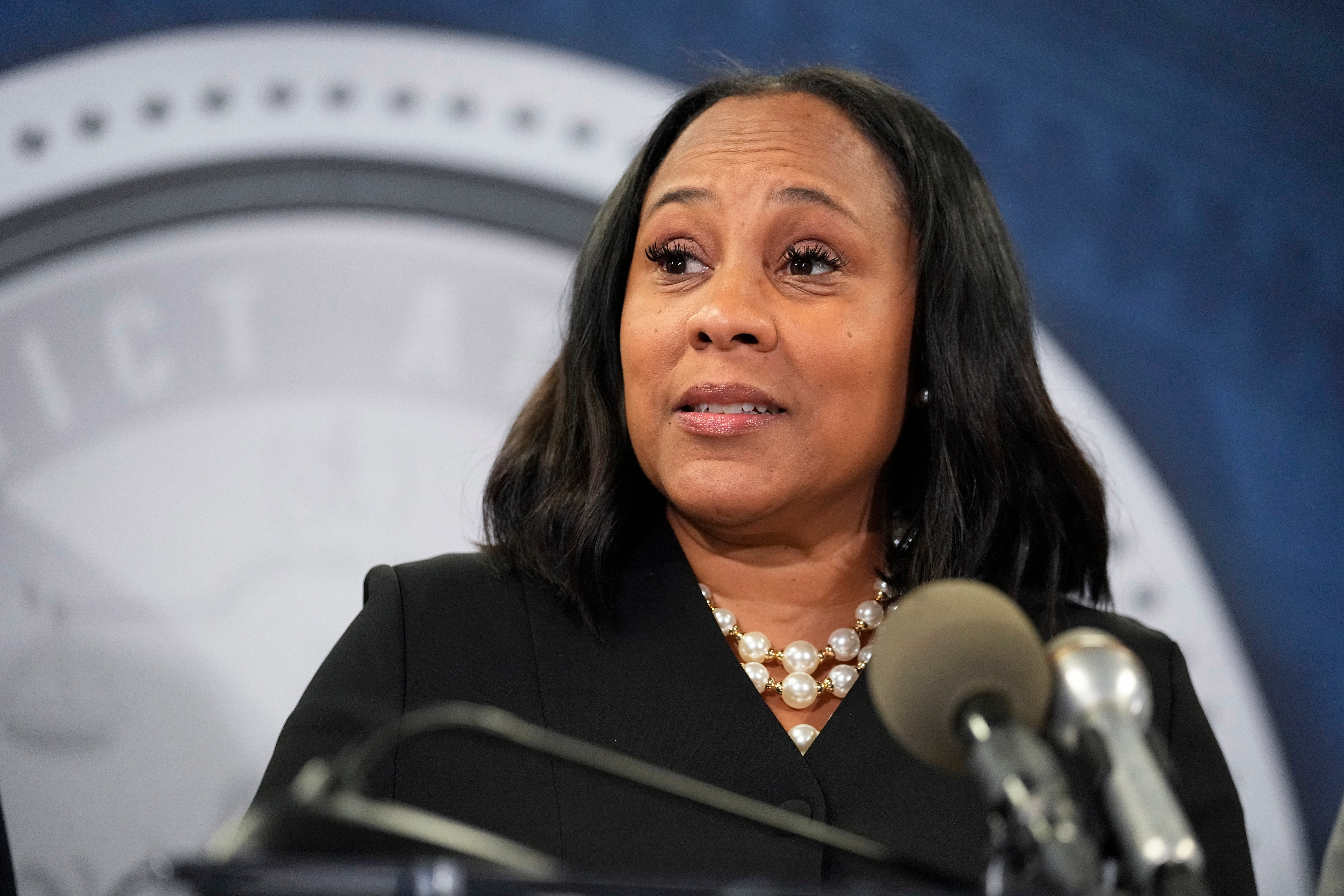 The Georgia prosecutor who has brought charges accusing former President Donald Trump and others of illegally trying to overturn the results of the 2020 election in the state is asking the judge in the case to take steps to protect jurors.
The preemptory step by Fulton County District Attorney Fani Willis comes after the grand jurors who last month returned the wide-ranging 41-count indictment against Trump and 18 others were harassed after their information was posted online. It's a reflection of the highly polarized feelings surrounding the criminal cases against the former president.
Willis wrote in a motion filed Wednesday that the grand jurors' information was posted "with the intent to harass and intimidate them." Additionally, the motion said, Willis' personal information and that of her family and members of her staff have been posted online "intertwined with derogatory and racist remarks" about the district attorney, who is a Black woman.
News cameras are frequently allowed in the courtroom for trial proceedings in Georgia, but video and still photographers are regularly instructed not to show images of members of the jury. During the jury selection process, the prospective jurors are typically referred to by numbers rather than by name.
Willis is asking Fulton County Superior Court Judge Scott McAfee to prohibit defendants, members of the news media or anyone else from creating or publishing images — including video, photos and drawings — of jurors or prospective jurors. She is also asking that the judge prohibit the publication of any information that would help anyone to identify them, "specifically physical descriptions, telephone numbers, addresses, employer names and membership affiliations of all jurors or prospective jurors."
Legal experts have said it's standard for indictments in Georgia to include the names of the grand jurors, in part because it provides defendants the opportunity to challenge the composition of the grand jury. So the names of the 23 grand jurors who heard the district attorney's evidence against Trump and the others and voted to approve charges were included on the indictment. They immediately became the victims of "doxxing," which is short for "dropping dox" or documents, and refers to the online posting of information about someone, generally in an attempt to harass, threaten, shame or exact revenge.
It is "clearly foreseeable" that that would happen to trial jurors if their names were made public, and that could jeopardize their "ability to decide the issues before them impartially and without outside influence," affecting the defendants' right to a fair and impartial jury, Willis argued.
Attached to Willis' motion were sworn statements from Atlanta Police Chief Darin Schierbaum and an investigator in Willis' office.
Schierbaum said that listings of the grand jurors' information "called for harassment and violence against the grand jurors" and that his department worked with the Fulton County Sheriff's Office and other local law enforcement agencies to ensure that safety measures were put in place to protect them. Those efforts "require a significant devotion of our capacity and represent a strain on law enforcement resources to allow them to complete their civic duty without being subjected to unnecessary danger."
Information about Willis and the grand jurors was posted on the dark web, a part of the internet hosted within an encrypted network and accessible only through specialized tools that provide anonymity, district attorney's investigator Gerald Walsh wrote.
The site where the information was posted is hosted in Russia and is known by federal authorities to be "uncooperative with law enforcement." Users who post on that site have made similar posts about other prosecutors, judges, federal employees and their families in other states as well, Walsh wrote.