US national security adviser John Bolton was chairman of 'anti-Muslim' think tank
The former ambassador did not author any of the so-called 'Islamophobic' posts but has ties to anti-Muslim activists 
Mythili Sampathkumar
New York
Tuesday 24 April 2018 14:46 Comments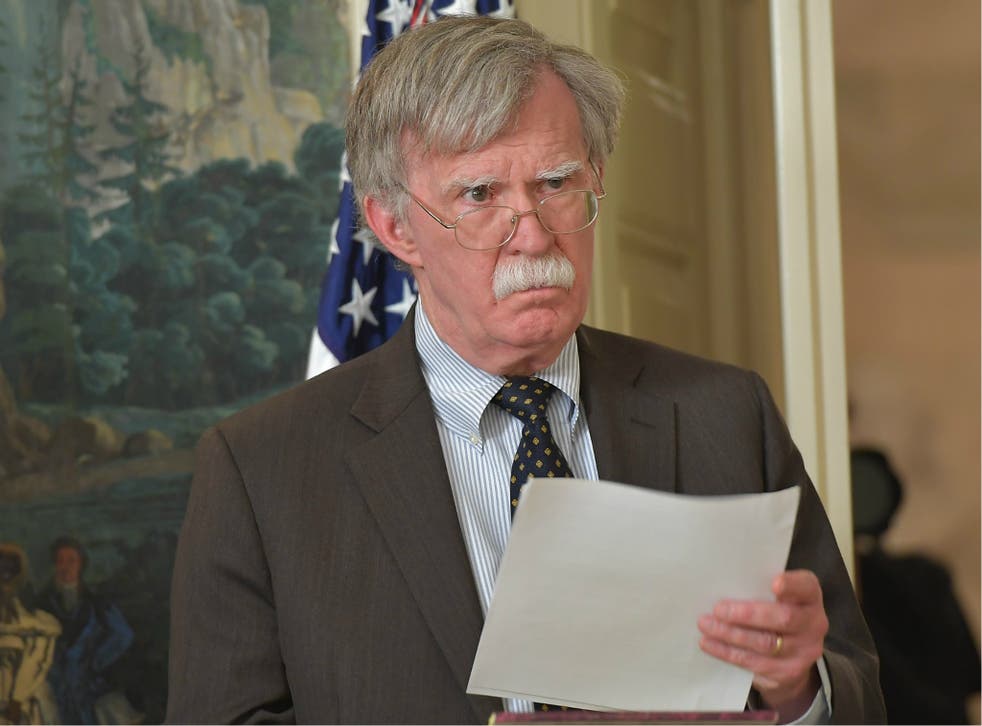 John Bolton, US President Donald Trump's National Security Adviser, was on the board of what some critics have called an anti-Muslim think tank.
The former US Ambassador to the United Nations under President George W Bush had served as the chairman of the Gatestone Institute, a New York-based group that described itself as an "international policy council...dedicated to educating the public about what the mainstream media fails to report in promoting".
Ibrahim Hooper, spokesman for the Council on American-Islamic Relations, a civil rights and advocacy group, told NBC News that Gatestone is "a key part of the whole Islamophobic cottage industry on the internet," adding that it is "very disturbing" that Mr Bolton is now in such a position of power within the White House. Gatestone did not immediately respond to a request for comment when asked if it described itself as anti-Muslim.
A survey of some of the think tank's recent posts showed such headlines as "Palestinians: New Twist on an Old Lie" and UK: "Teacher Handbook" Supporting Extremism?," the post under which said: "Britain's educational authorities also failed to note the underlying message of the Teacher Handbook: that jihadist violence is justified when committed by those who believe themselves to be victims. This is a crucial point: it accepts at face value what might only be many Muslims' perception of "victimhood"."
Another post also highlighted a Somali-Swedish woman who had converted from Islam to Christianity. She is quoted in the post as saying: "I always say to my Christian friends, 'What do you think, what will happen to you if Islam becomes dominant here'."
Mr Bolton does not appear to have authored these or any of the other posts which critics have said are anti-Islam. NBC News reported he does, however, have "a long association with Pamela Geller," an activist who campaigned against a mosque being built near the site of the September 11 attacks in New York and co-founded a group called the America Freedom Defence Initiative with self-proclaimed white supremacist Richard Spencer. Mr Bolton has written a foreword for Ms Gellar's book and appeared on her internet radio programme.
Gatestone has gotten fame through being amplified on social media and one of its posts on so-called "no-go zones" for non-Muslims in France and Belgium where the Muslim population allegedly rules by Sharia law was quoted by Republican Senator Ted Cruz in an opinion piece calling for the monitoring of Muslim-Americans.
"NBC News found at least four instances of known Russian trolls directly re-tweeting from the Gatestone account," the network reported.
The accounts were identified by Twitter itself as Russian trolls working for the Kremlin-connected Internet Research Agency. One story in particular falsely claimed that 423 mosques had opened in London while 500 churches had closed. The post was also picked up by right-leaning Breitbart News. In reality, the number of churches in the UK have been increasing due in part to an influx of immigrants from Poland and Romania, NBC News said.
Register for free to continue reading
Registration is a free and easy way to support our truly independent journalism
By registering, you will also enjoy limited access to Premium articles, exclusive newsletters, commenting, and virtual events with our leading journalists
Already have an account? sign in
Join our new commenting forum
Join thought-provoking conversations, follow other Independent readers and see their replies