Donald Trump does not want Obamacare replacement to be called 'Trumpcare'
The President is not normally shy of putting his name to his brands but healthcare bill proves an exception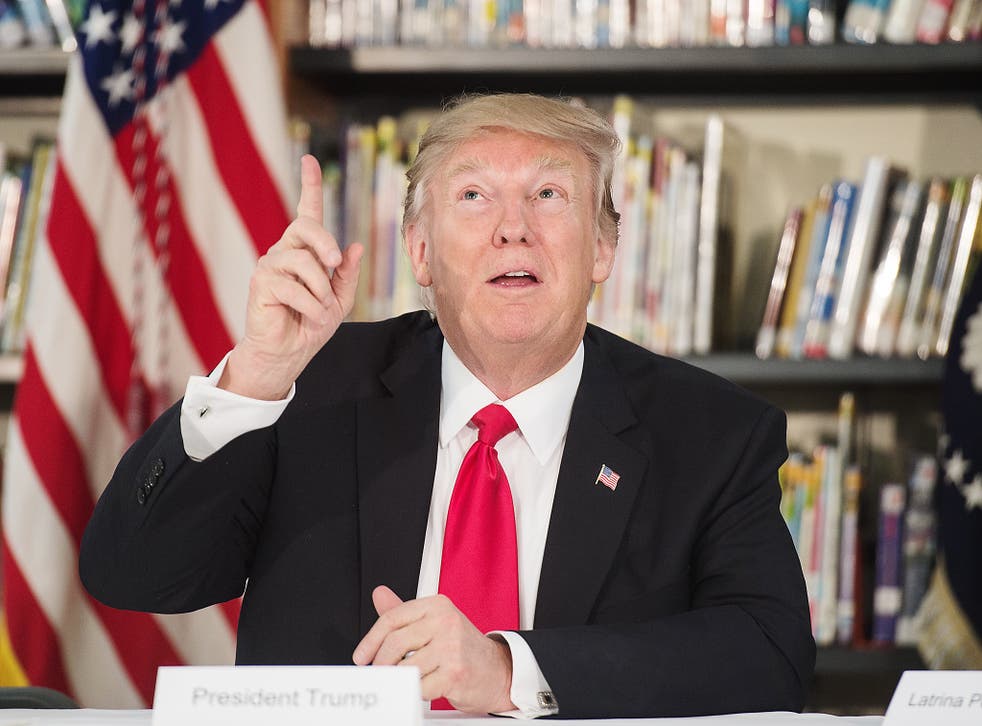 Although he has never been averse to putting his name to his products, President Donald Trump apparently does not want anyone to call the Republican's proposed new healthcare plan 'Trumpcare'.
His top aide Kellyanne Conway hesitated when asked if the proposed replacement for Obamacare should be branded with the President's name.
"Well, it's the American Health Care Act and I think it's aptly named for this reason. It wants everyone to have access to coverage. That just did not happen under Obamacare," she said.
"But you're not going to call it that," pressed 'America's Newsroom' co-host Bill Hemmer.
"I'll call it 'Trumpcare' if you want to, but I didn't hear President Trump say to any of us, 'Hey, I want my name on that'. We're happy it's the American Health Care Act," Ms Conway replied.
"This is serious stuff. It's not about branding according to someone's name."
Mr Trump has put his name to his offices, Trump Tower, as well as to hotels, golf courses and business ventures including his model agency, Trump Model Management. The tycoon has also licenced his name to products including toiletries and streaks in the past.
Ms Conway is not the first from the Trump team to demure on applying the President's name to the proposed replacement for Obamacare, which has provided healthcare insurance for millions of less wealthy Americans since it was introduced in 2010.
"I'll let others provide a description for it. I prefer to call it 'Patient Care,'" Health Secretary Tom Price said during a press briefing. "This is about patients at the end of the day."
White House Press Secretary Sean Spicer gave a similar response when pressed on the issue.
"As Secretary Price mentioned, I think we're less concerned with labels right now and more in terms of action and results," he said.
Mr Trump hailed the bill drafted by the Republicans to repeal and replace the Affordable Care Act as "our wonderful new healthcare bill".
The proposed new system would scrap Obamacare packages in favour of refundable tax credits and would scale back the former President's expansion of Medicaid – the largest source of funding for medical and health-related services for low income Americans.
It would also reduce funding for Planned Parenthood, a family planning organisation which provides abortion – which remains a highly contentious issue in the US.
The proposed package will also let insurers impose a 30 per cent surcharge on premiums for any lapses in coverage, bar lottery winners from Medicaid and repeal a tax on indoor tanning beds.
Obamacare has significantly reduced the number of Americans left without health insurance since it became law in 2101. However, it has been attacked by some who claim it has increased the cost of some packages and increased the national debt. Others oppose universal healthcare provision of ideological grounds because they view insurance as any other consumer good.
Senate Miniority Leader Chuck Schumer criticised the proposed cut to Planned Parenthood, which provides millions with access to mammograms and cancer screenings as well as maternity care.
And he picked up the moniker the President is apparently not keen on, tweeting: "Simply put, #Trumpcare is a mess for the American people. We Democrats will fight tooth and nail to put your access to healthcare first."
The new bill is not proving popular with Democrats or Republicans, as many conservatives are opposed to the tax credits, which they consider to be an "entitlement".
They are also concerned that the new bill does not immediately roll back the Obama expansion of Medicaid eligibility to most poorer adults in more than 30 states.
If enough conservatives, along with Democrats in the House, vote against the bill, it could fail to pass through the chamber. The Republicans hold only a slim majority in the Senate and it would require just three of the group to vote against the bill to derail it, if the Democrats vote in a block.
Register for free to continue reading
Registration is a free and easy way to support our truly independent journalism
By registering, you will also enjoy limited access to Premium articles, exclusive newsletters, commenting, and virtual events with our leading journalists
Already have an account? sign in
Register for free to continue reading
Registration is a free and easy way to support our truly independent journalism
By registering, you will also enjoy limited access to Premium articles, exclusive newsletters, commenting, and virtual events with our leading journalists
Already have an account? sign in
Join our new commenting forum
Join thought-provoking conversations, follow other Independent readers and see their replies