Trump demands investigation into whether Obama administration or FBI spied on his presidential campaign
Donald Trump has regularly attacked the FBI and Department of Justice for what he describes as a politically compromised investigation into his campaign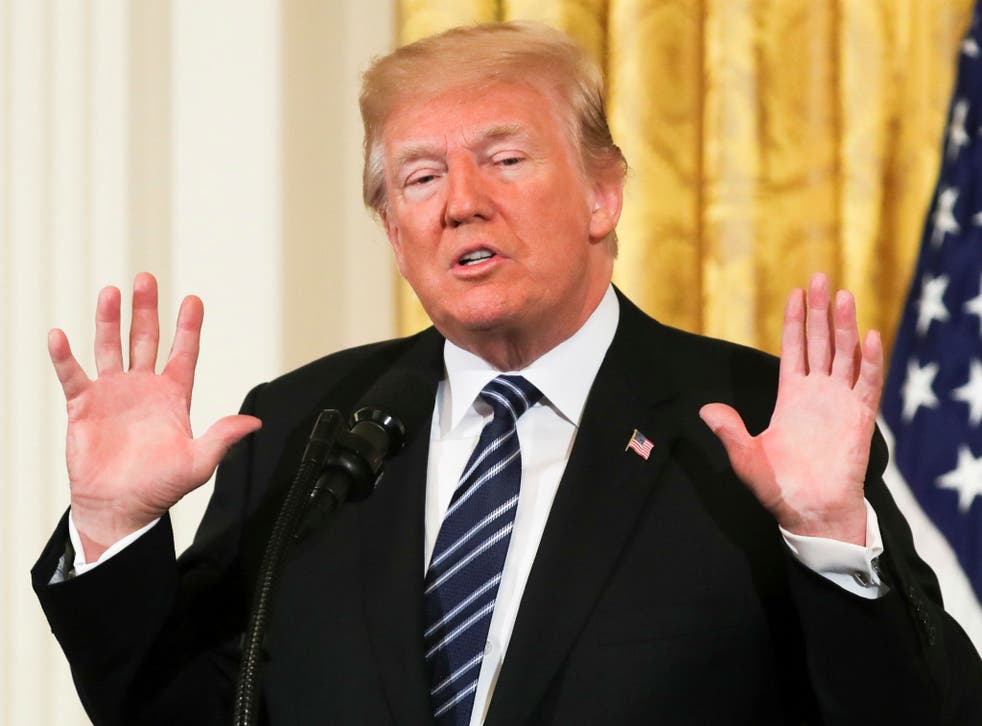 Donald Trump has demanded a federal investigation of allegations that law enforcement monitored his campaign for political purposes.
"I hereby demand, and will do so officially tomorrow, that the Department of Justice look into whether or not the FBI/DOJ infiltrated or surveilled the Trump Campaign for Political Purposes - and if any such demands or requests were made by people within the Obama Administration!" the president said in a tweet.
Reports in recent days that federal authorities used an information to gather information on Trump campaign officials have fanned the president's distrust of the Department of Justice and the FBI, whom he accuses of pursuing a politically tainted "witch hunt" investigating Russian interference in the 2016 presidential election.
The Department of Justice released a statement saying its internal inspector general would expand an existing review of surveillance procedures "to include determining whether there was any impropriety or political motivation in how the FBI conducted its counterintelligence investigation of persons suspected of involvement with the Russian agents who interfered in the 2016 presidential election".
"If anyone did infiltrate or surveil participants in a presidential campaign for inappropriate purposes, we need to know about it and take appropriate action", deputy attorney general Rod Rosenstein - who oversees Mr Mueller's probe - said in a statement.
Multiple stories have described federal law enforcement enlisting an informant to learn more about Trump aides believed to have connections to Russia. The FBI's investigative guidelines bar politically motivated inquiries, and reports have cited anonymous sources who said investigators followed those rules in seeking information on Trump campaign associates.
The biggest names involved in the Trump-Russia investigation

Show all 17
But Mr Trump has issued an escalating series of attacks on what he has called a potentially "all time biggest political scandal". As that presidential assault has unfolded, federal authorities have reportedly been working to limit the fallout if the confidential source's identity is revealed.
A federal investigation into Russian election meddling began during the election and has continued through Mr Trump's presidency, with special counsel Robert Mueller tasked with delving into Russian efforts and any potential links to the Trump campaign.
While Mr Mueller's probe has already produced indictments of multiple former campaign aides, Mr Trump and his Republican allies in Congress have consistently blasted the probe as a partisan charade and have sought to discredit federal officials.
After it emerged that federal investigators had obtained permission to surveil former campaign aide Carter Page, congressional Republicans led an attempt - with Mr Trump's backing - to publish what they called evidence that authorities had concealed the partisan origins of their suspicions.
Law enforcement officials and Democrats have rejected that contention, saying authorities were forthright with a judge about having relied in part on a dossier compiled by a British spy who was receiving funding from the Clinton campaign and the Democratic National Committee.
The Justice Department's internal watchdog earlier this year announced it had opened an investigation into the surveillance of Mr Page.
The president has made a habit of calling for Justice Department investigations. Among the subjects he has suggested federal law enforcement target are pharmaceutical companies, Oakland mayor Libby Schaaf and House minority leader Nancy Pelosi.
Register for free to continue reading
Registration is a free and easy way to support our truly independent journalism
By registering, you will also enjoy limited access to Premium articles, exclusive newsletters, commenting, and virtual events with our leading journalists
Already have an account? sign in
Register for free to continue reading
Registration is a free and easy way to support our truly independent journalism
By registering, you will also enjoy limited access to Premium articles, exclusive newsletters, commenting, and virtual events with our leading journalists
Already have an account? sign in
Join our new commenting forum
Join thought-provoking conversations, follow other Independent readers and see their replies