A-level results: Biggest drop in top grades on record as Tories accused of 'exacerbating' class divide
'Growing disparity' between most and least advantaged students, say experts – as education secretary defends 'rude' comments about record grade-drop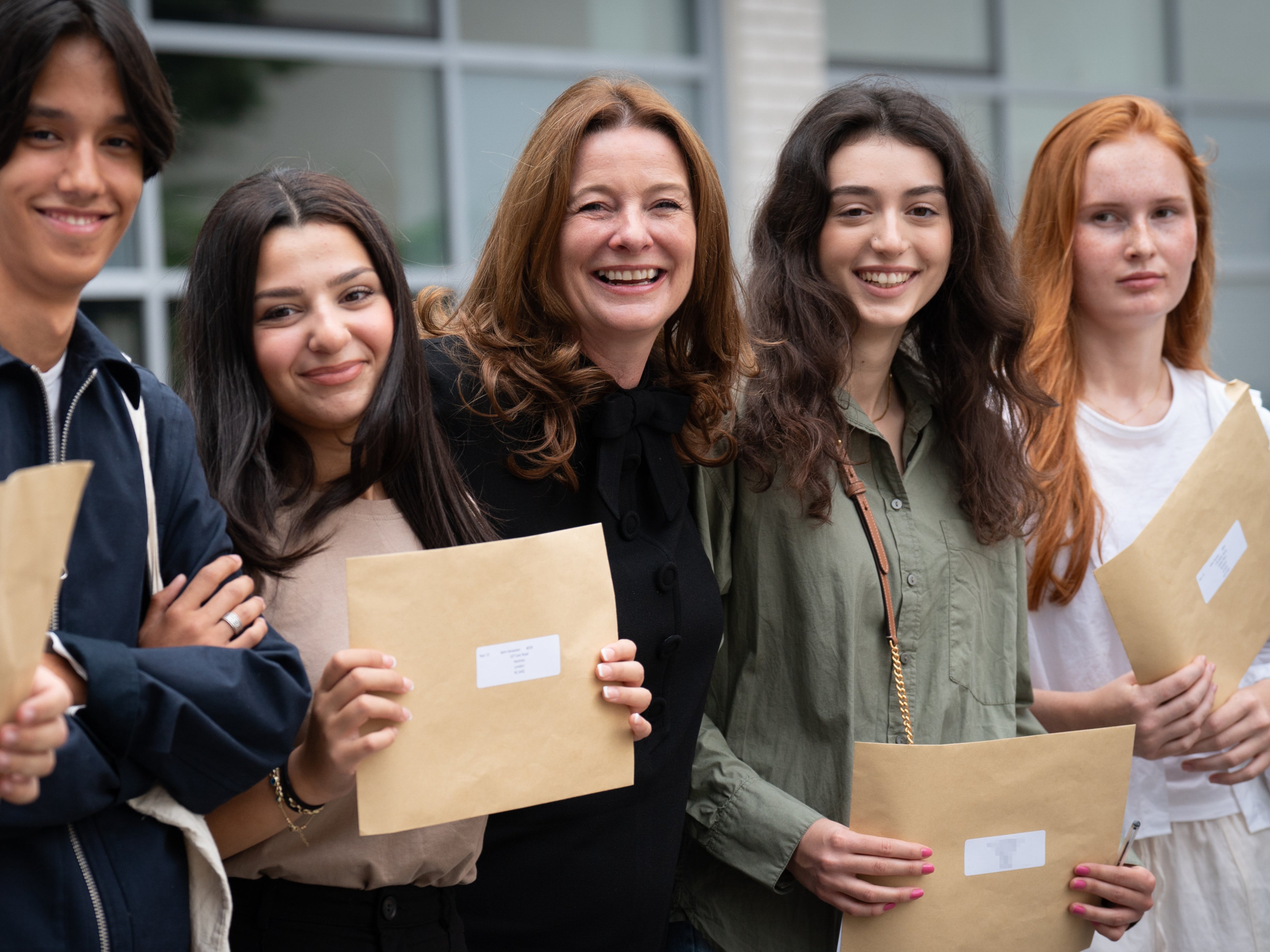 Rishi Sunak's government has been accused of making the country's stark educational divide even worse, as this year's A-level results showed a "growing disparity" between the most and least advantaged students.
School leaders and experts blamed ministers for the "huge disruption" suffered by pupils in England after top A-level grades were subject to the biggest drop on record as a result of post-Covid grade deflation.
The "harsh" pre-pandemic grading system enforced in England saw a chasm open up with Wales and Northern Ireland, while results also revealed the stark North-South divide and the yawning gap in attainment between private and state schools.
The Ucas website crashed on Thursday after 73,000 fewer A* and A grades were given than last year and the pass rate hit its lowest level for 15 years, sparking chaos for the hundreds of thousands of pupils hoping to secure a university place.
Amid the scramble, Ucas figures showed that the number of students accepted onto UK degree courses had fallen this year, down 2.6 per cent on last year. It came as school leaders pleaded with employers to show "flexibility" over the huge change in grades from the Covid era.
Education secretary Gillian Keegan was widely condemned for telling pupils "not to worry" as she dismissed their fears about university places and jobs. "They won't ask you anything about your A-level grades in 10 years' time," she told GB News.
Labour's shadow education secretary Bridget Phillipson said that suggesting the results were irrelevant was "plain wrong" and "downright rude", adding: "She's talking down England's young people, and she needs to apologise."
The proportion of A and A* grades stood at 27.2 per cent – down from a peak of 44.8 per cent during the Covid crisis. England saw the steepest fall, with only 26.5 per cent of pupils awarded the top grades compared with 34 per cent in Wales and 37.5 per cent in Northern Ireland.
Mary Richardson, a professor of educational assessment at UCL, said it was "very harsh" on English pupils given that exam regulators took a more gradual approach in Wales and Northern Ireland, where they do not expect to return to pre-pandemic grading standards until 2024.
"We should have smoothed it out over several years to avoid this kind of huge disruption," she told The Independent. "It's very unfair on this year's pupils. The grade deflation is exacerbating the socio-economic divide."
Prof Richardson and other social mobility experts pointed to figures showing that the attainment gap for top A-level grades between comprehensive schools and fee-paying independents continues to be larger than it was before the pandemic, though it has narrowed slightly this year.
Some 22.0 per cent of A-level entries at comprehensives in England were awarded grade A or above, compared with 47.4 per cent at independent schools – a huge gap of 25.4 points. This is larger than the 24.7-point gap in 2019, before the pandemic.
There was also an 8.3 percentage-point difference between the proportion of entries awarded A or above in southeast England (30.3 per cent) and northeast England (22 per cent) this year. This is larger than the 5.3-point gap in 2019.
Lee Elliot Major, social mobility professor at the University of Exeter, said: "Such stark differences depending on where you live and what type of school you go to is grossly unfair. The insistence on a big change this year hasn't helped – but the biggest driver of the socio-economic divide is the lack of support during Covid."
Prof Major added: "We're definitely going backwards on social mobility – we badly need to up our game. Unless the government commits to a long-term Covid recovery programme, sadly we will see education inequalities get ever wider."
Education leaders mourned the government's plan to cut the level of catch-up funding – aimed at helping disadvantaged pupils after Covid – from 60 per cent to 25 per cent from September.
"The implementation of catch-up funding was weak, and schools will increasingly struggle to fund it – we need the government to come up with something much more ambitious," said Sarah Atkinson of the Social Mobility Foundation.
Labour accused the Tories of "overseeing the managed decline of education across the north of England and Midlands". Sir Keir Starmer's party also pointed to figures showing that only one in seven secondary-school students had received any government-funded tutoring.
Sam Freedman, a former top adviser to Michael Gove at the Department for Education, told The Independent: "Parents and pupils are entitled to be pretty annoyed. There's a very clear unfairness for this year's cohort. It could have been done more gently."
However, Ms Keegan insisted that the "deflation" of A-levels in England is fair. "This is now the time we've chosen, and we think it is the right time – it is two years after the pandemic – that we return to the normal grading system."
Munira Wilson, the Liberal Democrats' education spokesperson, said Ms Keegan's "not to worry" comments to pupils were "grossly out of touch". She added: "Her department needs to get a grip on our education system and apologise for the unhealed damage caused by the pandemic."
Ms Keegan defended her claim that nobody would care about an individual's exam results in 10 years' time. "It is true, it is just real," she told Sky News.
Prof Richardson said she was "incensed" by Ms Keegan's remarks. "Employers may not understand what achievement looks like after Covid – it could be very harsh on this year's students."
Geoff Barton, general secretary of the Association of School and College Leaders, called on employers to be "humane" with this year's school leavers. He said it was important for them "to understand the context that if a youngster is applying to them and has got lower grades ... there is a reason for that".
Join our commenting forum
Join thought-provoking conversations, follow other Independent readers and see their replies