A-Level students left under prepared and disadvantaged for this year's exams, finds survey
Almost half the number of students surveyed reported mistakes by exam boards in their exam papers this summer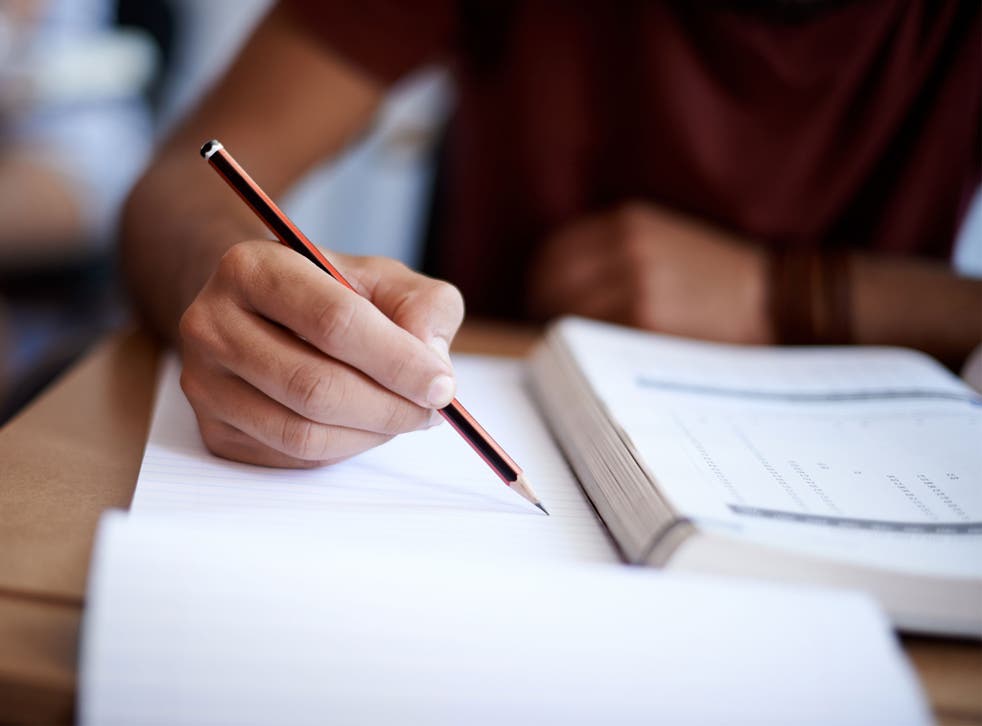 A-level students were left underprepared for this year's exams, they have claimed, thanks to out of date textbooks and exam paper mistakes putting them at a disadvantage compared with previous years.
Responding to a survey conducted by online student community The Student Room, more than half of 5,252 A-level students polled said they did not have access to suitable practice papers while studying.
Almost a quarter (22 per cent) of current A-Level students didn't have access to up-to-date textbooks to study for their exams, while a further 9 per cent said their textbooks were delayed or weren't ready in time.
The findings follows an announcement from the exams regulator Ofqual that marks required to secure top grades have been lowered for this year's candidates, in a bid to avoid a drama­tic fall in results.
This year's candidates were the first to sit a new, linear A-level curriculum. Unlike in previous years, where students could prepare coursework and sit exams at the end of the AS year, this year's cohort are to be graded solely on exams taken at the end of the two-year course.
Exam boards have been criticised for a number of hiccups found in rolling out the new courses, however, prompting complaints that this year's cohort were forced to be "guinea pigs", facing increased pressure on them to perform.
UK news in pictures

Show all 50
According to the survey - which was conducted after thousands of students took to the forum to voice their complaints - almost half of candidates (43 per cent) reported mistakes by exam boards in their exam papers this summer.
High profile exam mistakes included the OCR A-level biology paper, which asked students to calculate a standard deviation but failed to provide the formula.
"Students haven't enjoyed the advantages of previous years," said Hannah Moorish from The Student Room. "They did not have access to the level of experienced teaching, past exam papers and established textbooks. They also didn't have the opportunity to improve their grades by re-sitting individual exams during the course.
"Throughout the exam period there were some well publicised errors in exam papers as well as security breaches and all of these factors have aligned to knocked students' confidence in the system.
"Students understand that exams are about differentiating between them, they don't expect or want everyone to do well. They just want a fair system in place that doesn't disadvantage anyone."
Figures published by the NSPCC this week revealed a significant increase in the number of teenagers seeking help through Childline as a result of exam results stress.
More than 1,000 counselling sessions were provided to teenagers worried about their grades in the last financial year, a rise of more than a fifth (21 per cent) over the last two years.
A survey taken earlier this year by the NASUWT teaching union also found an increase in the number of teachers and school leaders dealing with pupils experiencing mental health problems, often as a result of exam based pressured.
Commenting on the latest figures, Chris Keates, General Secretary of NASUWT, said: "It is clear that exam and academic pressures are a major contributor to this problem with 84 per cent saying that they believe that the pressure of the exam/testing system is creating or contributing to mental health issues in their pupils and 71 per cent citing the pressure to be academically successful as a driver of pupil mental ill health.
"This year the pressures have been particularly acute as a result of the Government's reforms to GCSEs and A-levels, which have led to greater uncertainty.
"The NASUWT believes these changes have been driven by political imperative, rather than the needs of young people, and are only likely to increase the number of young people experiencing severe stress and anxiety."
Register for free to continue reading
Registration is a free and easy way to support our truly independent journalism
By registering, you will also enjoy limited access to Premium articles, exclusive newsletters, commenting, and virtual events with our leading journalists
Already have an account? sign in
Register for free to continue reading
Registration is a free and easy way to support our truly independent journalism
By registering, you will also enjoy limited access to Premium articles, exclusive newsletters, commenting, and virtual events with our leading journalists
Already have an account? sign in
Join our new commenting forum
Join thought-provoking conversations, follow other Independent readers and see their replies