A-level exam results day: Number of pupils awarded top grades expected to rise
Boys could pull ahead of girls this year in terms of A* grades achieved, experts predict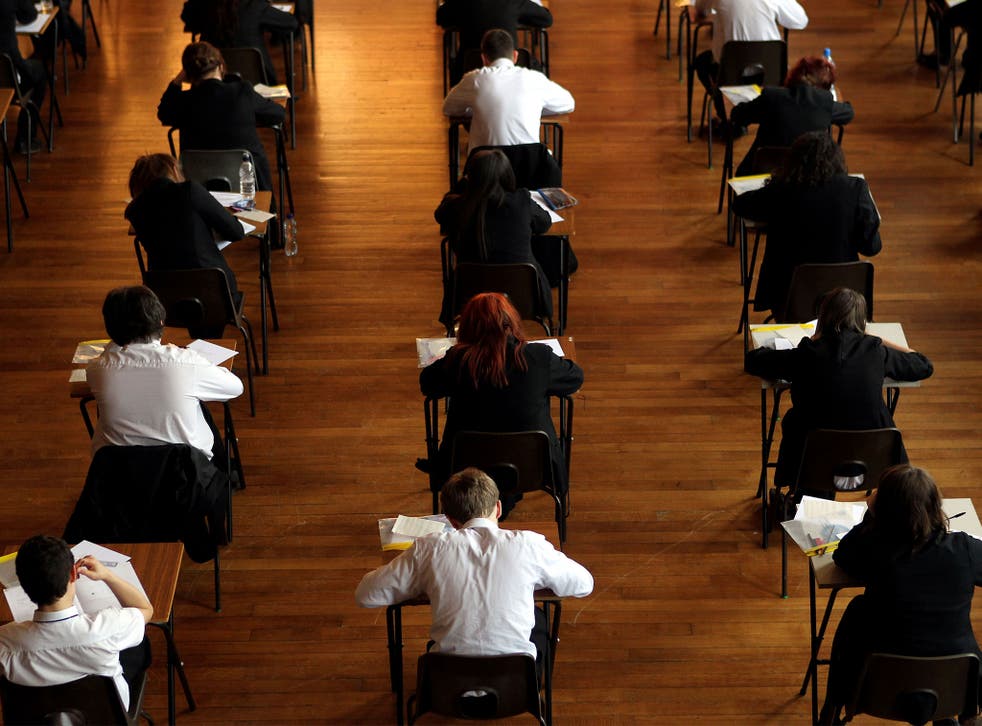 The number of pupils awarded top grades at A-Level this year is expected to rise, despite warnings of "greater volatility" in marks, experts have predicted.
Thousands of students across the country are due to collect their A-Level results today, amid concerns raised by schools and teaching groups that this year's curriculum changes will reflect badly in terms of individual grading.
Analysis of the entry levels for the traditionally top-scoring subjects, such as maths, indicates the percentage of students achieving an A or A* will increase, however.
The number of boys achieving the very top grade could pull further ahead of girls this year due to more students opting to take maths - a typically a high-scoring subject more popular with higher numbers of male candidates - according to Professor Alan Smithers, director of the Centre for Education and Employment Research at Buckingham University.
Last year, boys held a 0.9 per cent lead over girls at A* grade, although girls had a 0.4 per cent lead at A and A* grade combined - having out-performed boys every year since the millennium.
Entries to maths and further maths in England are up again, with the former now overtaking English as the subject with the highest intake.
Since maths tends to achieve the most A* grades overall at A-Level, this could lead to an increase in A* grades overall, experts believe.
Mr Smithers said that the gap between boys and girls had been narrowing since 2006, and that boys could "go further ahead this year due to the increase in people taking maths and further maths".
Changes to the school curriculum this year have been the source of much controversy, however, with teachers preparing students for unexpected and even disappointing grades.
Leading head teachers of both private and state schools said this year's results will be the "most unfair in a generation" after changes to the appeals process that may result in students missing out on top university places.
Chris Keates, general secretary of the NASUWT union, said that teachers and students had struggled to get to grips with new syllabuses brought in this year which introduced changes to all AS and A-levels.
Ms Keates said the changes would particularly affect those receiving their AS-level results, since they are the first group to go through the new curriculum.
"Students and teachers have had a very short timescale to get to grips with the new syllabuses, particularly at a time when they have been trying to prepare for the introduction of revised A-level courses from next month," she said.
Budget cuts have affected staffing levels and resources in schools and colleges, adding to the challenges faced, Ms Keates added.
But, she said:"Young people have continued to excel despite these challenges which have been compounded for many by the Government's removal of financial support for the most disadvantaged students and its cuts to the system of independent careers advice and guidance."
"[Results day] offers an opportunity to celebrate the talent of our young people, but should also provide pause for thought about the increasing barriers that students and schools are facing to achieve this success."
Russell Hobby, general secretary of school leaders' union NAHT, warned that while the national picture may look "stable", the changes to the curriculum and examinations meant there could be big differences at a school and student level.
"For individual students, teachers and schools this is a real concern," Mr Hobby warned.
"We are also concerned about the possibility of a further dip in the number of students taking creative subjects at AS and A-level."
Register for free to continue reading
Registration is a free and easy way to support our truly independent journalism
By registering, you will also enjoy limited access to Premium articles, exclusive newsletters, commenting, and virtual events with our leading journalists
Already have an account? sign in
Register for free to continue reading
Registration is a free and easy way to support our truly independent journalism
By registering, you will also enjoy limited access to Premium articles, exclusive newsletters, commenting, and virtual events with our leading journalists
Already have an account? sign in
Join our new commenting forum
Join thought-provoking conversations, follow other Independent readers and see their replies