A-level results: Fall in top grades caused by more students taking traditional subjects
Richard Garner
Friday 15 August 2014 10:04 Comments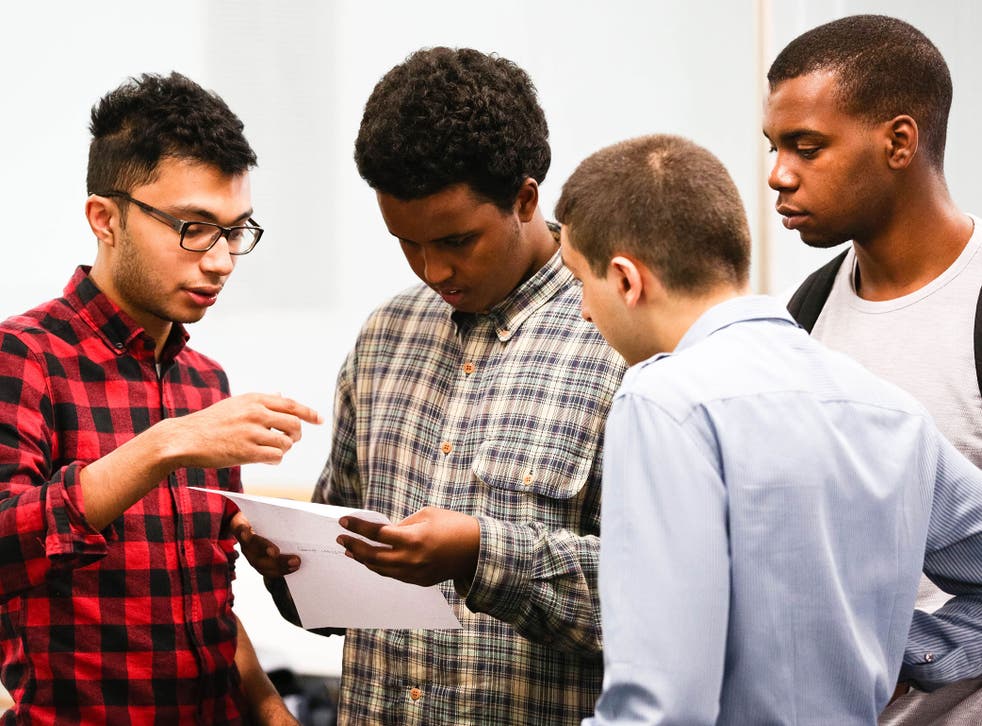 A drop in top grade passes at A-level this year may have been triggered by a growth in the number of candidates taking traditional academic subjects, exam boards have suggested.
Figures show the percentage of A* to B grade passes fell by 0.5 per cent to 52.4 this year, while the overall pass rate dipped for the first time in more than 30 years from 98.1 per cent to 98 per cent.
It coincided with a major increase in the number of candidates taking the "facilitating subjects" such as maths and science, which are necessary to secure a place at one of the UK's more prestigious universities.
The exception to the downturn, though, was in the number of papers awarded an A* grade this year which were up from 7.6 per cent in 2013 to 8.2 per cent - a trend put down to the brightest pupils pushing themselves harder now more universities insist on A* grades for entry.
Today's results, received by 300,000 teenagers, were being described as "the Gove legacy results" - the first to show the impact of former Education Secretary Michael Gove's exam reforms. He indicated he was relaxed about a drop in the pass rate if it meant exam standards were more demanding and he would have been delighted about the switch to the so-called STEM (science, technology, engineering and maths) subjects.
However, exam boards suggested the drop in top grade passes was more likely to be down to pupils who had previously not considered taking such subjects finding them harder going, rather than the exams becoming harder. "It is harder for the individual, not a harder A-level," said Andrew Hall, chief executive of the AQA exam board.
In a letter to schools, governors and pupils, the Joint Council for Qualifications, the umbrella body representing exam boards, said: "It is quite probable that [the drop] is due to students taking these subjects who in the past may have made other choices.
"If these students have found a particular facilitating subject more challenging than their peers, it may have depressed overall outcomes at grade A and grade B."
Overall, the figures show a two per cent rise in biology, chemistry and physics, a 0.9 per cent rise in maths and 1.5 per cent rise in further maths. The trend of a rise in A* grade passes but fewer A* to B grades was mirrored in all these subjects.
Modern foreign languages, however, failed to mirror the trend with French take-up down 7.4 per cent, German 0.1 per cent and Spanish 0.6 per cent.
"School leaders, employers and the Government have worked together to encourage more students to take maths and science subjects," said Brian Lightman, general secretary of the Association of School and College Leaders. "This is paying off so we are seeing more students choosing these important A-levels.
"We need equally strong messages from employers and the Government about the importance of taking A-levels in foreign languages in which we have not seen the same increase."
John Cridland, director general of the CBI, added: "Europe remains our largest export market so to see yet another fall in the languages used on our very doorstep is a blow."
Figures showed the rise in STEM subjects was at the expense of subjects like critical thinking (down 46.6 per cent), general studies (24.3 per cent) and physical education (11.6 per cent). English was also down by 4.6 per cent - although this was down to the GCSE marking controversy of two years ago where the pass mark was raised at the last moment, meaning many students failed to get high enough grades to pursue the subject at sixth-form level.
An increase in the numbers taking the extended project - offering the chance to write a thesis-style paper - also emerged and was welcomed by universities. Figures were up from 5,100 entries when it was first introduced five years ago to 33.200 this summer.
Lesley Davies, from Pearson UK, said students were choosing more traditional subjects as they were becoming increasingly focused on what was needed for their careers rather than what they may find easy.
Mark Dawe, chief executive of the OCR exam board, added: "Students are savvy young people now. I think that's a trend we've seen over time- that savviness increasing year on year."
Fears were expressed over the gender gap in subject choice, with four out of five physics students, and nearly two thirds in maths, boys. In computing, too, only 7.5 per cent were girls. By contrast, English, art and design, law and sociology were dominated by girls. Boys also did better at A* grade with 8.5 of entries awarded it compared with 7.5 per cent for girls.
"Whilst we welcome the fact that the number of girls studying physics has increased by 4.7 per cent there is still a significant gap between the number of boys taking this subject compared to girls," said Verity O'Keeffe from the Engineering Employment Foundation.
The results were welcomed by new Education Secretary Nicky Morgan who said: "I'm delighted to see more students, especially young women studying maths and sciences and teachers having more time to push pupils to achieve the very top grades."
First free school to take A-levels records stellar performance
The first of the Government's flagship free schools to record A-levels saw more than one in three of its intake snap up places at elite universities.
The London School of Excellence in Newham, east London, which is co-sponsored by eight independent schools including Eton, saw 68 of its pupils obtain places at universities in the Russell Group, which represents 24 of the most selective and sought-after higher education institutions in the country. The figures include four who have obtained places at Oxford and Cambridge.
The school, which takes in pupils at sixth-form level and only teaches the so-called "facilitating subjects" that pupils need to get into to UK universities, saw 39 per cent of its pupils record at least two A grade and a B grade passes which is a percentage that would last year have placed it top of all the sixth-form colleges in England.
Barnaby Lenon, former head of Harrow independent school and now chairman of governors at the LAE, said the results showed the value of access to top quality teachers from the eight sponsoring independent schools. Each takes on a different subject area to sponsor at the school.
"We're delighted with the results," he added. "We were set up to improve the university entry statistics for the borough of Newham - which we serve - and we've clearly done that."
However, the school acknowledged that "much of the credit" for their pupils' performance was down to the borough's 11 to 16 schools where its pupils achieved "excellent" GCSE results.
Register for free to continue reading
Registration is a free and easy way to support our truly independent journalism
By registering, you will also enjoy limited access to Premium articles, exclusive newsletters, commenting, and virtual events with our leading journalists
Already have an account? sign in
Join our new commenting forum
Join thought-provoking conversations, follow other Independent readers and see their replies