Betsy DeVos labels Black Colleges 'pioneers of choice' despite being set up for African-Americans with no options
Social media users claim Ms Devos has 'ignored' the history of how black Americans were once denied access to higher education
Rachael Pells
Education Correspondent
Tuesday 28 February 2017 12:13 Comments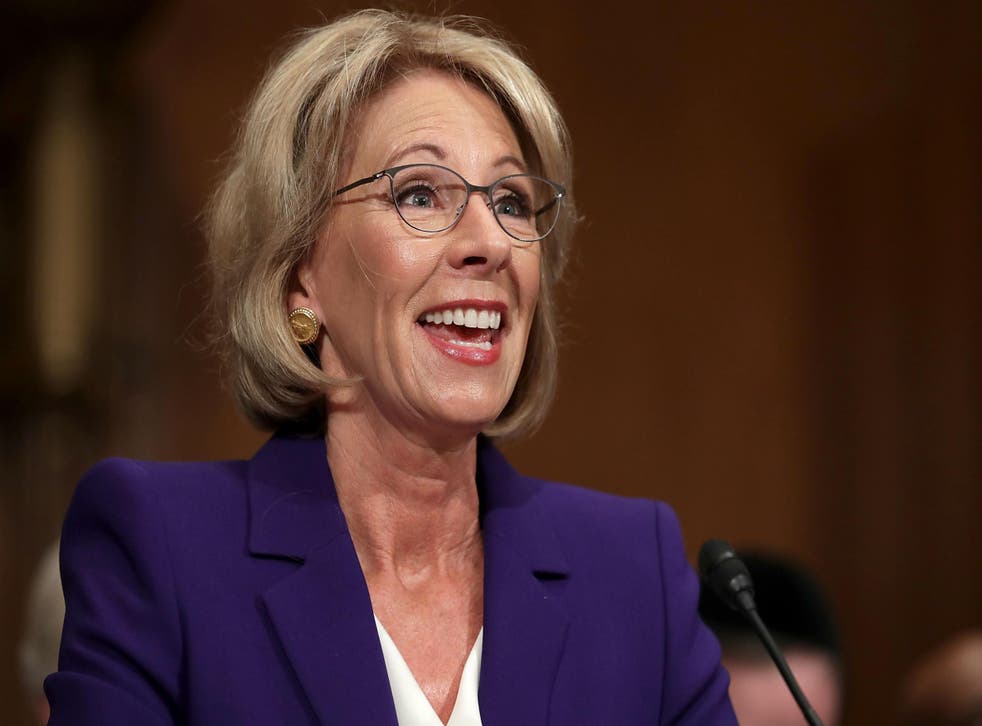 US Education Secretary Betsy DeVos has been accused of ignorance for suggesting colleges set up for black students are "pioneers of choice".
After meeting with university leaders at the White House with President Donald Trump on Monday, Ms DeVos released a statement illustrating her administration's proposals to help develop "underserved communities".
In it, she said Historically Black Colleges and Universities (HBCUs) were "real pioneers when it comes to school choice."
"They are living proof that when more options are provided to students, they are afforded greater access and greater quality," she added. "Their success has shown that more options help students flourish."
Historically Black Colleges and Universities (HBCUs) are institutions set up in the aftermath of the American Civil War allowing citizens or all races to apply to study.
At the time, many US states had segregated systems that banned black and ethnic minority students from enrolling in traditionally white universities.
Reacting to the statement on social media, some said Ms Devos was "ignoring" the history of how black Americans were denied access to higher education.
Education secretary Betsy DeVos wants to 'advance God's kingdom' through US school system
Others argued the statement applauded the segregated Jim Crow education system for giving black students "more options".
The Department of Education states on its own website that HBCUs were established because "there was no structured higher education system for black students."
"At a time when many schools barred their doors to black Americans, these colleges offered the best, and often the only, opportunity for a higher education."
Ms DeVos has come under regular scrutiny since the Republican win last year. When asked her views on the way students should be tested in schools, Ms Devos - then Education Secretary nominee – was ridiculed for failing to answer a basic question on education policy.
Last week the Cabinet member defended a controversial move to roll back federal guidelines specifying that transgender students have the right to use public school toilets that match their gender identity, as issued by the Obama administration.
President Trump is expected to sign an executive order on HBCUs this week.
Register for free to continue reading
Registration is a free and easy way to support our truly independent journalism
By registering, you will also enjoy limited access to Premium articles, exclusive newsletters, commenting, and virtual events with our leading journalists
Already have an account? sign in
Join our new commenting forum
Join thought-provoking conversations, follow other Independent readers and see their replies