Protests against LGBT+ lessons permanently banned from outside Birmingham primary school
Ongoing demonstrations had 'significant adverse impact' on pupils and teachers, judge says
Eleanor Busby
Education Correspondent
Tuesday 26 November 2019 12:03 Comments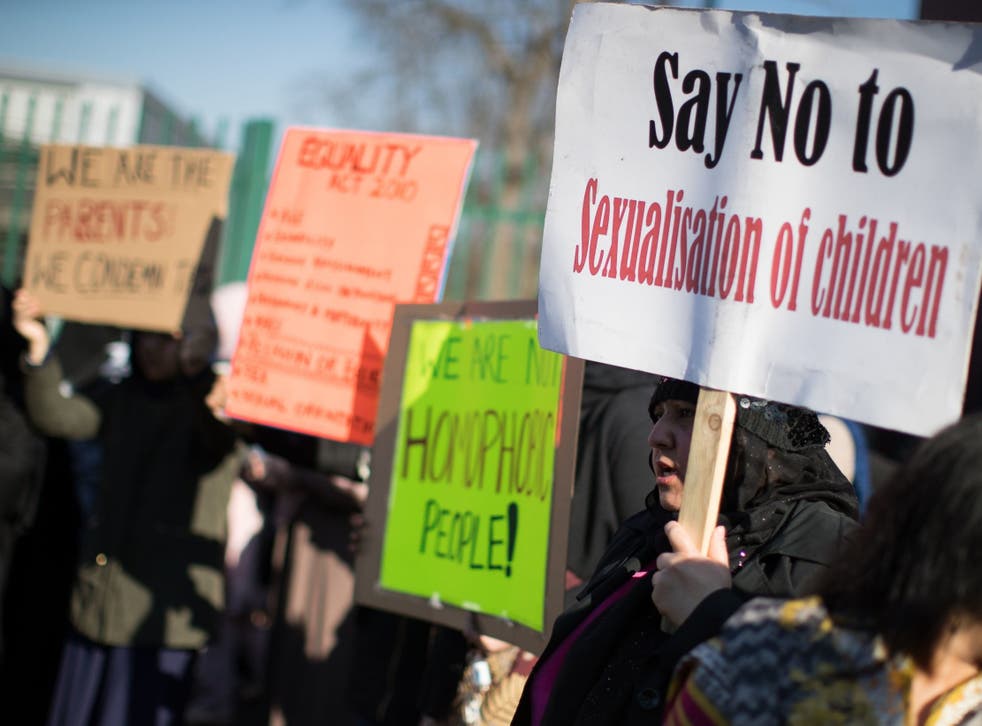 Protests against LGBT+ equality lessons have been permanently banned from outside a school in Birmingham.
A High Court judge ruled in favour of a permanent exclusion zone around Anderton Park Primary School, which has faced regular demonstrations for teaching pupils about same-sex families.
The protests had "a very significant adverse impact" on pupils, staff and residents – and it led to 21 teachers at the school being treated for stress, Mr Justice Warby said.
In June, Birmingham City Council was granted a temporary injunction against protests outside the school's gates over safety fears.
Now the High Court has permanently banned protesters Shakeel Afsar, Amir Ahmed and Rosina Afsar, as well as "persons unknown", from the school after months of noisy protests.
UK news in pictures

Show all 50
It comes after a five-day hearing last month saw the local authority seek a permanent order to protect the school from further protests.
Headteacher Sarah Hewitt-Clarkson said she was "happy" after the ruling, adding that the ongoing protests at the school had been "awful".
But protesters against LGBT+ equality teaching have reacted with claims of "white" bias following the decision on Tuesday.
Mr Afsar, who led the protests, branded the court's approach "one-sided", adding the judge, the council's barrister and witnesses had been "white" compared with the "diverse" protesters.
He vowed that demonstrations – outside the exclusion zone – would be continuing but was "bitterly disappointed" with the decision of the court.
Another lead protester, Mr Ahmed, signalled the ruling would be appealed against.
Mr Afsar had repeatedly claimed the weekly demonstrations, held just yards from classrooms and featuring megaphones and a PA system, were "peaceful".
He had argued educational material used was not age appropriate and further claimed the school was "over-emphasising a gay ethos".
Ms Hewitt-Clarkson rejected the claims, saying the material was appropriate and great care had been taken in how children were taught about different relationships.
Recounting claims made by protesters, including one that the school had a "paedophile agenda" and that staff were "teaching children how to masturbate", the judge said: "None of this is true."
Mr Justice Warby added that what was being taught at the school had been "misrepresented and misunderstood" by the protesters.
He said there had been leaflets handed out "suggesting the school was promoting homosexuality – which is not the case".
"This judgment notes that the true position has been misrepresented, sometimes grossly, in the course of these protests," he added.
Birmingham City Council said it was "really pleased" that the injunction will remain in place.
Dr Tim O'Neill, the council's director of education and skills, said: "This was always about protecting the school and community from the escalating levels of anti-social behaviour of the protests, not about trying to stop peaceful protest.
"As this court case has demonstrated, there remains a gap between the reality of what is and isn't being taught at the school. Protests of this kind only serve to attract fringe elements whose aim is to stoke division and hatred.
"We would therefore continue to encourage any concerned parents to engage with the school to have constructive discussions and address any issues."
On the ruling, Paul Whiteman, general secretary of school leaders' union NAHT, said: "This judgment makes it abundantly clear that the school gate is no place to hold a protest.
"These protests have been widely and rightly condemned and they should now be brought to an end with immediate effect."
He added: "Dedicated public servants faithfully discharging their duty have an absolute right to feel confident and safe, pupils should never have to walk past noisy and aggressive protests on their way to school.
"We will continue to support schools where disagreements persist because diversity and equality are a matter of fact and a matter of law and learning about equality and diversity is not optional."
A Department for Education spokesperson said: "We've long said we want to end these protests and encourage positive dialogue, so we welcome the High Court's decision today.
"We continue to work with the school and parents to encourage positive and constructive engagement."
Additional reporting by Press Association
Register for free to continue reading
Registration is a free and easy way to support our truly independent journalism
By registering, you will also enjoy limited access to Premium articles, exclusive newsletters, commenting, and virtual events with our leading journalists
Already have an account? sign in
Join our new commenting forum
Join thought-provoking conversations, follow other Independent readers and see their replies