Budget 2017: £320m for new free schools 'fails to address majority needs'
Additional £320m announced for free schools expansion – despite a scathing report by Parliament's spending watchdog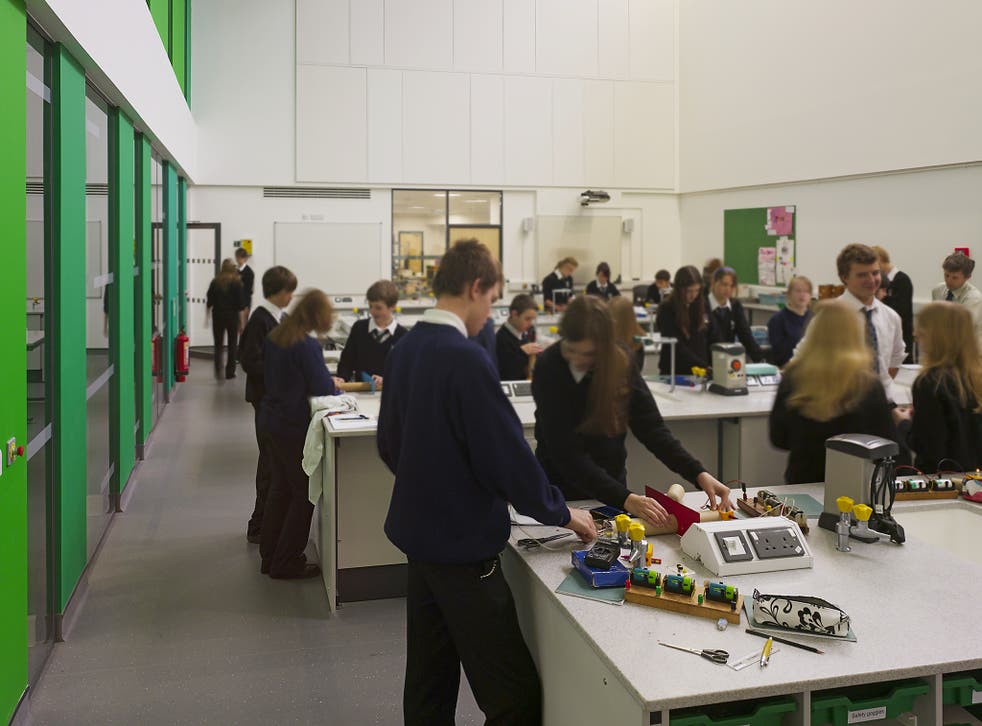 The Government is to plough on with its free schools expansion plan by investing another £320m towards the opening of the schools, despite fierce criticism from industry leaders.
Announcing the spring Budget in Parliament, Chancellor Phillip Hammond put aside £260m for much-needed repairs to school buildings.
A total £1bn in extra funding was announced for schools, including £500m for new T-level vocational exams.
Union leaders have accused the Government of failing to address the majority's needs, however, labelling it a "missed opportunity" for local authority schools in desperate need of funds.
This week The Independent revealed the Department for Education had sought emergency funding from Parliament after it overspent its budget by £3bn last year.
Melissa Benn, chair of Comprehensive Futures, a non-profit group championing fair admissions, criticised the Government for setting aside money for new grammar schools before the vote had been taken to Parliament.
She said: "The Prime Minister has jumped the democratic gun in suggesting that new grammar schools will be established under her watch. It is completely undemocratic to spend our money on a policy that has no parliamentary approval, especially when the public are still awaiting the results of last year's Green Paper consultation on this scheme."
Dr Mary Bousted, general secretary of the Association of Teachers and Lecturers added: "The Government has failed to consider the needs of the majority of children and young people in not increasing the funding for all state schools.
"Putting more money into free schools and grammar schools will not benefit most children and is a costly way of providing extra school places."
Some 70,000 new school places will be created through the opening of 110 new free schools, Mr Hammond confirmed, although only 30 will open by the year 2020.
Free school transport will also be extended to all pupils on free school meals, but only at selective schools such as grammars.
Jon Andrews, director for school system and performance at the Education Policy Institute, said of the announcement: "With pupil numbers expected to rise and school budgets tight, the Government should be ensuring that the £320m for new schools is spent where there is the greatest need for new places.
"Excess capacity could create pressures on existing schools at a time when they are already preparing themselves for real terms budget cuts. As the National Audit Office has highlighted, existing free schools have not always been in areas where they are needed"
Last month, a scathing report by Parliament's spending watchdog deemed millions of pounds in taxpayers' money is being "wasted" by building state-of-the-art free schools that stand empty.
At the same time, deteriorating and potentially unsafe buildings presented a "looming crisis" for local authorities, the National Audit Office (NAO) warned.
Up to 60 per cent of existing school buildings are in urgent need of repair, the report found, with many pre-1976 buildings in need of replacement or suffering major defects including problems with electrics and external walls.
Shadow Education Secretary Angela Rayner called on the Government to scrap "arbitrary" free school targets and focus on repairing existing schools.
Budget 2017: Gags and gaffes from Philip Hammond's first budget
She told The Independent: "The Tories are wasting millions on free schools in areas that do not need them and where there is no demand, while a crisis is looming in the condition of many of our state schools.
"It is unacceptable that money can be found for the Tories' pet projects, yet there are major defects in the fabric of state schools which are not being repaired.
Kevin Courtney, general secretary of the National Union of Teachers, said: "This Budget is a complete dereliction of duty to our children and young people. The Chancellor knows full well that schools and sixth-form colleges up and down the country are on their knees struggling to make ends meet.
"School budgets have been cut to the bone, class sizes have increased, subjects have been dropped from the curriculum, materials and resources are scarce yet nothing has been done to address this very serious problem. All this comes at a time of soaring pupil numbers and a developing crisis in teacher recruitment and retention.
A key part of the Budget announcement was for investment in technical training.
The new T-levels are designed to whittle more than 13,000 different qualifications currently available for 16-year-olds down to 15 routes into industry areas such as engineering, design and construction.
A new education White Paper is to be published in the coming months.
Register for free to continue reading
Registration is a free and easy way to support our truly independent journalism
By registering, you will also enjoy limited access to Premium articles, exclusive newsletters, commenting, and virtual events with our leading journalists
Already have an account? sign in
Register for free to continue reading
Registration is a free and easy way to support our truly independent journalism
By registering, you will also enjoy limited access to Premium articles, exclusive newsletters, commenting, and virtual events with our leading journalists
Already have an account? sign in
Join our new commenting forum
Join thought-provoking conversations, follow other Independent readers and see their replies