Homophobic bullying in schools falls by a third in a decade, study finds
Lesbian, gay, bisexual, queer and transgender pupils are still at risk, charity warns, with as many as two in three trans children reported to have attempted suicide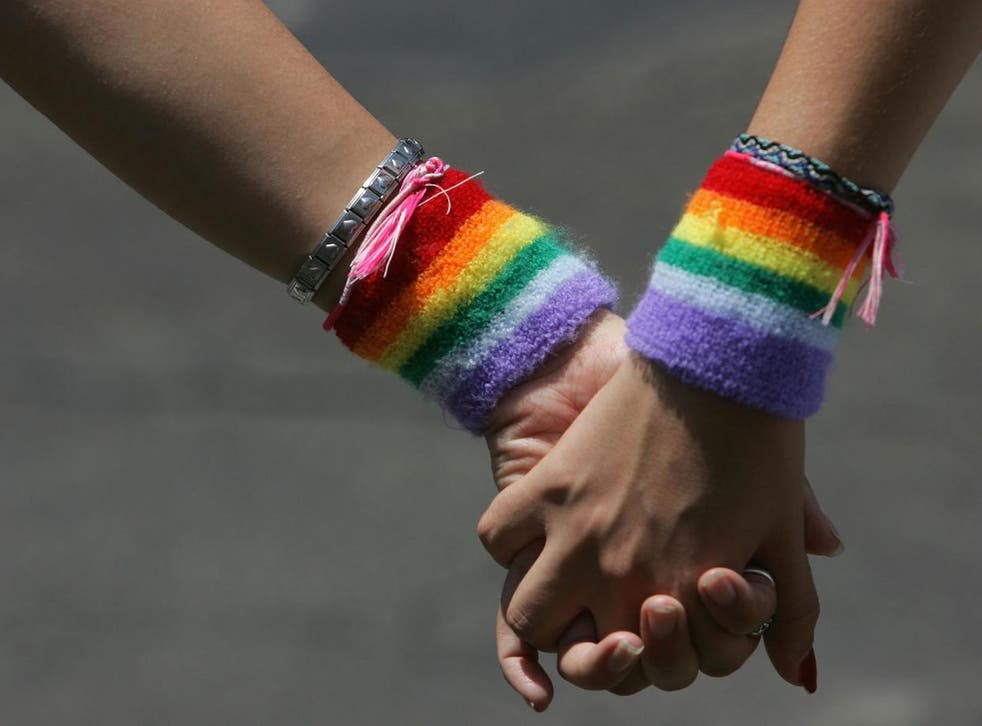 Homophobic bullying has fallen dramatically in British secondary schools, latest figures have revealed, with LGBT young people now a third less likely to be bullied because of their sexual orientation than they were 10 years ago.
Research commissioned by LGBT equality charity Stonewall found overall, schools were becoming more proactive in preventing harassment and mistreatment of gay pupils.
LGBT children are still at a greater risk of being bullied than their heterosexual peers, however, with around 45 per cent of gay, lesbian bisexual and transgender pupils reporting harassment in school.
The study, carried out by Cambridge University researchers, suggests the school culture is changing, with teachers becoming more likely to address homophobic bullying and teach pupils it is wrong.
Generally, children are more likely to be taught about LGBT issues in the classroom than they were a decade ago.
The Stonewall School Report still raises concerns about the proportion of young people who do find themselves the victim of bullying, however, and the impact this has on them, with many LGBT pupils admitting to self-harm.
More than two in five transgender young people (45 per cent) said they have attempted to take their own life, compared to one in five gay, lesbian and bisexual students who said they had done the same.
The report also found that nearly one in 10 trans pupils (nine per cent) are subjected to death threats at school, and two in five LGBT young people (40 per cent) have been the target of anti-LGBT abuse online.
Stonewall said that while the findings showed an improvement for young people in many ways, there is still much more to do.
Faith schools continue to be the worst type of school environment for LGBT pupils, with a third of respondents to the survey admitting that teachers and school staff never challenge homophobic, biphobic and transphobic language when they hear it.
UK news in pictures

Show all 50
This is compared with 22 per cent in non-religious schools.
Chair of the Accord Coalition for Inclusive Education, Rabbi Dr Jonathan Romain, said: "Schools are captive environments. That many in Britain are still failing to provide a secure and healthy environment for LGBT pupils is a national scandal."
Overall, nearly half (45 per cent) of the 3,700 LGBT pupils polled said they have been bullied because of their sexual orientation and/or gender identity, compared with 55 per cent who said they were bullied because of their sexual orientation in 2012 and 65 per cent in 2007.
In previous years, the reports questioned young people who identified as lesbian, gay and bi, but not specifically trans.
Homophobic language is still widespread, with 52 per cent saying they hear remarks such as "faggot" or "lezza" frequently, or often, in school, although this has also dropped from 68 per cent in 2012 and 71 per cent in 2007.
Over two thirds (68 per cent) of those questioned said their school says homophobic and biphobic bullying is wrong, up from 50 per cent in 2012 and 25 per cent 10 years ago.
And around two fifths (40 per cent) said they had never been taught about LGBT issues, however, although this figure is also down from 53 per cent five years ago and 70 per cent in 2007.
Sex education to be made compulsory in all schools in England
The report goes on to warn that poor mental health among LGBT pupils is still "alarmingly high", with 84 per cent of those who identify as trans saying they have self-harmed, along with 61 per cent of lesbian, gay and bi students.
Earlier this year, Education Secretary Justine Greening announced compulsory sex and relationships education (SRE) classes would be rolled out across all schools in England, following years of campaigning from the LGBT community and others.
Human rights advocates criticised Ms Greening's announcement for giving no mention of LGBT issues however – a subject MPs and charity groups say must be included in compulsory teaching.
Religious schools are also to be given "flexibility" over their teaching of SRE, allowing them to teach the subject in accordance with their faith.
LGBT activist Peter Tatchell said this acted as a "get out clause" for faith schools, allowing them the power to "either ignore LGBT issues or to teach that same-sex relationships are immoral and sinful".
Stonewall chief executive Ruth Hunt said the figures should act as "a wake-up call for schools, government and politicians".
"Our school years are one of the most formative periods of our lives, and we owe it to young LGBT people to ensure they don't face discrimination or bullying because of who they are, but are supported to flourish and achieve," she said.
"Almost half of LGBT young people are still bullied at school for being LGBT, and only one in five LGBT pupils have learned about safe sex in relation to same-sex relationships. This must be urgently addressed.
"Now that compulsory Relationships and Sex Education is set to become a reality in England, it's vital that the government's guidance ensures that these lessons are always inclusive of LGBT issues and same-sex relationships," she added.
Register for free to continue reading
Registration is a free and easy way to support our truly independent journalism
By registering, you will also enjoy limited access to Premium articles, exclusive newsletters, commenting, and virtual events with our leading journalists
Already have an account? sign in
Register for free to continue reading
Registration is a free and easy way to support our truly independent journalism
By registering, you will also enjoy limited access to Premium articles, exclusive newsletters, commenting, and virtual events with our leading journalists
Already have an account? sign in
Join our new commenting forum
Join thought-provoking conversations, follow other Independent readers and see their replies