Cambridge University set to give poorer students who fail entry requirements chance to study
'We need to dispel facile stereotypes of Cambridge as a bastion of privilege'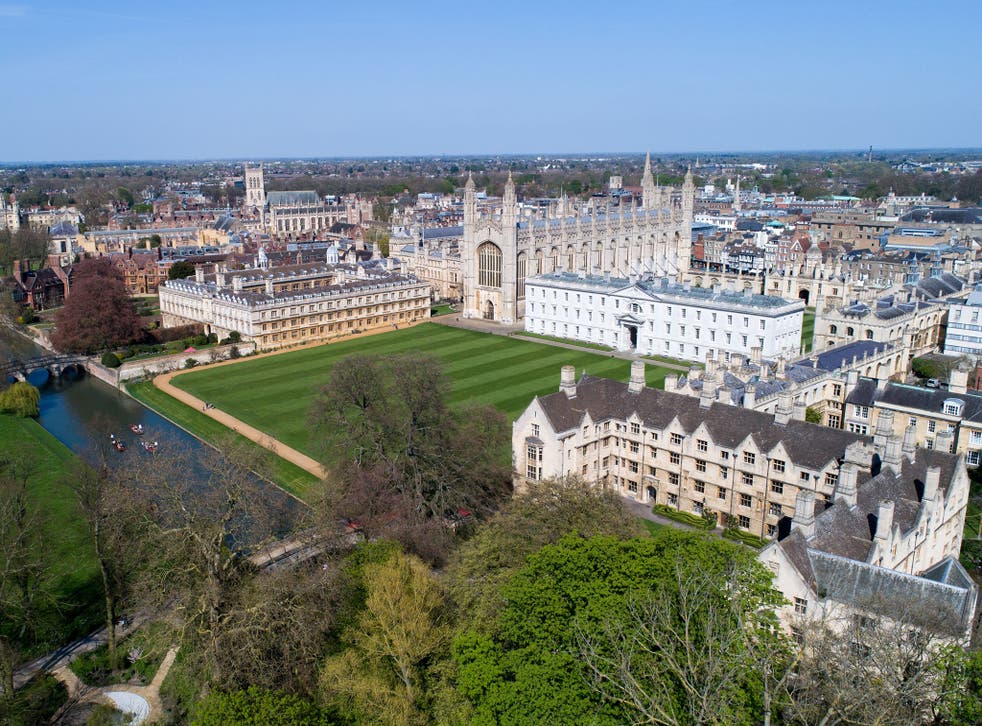 Prospective students from disadvantaged backgrounds who fail to meet the University of Cambridge's high entry requirements could now be given a chance to study at the institution.
A transitional year – for would-be students who show academic potential but fall short of the required grades for the prestigious and selective university – could be introduced for the first time.
The announcement comes after Cambridge and Oxford came under fire for a lack of diversity after some Oxbridge colleges admitted no black British students in recent years.
Announcing the initiative in a speech to university staff, vice-chancellor Stephen Toope said it was time to dispel the stereotypes of Cambridge "as a bastion of privilege and self-serving elitism."
He warned Cambridge could not class itself as a "truly great" university if it was not open to wide social and cultural diversity. "This is not just a matter of box-ticking," the university boss said.
Professor Toope unveiled a £500m fundraising campaign to support students and to ensure the university was fully inclusive of the most diverse talent.
This is set to include a "transition programme" for students who may have suffered educational challenge – which would consist of a three-week bridging programme and a full transition year.
The foundation year will be aimed at people who miss out on the high entry requirements but who show enough talent to be able to go on and complete a Cambridge degree.
Many courses at Cambridge currently require students to achieve all A* and A grades at A level – and they also have to be successful at interview.
Professor Toope said: "We will continue to actively encourage applications from those eligible students – undergraduate and postgraduate, from the UK and from overseas – who may have been disadvantaged as a result of their educational journey.
"We are committed to establishing a Transitional Year programme that will raise attainment among students to compensate for the educational handicap they may have suffered."
The fundraising campaign aims to create new post-graduate studentships, enhance financial support for undergraduates, and expand spending on mental health support.
"I want us to be genuinely open to all who have the talent to flourish at Cambridge. The challenge is considerable. But so is the scale of our ambition," Professor Toope added.
In the summer, Stormzy announced a scholarship scheme to help Cambridge University support talented black students who might otherwise not have decided to study there.
Stormzy's plans came after Cambridge University was criticised for failing to admit any black pupils from 2012 to 2016 and just 58 in 2017.
Professor Toope said: "It falls on us to dispel the facile stereotypes of Cambridge as a bastion of privilege and self-serving elitism.
"Let us prove instead – by showing, not just telling – that Cambridge is increasingly open to diverse talent; that it is a spark for ideas and innovation; that it has the capacity to understand, explain and adapt to the social and economic realities of our era."
UK news in pictures

Show all 50
Chris Millward, director for fair access and participation at the Office for Students, the new higher education regulator, said: "Universities should work actively to support talented students from disadvantaged backgrounds to progress into the right university and course for them, and it is right that universities should consider the context in which qualifications are achieved when deciding on their entrance requirements.
"We know that the gap in participation between the most and least advantaged students is widest at those universities with the highest entrance requirements, so we are expecting specific, well evidenced and ambitious actions to be taken by these universities in order to bridge this gap."
Register for free to continue reading
Registration is a free and easy way to support our truly independent journalism
By registering, you will also enjoy limited access to Premium articles, exclusive newsletters, commenting, and virtual events with our leading journalists
Already have an account? sign in
Register for free to continue reading
Registration is a free and easy way to support our truly independent journalism
By registering, you will also enjoy limited access to Premium articles, exclusive newsletters, commenting, and virtual events with our leading journalists
Already have an account? sign in
Join our new commenting forum
Join thought-provoking conversations, follow other Independent readers and see their replies