Students to replace clapping with 'jazz hands' at events to make them more inclusive
'Sometimes politically motivated meetings can be hostile to people with disabilities'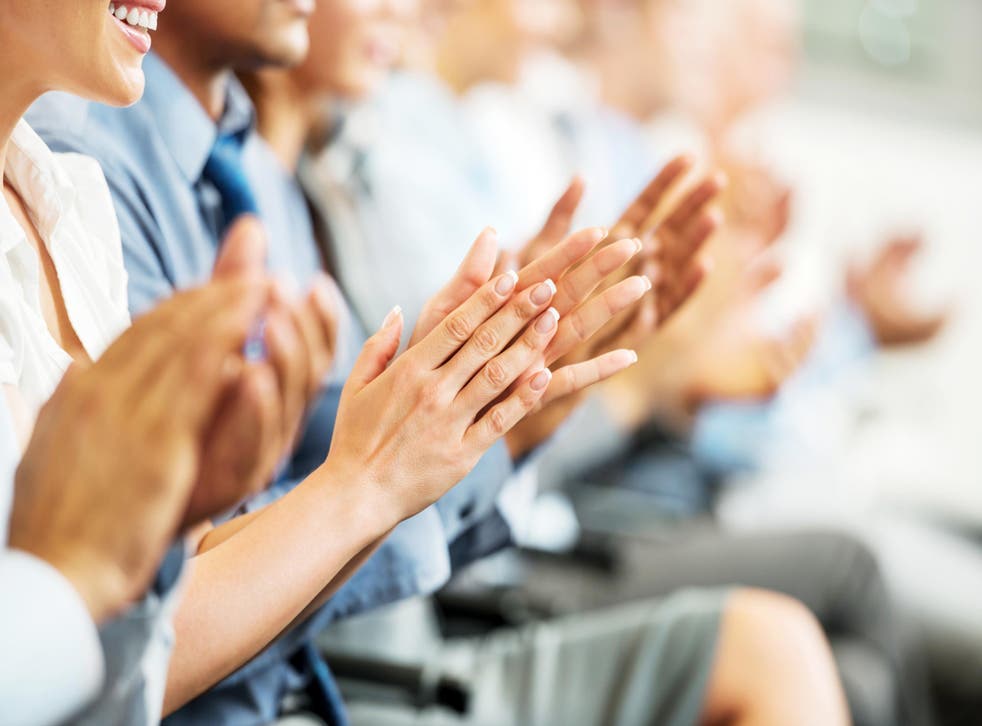 Clapping is to be replaced with jazz hands at events organised by students in Manchester to make them more accessible to people suffering anxiety disorders.
The traditional loud expression of support – clapping, whooping and cheering – will no longer be encouraged by the University of Manchester students' union in a bid to be more inclusive.
Instead, British Sign Language clapping, more commonly known as silent jazz hands – where you wave your hands in the air – will be used by attendees of student union meetings.
The motion, which was authored by liberation and access officer Sara Khan, received little opposition from the senate, according to the student newspaper Mancunion.
The National Union of Students has been encouraging delegates to refrain from clapping since 2015, and jazz hands are regularly used instead of applause, whooping and cheering at its events.
The decision has provoked a mixed reaction.
TV presenter Jeremy Vine tweeted a photo of soldiers in the First World War and said: "Students will instead use silent 'jazz hands'. Glad some brave young souls decided to ignore the difficulties caused by sudden noises 100 years ago."
Meanwhile, others jumped to the students' union's defence. On Twitter, Adrian Harrop said the online outrage had "saddened" him.
He tweeted: "A student union attempts to be a safer and more inclusive and accessible place for people with a wide variety of neurodiverse conditions, who commonly have hypersensitivity to noise. What's the problem?"
A spokeswoman for the University of Manchester students' union denied reports that clapping had been banned.
Instead she said that jazz hands were being encouraged to make certain meetings more "accessible" to people with anxiety and other issues.
She told The Independent: "The motion was passed to encourage British Sign Language clapping, which is jazz hands, at by no means all meetings, just democratic events, where it is a political event and part of the [students' union] democratic decision making process."
Student news in pictures

Show all 34
"This amounts to a relatively small number of meetings per year," she added.
The spokeswoman said: "We are not banning clapping, because it is unrealistic to think we could police that sort of thing. It's more 'encourage'. There are no penalties for people using traditional clapping."
Adding that she understood that people with anxiety issues were among those the motion was trying to help, she added: "We recognise that sometimes these politically motivated meetings can be potentially hostile to certain groups of people with certain disabilities.
"We are doing one small thing to try to make those events, and therefore the democratic process, more accessible to those groups of people. That's all."
Register for free to continue reading
Registration is a free and easy way to support our truly independent journalism
By registering, you will also enjoy limited access to Premium articles, exclusive newsletters, commenting, and virtual events with our leading journalists
Already have an account? sign in
Register for free to continue reading
Registration is a free and easy way to support our truly independent journalism
By registering, you will also enjoy limited access to Premium articles, exclusive newsletters, commenting, and virtual events with our leading journalists
Already have an account? sign in
Join our new commenting forum
Join thought-provoking conversations, follow other Independent readers and see their replies