Record number of students expected to secure places in clearing as universities scramble to fill vacancies
Exclusive: 80,000 students could be admitted to institutions via alternative process this year, Ucas boss says
Eleanor Busby
,
Catherine Lally
Sunday 11 August 2019 00:11 Comments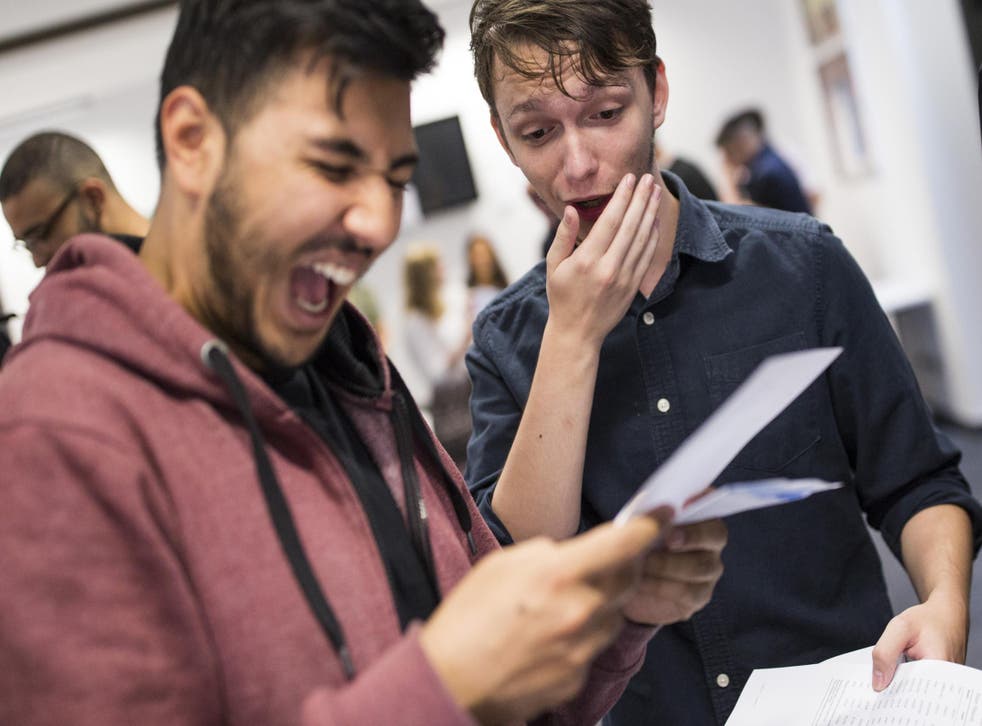 A record 80,000 students are expected to take up places on degrees through clearing this year as universities scramble to fill courses, the head of the admissions service has predicted.
With less than a week to go until A-level results day, three in four of the country's leading institutions have vacancies on their undergraduate programmes.
A total of 30,000 courses still have spaces, including more than 4,600 courses at the elite Russell Group universities, which are the most selective in the country.
Eighteen of the 24 top universities have course advertised on the Ucas clearing site ahead of results day on Thursday, an analysis from The Independent found, including law courses at 12 of the institutions.
Last year, 66,770 people found places at British universities using the clearing process. But Clare Marchant, chief executive of Ucas, said the figure could reach 80,000 – almost double the number of students that used the system a decade ago – describing admissions as a "buyer's market".
UK news in pictures

Show all 51
She told The Independent: "It's a different market than it was perhaps 10 years ago, even five years ago, and I think that students are much more understanding of the fact that they have choices to make.
"Certainly we at Ucas are promoting that, so some of our messaging around clearing has been, rather than the sort of slightly negative panic, that this is plan A for a lot of students."
Competition between universities to recruit would-be students, who pay up to £9,250 a year, has grown as there are fewer 18-year-olds in the population at a time when student numbers at institutions are uncapped.
Students who have missed out on their grades, or who do better than expected and choose to drop their offer for an alternative course, will have a variety of options open to them next week.
An analysis by The Independent found that the Russell Group universities which had the most courses available were Liverpool with 919 courses and Southampton with 372.
Places are still available on competitive courses – including law, engineering, maths, physics and languages – at Russell Group universities, the analysis shows.
Bristol had 134 courses available including physics, maths and chemistry, while Warwick had 159 courses on offer including biochemistry, civil engineering and politics, philosophy and law (PPL).
Tony Flaherty, acting head of admissions at Sheffield University, which had a 25 per cent rise in the number of students registering interest for clearing this year, said there has been a shift in behaviour and attitudes around clearing as "savvy offer-holders" now take the opportunity to "shop around".
Meanwhile, Richard Harvey, academic director of admissions at the University of East Anglia, which has more courses with vacancies this year than last year, said there is "over-capacity" in the system.
Universities are listing more courses on clearing as they do not want to close programmes which could be needed in a few years time when the population of 18-year-olds grows again, he said.
"Most universities would rather lower their grades and fill the places rather than admit lack of demand," Professor Harvey added.
Support free-thinking journalism and attend Independent events
Rachel Hewitt, director of policy and advocacy at the think tank Higher Education Policy Institute (Hepi), said: "Competition for students remains intense due to the low number of 18-year-olds in the population, which hits particularly hard as it has been a continued trend over a number of years now.
"This is also combined with the uncertain environment that universities find themselves in, with unknowns about the impact of Brexit and the potential lowering of tuition fees meaning all types of university are utilising all aspects of the admissions process to expand their student numbers."
She added: "It really is a buyer's market for students at the moment and I think students are getting wise to the fact they can use clearing to their advantage."
Here are some courses on offer at Russell Group universities via clearing:
University of Exeter: 270 courses available including Engineering, History and Politics, Mathematics with Economics and a Year in Industry.

University of Manchester: 204 courses available including Architecture, Chemistry, Arabic Studies

University of Warwick: 159 courses available including English Literature, Biochemistry, Politics, Philosophy and Law (PPL)

University of Nottingham: 262 courses available including Law, Mathematics, Computer Science 

King's College London: 94 courses available including Biomedical Engineering, Chemistry, Spanish and Latin American Studies (with year abroad)
Register for free to continue reading
Registration is a free and easy way to support our truly independent journalism
By registering, you will also enjoy limited access to Premium articles, exclusive newsletters, commenting, and virtual events with our leading journalists
Already have an account? sign in
Join our new commenting forum
Join thought-provoking conversations, follow other Independent readers and see their replies