Asking parents to do Covid tests on children for school would be 'fraught with difficulty', union says
Dr Mary Bousted from the National Education Union says it would be 'a huge ask'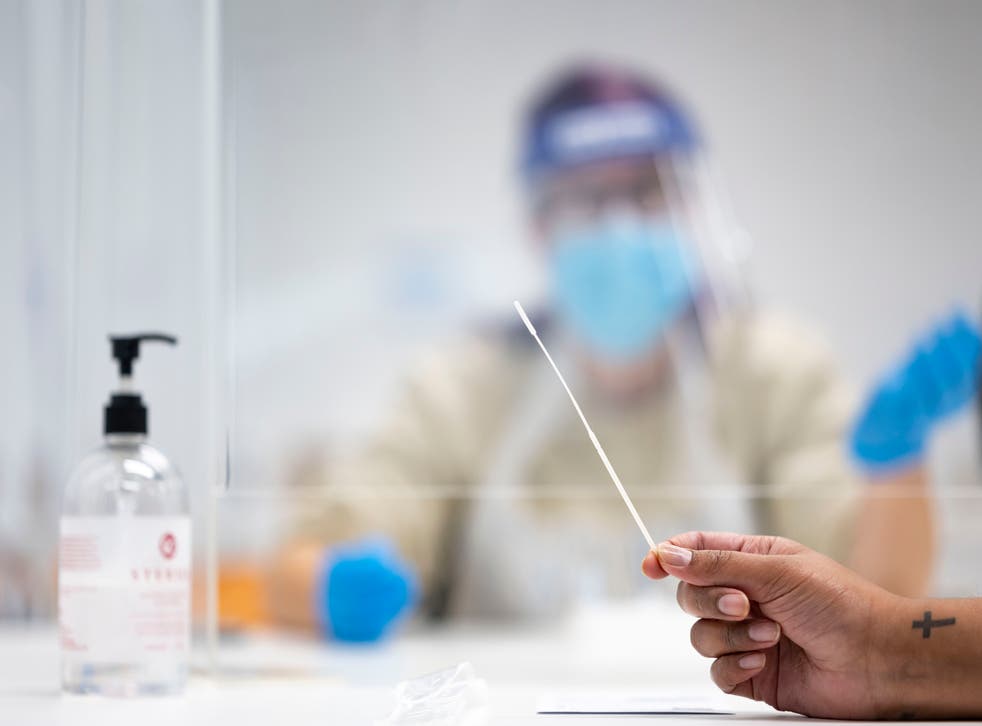 Asking parents to test children regularly for coronavirus would be "fraught with difficulty", the leader of the UK's largest teaching union has said.
It comes amid reports the government could suggest twice-weekly testing at home for secondary school pupils under school return plans.
Health minister Helen Whately has said there was "work in progress" to assess how testing can help support the return to schools - which the government hopes to reopen more widely from 8 March.
But Dr Mary Bousted, joint general secretary of the National Education Union (NEU), has warned about the feasibility of asking parents to do rapid coronavirus testing on children twice a week.
"I think again that is fraught with difficulty as well because I think there's been a big parental reaction to the notion that they've got to swab their children up their noses or down their throats," she said.
Follow the latest news live as 'reckless' for pupils to return to school at once and vaccine passports 'feasible'
"And of course lots of parents probably will not want to know if their child has got Covid because they will be asymptomatic and that has implications for them being able to work."
She added: "I do think that's a huge ask and if the government is going to make that ask of parents - and if it's going to make any asks to schools in terms of testing - it really has to be very clear about the science on which that is based because otherwise it will be difficult to make it happen."
The Telegraph reported earlier this week that government plans could see parents asked to test their children twice a week using rapid flow tests, as schools start reopening to more pupils.
When asked about the report, Ms Whately said: "I'm not going to get drawn into that."
She told BBC Radio 4's Today programme: "There is work in progress looking at how testing can support schools to come back."
Tobi Brown, a mother-of-two, told The Independent she would be happy for her daughter and son to be tested twice a week at home. "If we can get children back to school by doing tests then I'm all for it," she said.
Another mother, Kerry Ganly, said while testing her two children for coronavirus "would add more stress to the morning rush", she would be happy to do this twice a week if it means schools could welcome back students safely.
"My children have missed out on so much, not only their education but also socialising with children their own age, playing music and sport – which they both love – over the past 12 months, that I'd welcome Covid testing in school children," she told The Independent.
Geoff Barton from the Association of School and College Leaders (ASCL) said mass Covid testing in secondary schools "is extremely challenging logistically".
"We accept that some initial testing may have to take place in schools to pick up asymptomatic cases and this would require a staggered approach due to the large numbers of pupils involved," the union's general secretary said.
"But after this, we firmly believe regular testing is best done at home using home-testing kits in order to reduce the huge logistical burden on schools of running testing centres.
The government paused a key part of their testing plan for schools - daily rapid tests for close contacts of a confirmed Covid-19 case instead of self-isolation - last month following new advice from Public Health England (PHE), who said the balance between risks and benefits was "unclear". 
All schools and colleges should offer staff coronavirus tests twice a week, according to current government guidance.
Last week, the government said the prime minister was due to set out plans for the full reopening of schools next week, and said "regular testing will provide further reassurance to parents, students and staff that schools are safe".
Staff and secondary and college pupils would be offered coronavirus tests on their return, the government added.
A coalition of unions warned the government on Friday that allowing all pupils in England to return on 8 March would be "a reckless course of action".
Unions representing school and college staff and headteachers said they were "increasingly concerned" the government could opt for this plan, as they raised concerns it could risk a surge in coronavirus cases and drag out disruption faced by students.
A Department for Education spokesperson said: "We know schools, parents and pupils need clarity on plans as soon as possible, which is why we have committed to providing two weeks' notice for them to prepare.
"The prime minister is due to set out plans for schools reopening on 22 February, and pupils will return from 8 March at the earliest."
Additional reporting by Press Association
Join our new commenting forum
Join thought-provoking conversations, follow other Independent readers and see their replies