Degrees 'will cost £6,000 more' after George Osborne freezes the threshold for student loan repayment in Budget
Chancellor accused of forcing students into greater debt as IFS reveals true impact of Budget changes
Nigel Morris
Tuesday 21 July 2015 07:20 Comments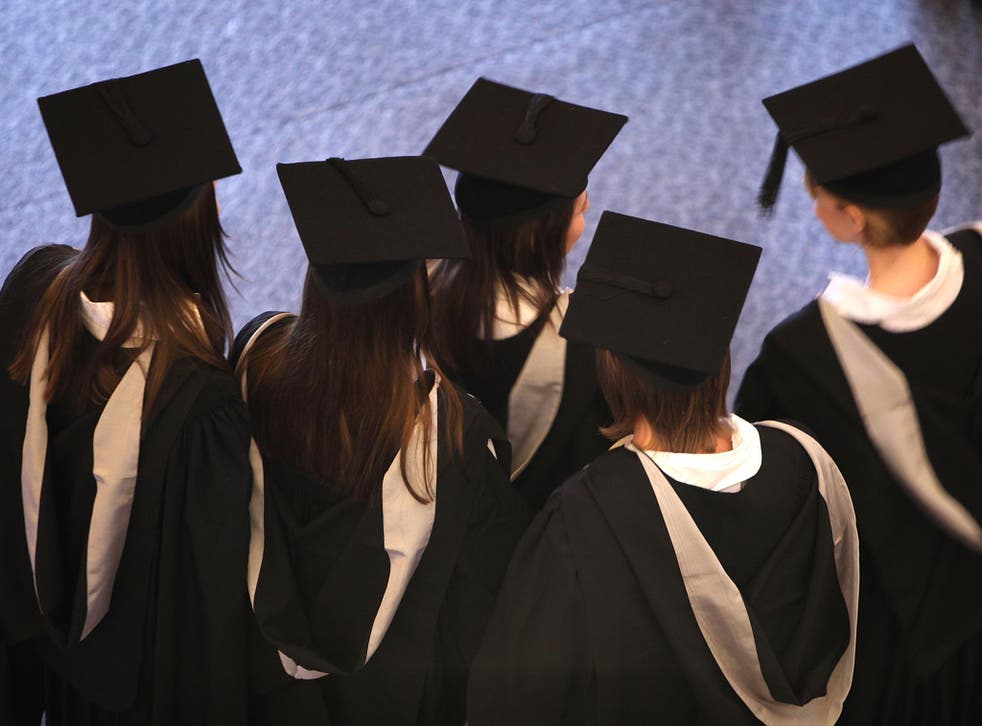 The cost of obtaining a university degree will rise by £6,000 for middle-earners due to the salary level at which graduates have to start paying back their student loans being frozen in the Budget, according to a new analysis.
The average student would face an additional bill of £3,800 to cover the cost of their tuition, the independent Institute for Fiscal Studies (IFS) has calculated in a report on university funding published today.
Its conclusions prompted accusations that the Chancellor, George Osborne, was burdening students with heavier debts while they were studying – and with bigger repayments after they start work.
Currently graduates from English universities have to pay 9 per cent of any income earned above £21,000 a year towards their tuition fees and Mr Osborne has announced plans to peg the threshold until 2020.
By not raising the amount in line with inflation, the Chancellor will collect an extra £1.4bn a year from graduates by effectively reducing the threshold to near its 2012 level of £15,000, the IFS said.
That would be equivalent to £3,800 per student and represent an extra demand of £6,000 for people who go into middle-income careers.
The IFS said a graduate earning £23,000 per year in their early 20s, rising to the equivalent of £34,000 in today's money by the time of their early 50s, would see their annual repayments rise from £900 to £1,100 with the threshold freeze. The amount they would be expected to repay would rise from £27,000 to £33,000.
The think-tank said the best-paid graduates are not expected to be hit so hard because the level at which they repay their debt at a higher interest rate is also expected to be frozen, enabling them to pay it off more quickly.
Mr Osborne said the decision to retain the current repayment threshold, which will go out to consultation, is designed to "ensure our university system is sustainable".
Chuka Umunna, the shadow Business Secretary, said: "The freezing of the level at which loans are repaid will increase graduate repayments by thousands of pounds.
"Instead of investing in future generations the Government is making life harder for people who want to get on, massively increasing the cost of higher education, particularly for the poorest students."
Sally Hunt, the general secretary of the University and College Union, said: "The Government's changes to student funding have made degrees more expensive and saddled the poorest students with the biggest debts. We should be helping talented young people to get on, not penalising them during their studies and then again much sooner after they graduate."
The Budget also contained a controversial decision to convert maintenance grants into loans for the poorest students from 2016-17, although they will be able to borrow more towards their living costs.
Critics have claimed the move will deter young adults from poorer backgrounds from applying to university.
The IFS said that move would mean the least well-off students leaving university after a three-year course with an extra £12,500 of debt as they would owe the taxpayer up to £53,000.
Jack Britton, research economist at the IFS, said: "While the small increase in support for living costs available to students from lower-income families will be welcomed by many, the switch from maintenance grants to loans will result in substantially higher debt for the poorest students. For most, though, it is the freezing of the repayment threshold which will do more to raise loan repayments, and hence increase the cost of higher education."
A spokesman for the Department for Business, Innovation and Skills said: "The Government is committed to widening access in higher education. The changes announced in the Budget provide students with more money in their pockets to help with living costs while studying."
Mr Osborne's changes only apply to England, as Scottish students studying at Scottish universities do not face tuition fees and Welsh students studying at Welsh universities receive a grant towards the cost of their studies.
Register for free to continue reading
Registration is a free and easy way to support our truly independent journalism
By registering, you will also enjoy limited access to Premium articles, exclusive newsletters, commenting, and virtual events with our leading journalists
Already have an account? sign in
Register for free to continue reading
Registration is a free and easy way to support our truly independent journalism
By registering, you will also enjoy limited access to Premium articles, exclusive newsletters, commenting, and virtual events with our leading journalists
Already have an account? sign in
Join our new commenting forum
Join thought-provoking conversations, follow other Independent readers and see their replies