Covid: Schools told to bring back on-site testing after Christmas holidays
Ministers accused of treating headteachers like 'an ad hoc branch of the NHS', as new variant emerges
Andy Gregory
Saturday 27 November 2021 17:34 Comments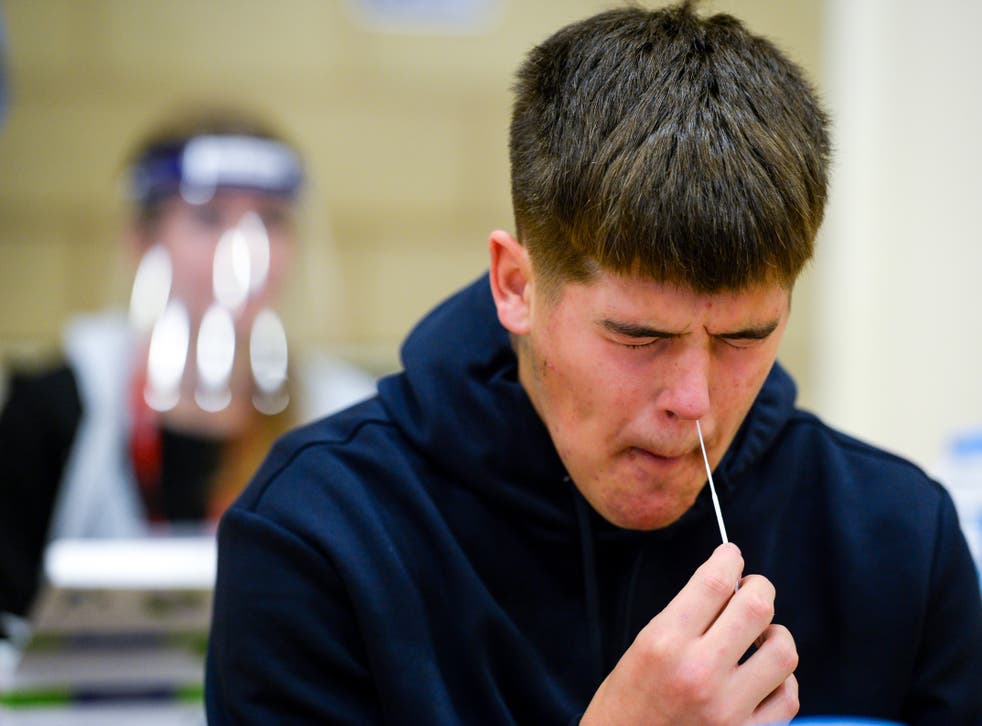 Secondary schools should test pupils for coronavirus on their return from the Christmas holidays, the government has said.
The Department for Education (DfE) emailed schools on Friday urging them order a sufficient number of lateral flow tests by Tuesday to ensure that they can test pupils on site after they come back in January.
The move is necessary to "reduce transmission after a period of social mixing", the email said, also asking school leaders to order additional tests so that pupils can continue to test at home.
But the demand has prompted accusations that ministers are treating headteachers like "an ad hoc branch of the NHS" as opposed to educators.
It is not reasonable for the government to impose such a "considerable public health task on schools with minimal support", the Association of School and College Leaders (ASCL) warned in response.
The email – which came as the UK added six southern African countries to its travel red list following the emergence of the new, potentially vaccine-evading omicron variant – stated: "We would like all secondary schools to prepare to test their pupils once on site on return in January.
"We understand that this is a significant additional ask, but testing continues to play a vital role in keeping Covid-19 out of schools."
It added: "Testing all pupils in school boosts testing participation and will help reduce transmission after a period of social mixing over the school holidays. Tests, PPE and funding to support your workforce will be provided as before.
"After this test on return, pupils should continue to test in line with government guidelines."
Previously, at the start of the autumn term, all secondary school and college pupils in England were asked to take two lateral flow tests upon returning to school.
They were then asked to continue to take two tests per week at home. This testing "remains voluntary but is strongly encouraged", the government's website says, adding that schools should retain an on-site asymptomatic testing facility "until further notice so they can offer testing to pupils who are unable to test themselves at home".
But the director of policy at the ASCL, Julie McCulloch, warned that "the last thing" that schools need is "another huge responsibility which does not even fall within the remit of education".
UK news in pictures

Show all 50
"We recognise the importance of Covid testing to reduce the risk of transmission of the virus, but it is not reasonable for the government to once again impose this considerable public health task on schools with minimal support," Ms McCulloch said.
"The role of schools should be limited to providing a space for test centres and communicating with students. But the government expects them also to handle the logistics of staffing and setting up testing stations.
"It seems to have forgotten that school leaders are educators rather than an ad hoc branch of the NHS. Their focus is on providing the teaching and learning required by their students, which is particularly important in the context of the disruption caused by the pandemic."
A DfE spokesperson said: "As part of our commitment to protecting face-to-face education, we are asking all secondary school pupils to complete one on-site test as they return to school after the Christmas break, reflecting that mixing between households is likely to increase over Christmas.
"Protective measures in place continue to strike a balance between managing transmission risk with testing, hygiene, ventilation and vaccines, and we encourage any eligible young people who haven't yet had the vaccine to consider using the Christmas break to do so."
The email to school leaders arrived within hours of the health secretary telling the House of Commons that the new B1.1.529 variant, later named omicron by the World Health Organisation, was of "huge international concern".
Mr Javid told MPs that the variant contained an "unusually large number of mutations" and had first been discovered in a traveller to Hong Kong from southern Africa. It "may be more transmissible than the delta variant", he warned.
While the first European case of omicron was detected in Belgium on Friday, in a person who had travelled from Egypt and Turkey, there are no known infections so far in the UK.
Additional reporting by PA
Register for free to continue reading
Registration is a free and easy way to support our truly independent journalism
By registering, you will also enjoy limited access to Premium articles, exclusive newsletters, commenting, and virtual events with our leading journalists
Already have an account? sign in
Join our new commenting forum
Join thought-provoking conversations, follow other Independent readers and see their replies