Around 248,000 pupils off school due to Covid in week before half-term
'These figures show just how bad things got at the end of last term,' union boss says
Zoe Tidman
Tuesday 02 November 2021 15:18 Comments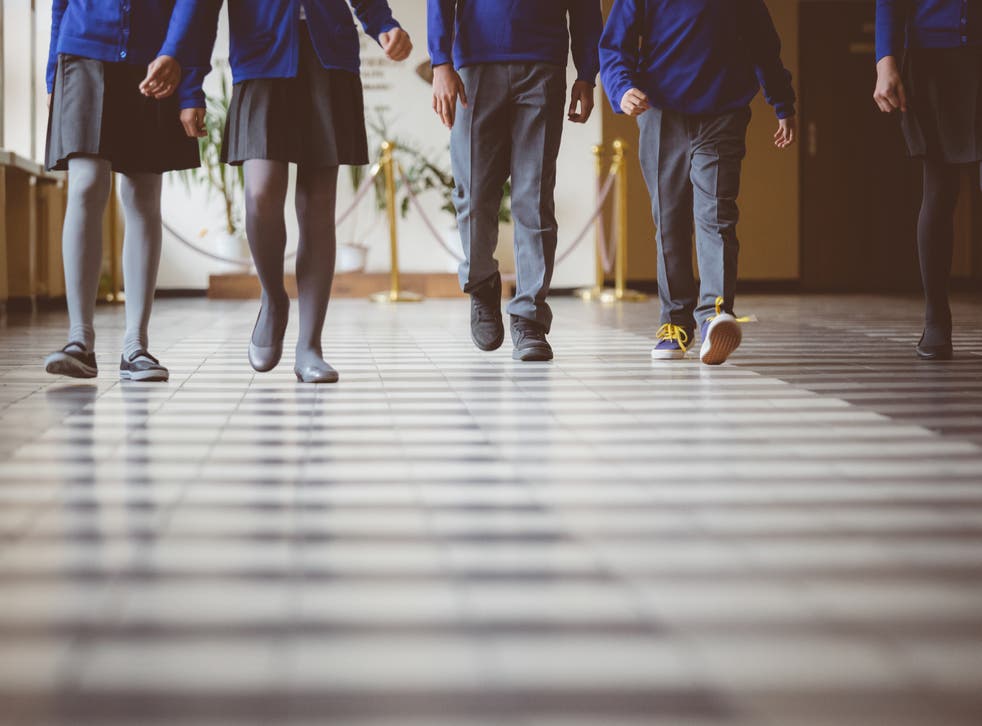 Almost a quarter of a million children in England did not go to school in the week before half-term due to a Covid-related reason, according to official figures.
Around 127,000 of these were off school because they had Covid, the Department for Education (DfE) statistics show.
In total, an estimated 3.2 per cent of all pupils in England, or around 248,000 children, were off due to a Covid-related reason on 21 October just before half-term.
This was up from 2.6 per cent - which works out at around 209,000 - the week before.
"These figures show just how bad things got at the end of last term, with both pupil and staff absence at their highest levels so far this year," Paul Whiteman, general secretary of school leaders' union NAHT, said.
"As we enter the second half of the autumn term, school leaders are worried that unless the government does more, disruption is likely to continue for the foreseeable future."
He said union members wanted to close contact isolation rules changed to mean a pupil whose sibling tests positive for Covid must stay off school until they get a negative test result.
Children no longer have to self-isolate after being identified as a close contact of a case, but are still advised to get a PCR test.
A positive Covid test was the main reason pupils were off state school sin the run-up to half-term, according to the DfE findings.
An estimated 87,000 pupils in England - around 1.1 per cent of total student population - also did not attend school as they suspected they had Covid, the data shows.
A further 12,000 were off school due to attendance restrictions in place to manage outbreaks.
The DfE also estimated 2.1 per cent of teachers and school leaders were absent from schools due to a Covid-related reason on 21 October, up from 1.8 per cent on 14 October.
This was also mainly driven by staff with a positive Covid test, which had reason to 1.6 per cent before half-term compared to 1.3 per cent the week before.
Geoff Barton from the Association for School and College Leaders (ASCL) said: "These statistics show another increase in both pupil and staff absence as a result of the coronavirus pandemic.
"This is wreaking havoc in many schools because they have to juggle online and in-person learning for different groups of pupils at different times with fewer staff. It is an impossible situation."
Robin Walker, the schools minister, said: "As we move into the winter months, we are at a pivotal point where every single test and every single jab is vital in reinforcing our defences against the virus and protecting face-to-face education."
He added: "We encourage anyone eligible who hasn't yet had the vaccine to get it, and all secondary and college students to keep doing their two rapid tests each week and record the results.
"Alongside the wider protective measures this will help to prevent the spread of the virus."
Register for free to continue reading
Registration is a free and easy way to support our truly independent journalism
By registering, you will also enjoy limited access to Premium articles, exclusive newsletters, commenting, and virtual events with our leading journalists
Already have an account? sign in
Join our new commenting forum
Join thought-provoking conversations, follow other Independent readers and see their replies