'Dangerous and dilapidated' school buildings damaging to pupils' health and performance
Almost half of teachers said their schools were too small for the number of pupils, and a quarter rated the buildings as 'poor' or 'very poor'
Rachael Pells
Thursday 12 May 2016 12:21 Comments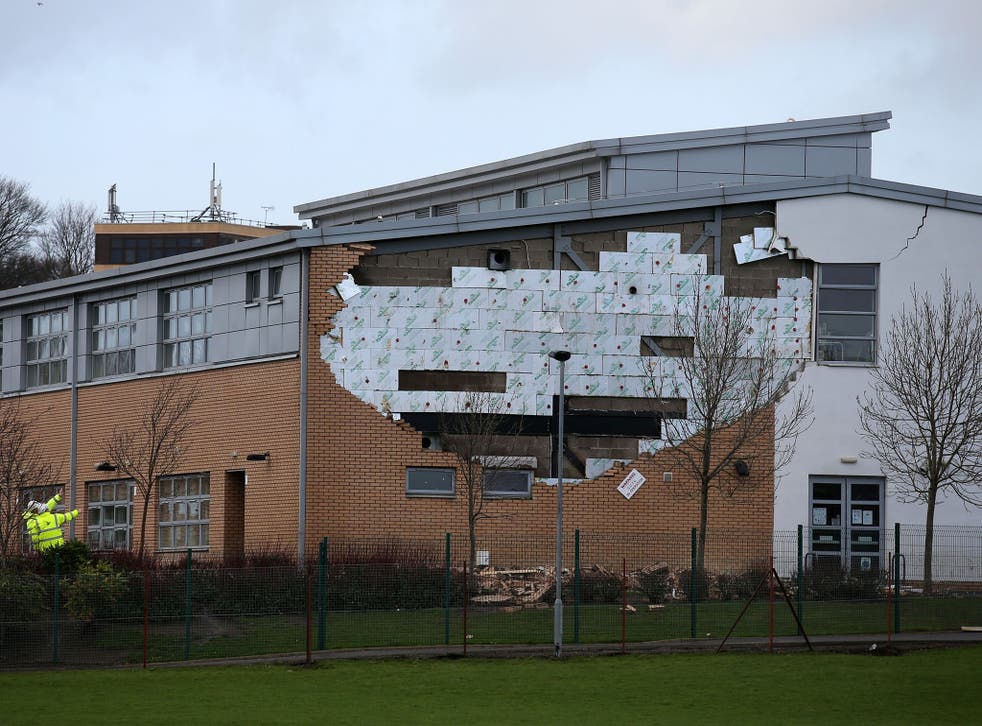 School buildings in the UK are of such poor quality that children are underperforming and teachers are quitting the classroom, experts have warned.
A new study by the Royal Institute of British Architects (RIBA) found that one in five teachers have considered leaving their school as a result of stressful, overcrowded working environments caused by the poorly designed buildings they have to teach in.
A steady rise in pupil numbers and government cuts to capital funding have been blamed.
At present, Government-specified equipment is costing £150m per year, a cost which could have been avoided if schools were better designed, experts say.
The RIBA have called for an urgent review of the Government's current school building programme, warning that the Education Funding Agency's approach has become too rigid, leading to wasted tax payer's money.
Under the Labour Government, spending on school buildings in England rose to a peak of £7.6bn, said the report, but in 2010 the education department scrapped a £55bn schools building programme and cut spending by 60 per cent.
The nationwide poll of teachers found that more than 90 per cent of teachers believed well-built and designed schools improve educational outcomes as well as pupil behaviour.
"The prevalence of damp, leaky classrooms and asbestos-ridden buildings in British schools means too many pupils and teachers are struggling to learn and teach in conditions damaging to their health and education," the report said.
According to the RIBA's analysis of Government figures published last year, only five per cent of the 60,000 school buildings across the UK are said to be performing as intended and operating efficiently.
The 10 happiest countries in Europe

Show all 10
Earlier this year, 17 schools in Edinburgh were forced to close due to concern over the standard of construction. The newly constructed schools had all been built under the same public private partnership contract – fuelling experts' concerns that the Government's current programme is "inefficient".
RIBA President Jane Duncan said: "How can we expect our children to compete with the world's best when too many of our school buildings are substandard?"
"Educational improvements resulting from the current programme of school building are not reaching the basic standards that British taxpayers and our economy expects. We need to do better for all of our children and their hardworking teachers. We urge the Government to review its programme of building new schools."
England's Department for Education has said it will invest £23bn towards its school buildings over the next five years.
The DfE said: "We are building schools based on what works in terms of good design – not so-called iconic buildings that are expensive to maintain. Under the previous [Labour] programme, Building Schools for the Future, the most expensive schools cost in excess of £45m and took three years for building work to begin. We have cut this to one year ... and the average cost of rebuilding has dropped by a third."
Register for free to continue reading
Registration is a free and easy way to support our truly independent journalism
By registering, you will also enjoy limited access to Premium articles, exclusive newsletters, commenting, and virtual events with our leading journalists
Already have an account? sign in
Join our new commenting forum
Join thought-provoking conversations, follow other Independent readers and see their replies