University degree courses to be ranked in 'MoneySuperMarket' style system, minister says
'Universities will no longer be able to hide if quality of teaching is not up to a world-class standard'
Eleanor Busby
Education Correspondent
Monday 12 March 2018 15:31 Comments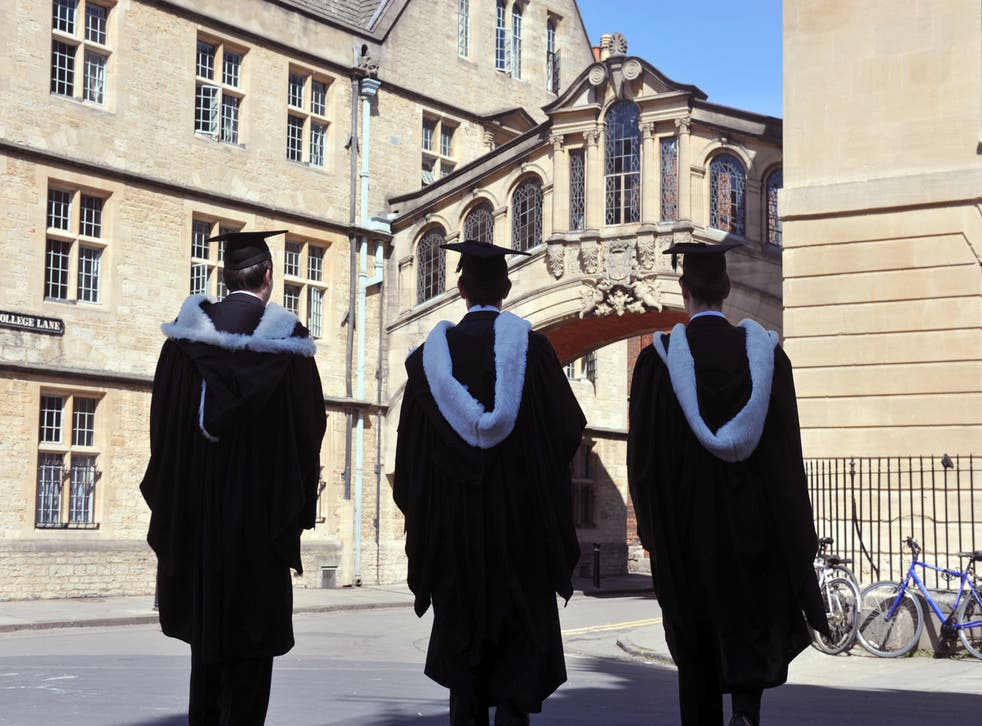 Prospective students will be able to compare university degree courses in "MoneySuperMarket" style rankings, the Universities Minister has announced.
Individual subjects at English universities will be given a gold, silver or bronze award through a tool that will assess teaching quality, drop-out rates, career prospects and average salary earned.
The rating system is part of the Government's drive to hold universities – which charge students up to £9,250 a year - to account on poor quality of teaching.
Speaking on BBC Radio 4's Today programme, Universities Minister Sam Gyimah said: "This allows students who are making a considerable investment in their university education to identify which course, at which university, would be best for them."
He added: "In almost every investment we make in our lives, outside of universities, we are able to look at data. You can go to MoneySuperMarket and do that for a whole range of things – but we can't do that for university courses and I think that is something that needs to be rectified."
The proposals, which are to be piloted with 50 universities initially, have been put out for consultation today, and if introduced, the first subject-level ratings will not be published until 2020.
Speaking today, Mr Gyimah said he hoped the tool would help students who are first in their family to consider higher education, adding that they may not know which top universities are actually "coasting" despite their good reputations.
It comes as a former student is taking Anglia Ruskin University to court after claiming she had been left with nothing more than a "Mickey Mouse" degree that has not helped her career.
The Government's move is the next phase of the Teaching Excellence Framework (TEF) - which awards individual universities a badge of gold, silver or bronze based on a range of measures.
The first university-level ratings, which were published in June last year, came under fire from a number of elite universities which did not achieve the highest score.
Of the 21 Russell Group universities that took part, just eight were given a gold rating. Meanwhile, the London School of Economics and Political Science (LSE), the University of Liverpool and the University of Southampton were all given a bronze rating.
Concerns were raised that the system did not fully measure quality and that potential students needed clear guidance about what the results meant and how they should be used.
Last summer, the Government also published information on graduate salaries which revealed a great disparity among students who did the same degree subject, but studied at different universities.
The data, from the Longitudinal Education Outcomes, revealed economics graduates from LSE have median salaries of £55,200 five years after leaving. Meanwhile, economics graduates from the University of East London are on average salaries of £18,100.
The Government is planning to create a series of apps that will make it easier for prospective students to access all the new information under subject-level rankings.
"Prospective students deserve to know which courses deliver great teaching and great outcomes - and which ones are lagging behind," Mr Gyimah said. "In the age of the student, universities will no longer be able to hide if their teaching quality is not up to the world-class standard that we expect."
Student news in pictures

Show all 34
A spokeswoman for the Russell Group, which represents 24 leading universities, said: "Our members provide an outstanding student experience where teaching is enhanced by access to world-class research and facilities.
"Developing a robust TEF that is truly reflective of the UK's excellent higher education system and which provides genuinely helpful information for students in their decision-making will take time.
"We look forward to engaging with this technical consultation, and to the independent review of TEF which will take place next year."
Register for free to continue reading
Registration is a free and easy way to support our truly independent journalism
By registering, you will also enjoy limited access to Premium articles, exclusive newsletters, commenting, and virtual events with our leading journalists
Already have an account? sign in
Join our new commenting forum
Join thought-provoking conversations, follow other Independent readers and see their replies