Delhi gang rape film director launches global curriculum to teach 'value of women and girls'
Leslee Udwin says quality educaton is essential to change centuries of gender discrimination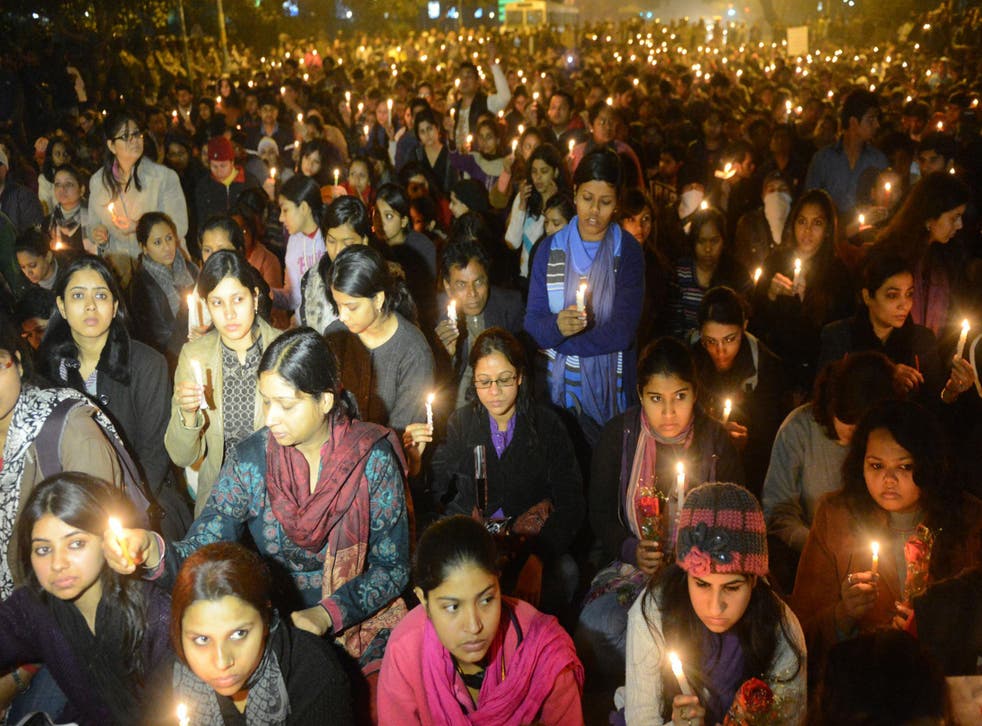 The British director of the film about the Delhi gang rape has launched a global campaign to have countries adopt an elementary school level curriculum that teaches children to respect the value of women and girls.
Leslee Udwin, whose film India's Daughter was banned by the Indian government, said she had been inspired to act after interviewing the lawyers of the men convicted of the attack and being stunned by comments that appeared to blame the victim. She said she realised the content of education - and not simply access to education - was crucial to changing centuries of gender discrimination.
The director said the campaign, which has the backing of Ban Ki-moon, Meryl Streep and Graca Michel among others, had already been approved by eight countries, which she would not identify. She said she hoped that by the beginning of next year, that figure will have reached at least 30.
"The only way to change mind-sets is by education," said Ms Udwin, who visited New York for the recent US premiere of the film.
"I think that any country says no to instilling moral values in their citizens would find themselves utterly ostracised."
Mr Udwin's film tells the story of the December 2102 gang-rape and attack on 23-year-old Jyoti Singh and a friend, as they sought to make their way home from a visit to the cinema in Delhi.
Six males were subsequently arrested. Four adults and one juvenile were found guilty of murder while the sixth suspect took his own life in jail. The four adults - Pawan Gupta, a fruit vendor, Vinay Sharma, a fitness trainer, Mukesh Singh, his brother Mukesh, and Akshay Singh, a bus washer - were sentenced to death.
Ms Udwin's film contains interviews with the parents of Ms Singh, who was referred to as Nirbhaya, or fearless, by the Indian media amid a ban on naming the victims of sexual assault. And it showed the tens of thousands of protesters who gathered in Delhi and other cities, as the country underwent an unprecedented process of self-examination about the position of women.
It also contained interviews with the lawyers. In the film, AP Singh, the lawyer for Vinay Sharma and Akshay Singh, was asked about a comment he had made in the closing stages of the trial when he said: "If my daughter or sister engaged in any pre-marital activity and disgraced herself… I would most certainly take this sort of sister or daughter to my farm house and, in front of my entire family, I would put petrol on her and set her alight."
Ms Udwin asked him about the comment, and he said: "I still stand by that."
The film similarly included comments from another lawyer, ML Sharma, who said: "In our society, we never allow our girls to come out from the house after 6.30 or 7.30 or 8.30 in the evening with any unknown person."
Indians Ask What Has Changed Since Delhi Gang Rape as Uber Driver Accused
He added: "You are talking about man and woman as friends. Sorry, that doesn't have any place in our society. We have the best culture. In our culture, there is no place for a woman."
Ms Udwin said the programme she wants could cost as little as $6m if individual countries met the cost of materials. She said she was currently working with a team of advisers and experts to produce teaching materials that could be fine-tuned to local needs.
She hopes that after the elementary level curriculum is completed, that her team will turn to one for middle and senior pupils.
"It's such a no-brainer," she told The Independent. "The amazing thing is why we have not already done it."
Charles Radcliffe, Chief of Global Issues at the Office of the UN High Commissioner for Human Rights (OHCHR), said staff had been speaking to Ms Udwin about the project, which fitted "well with the UN's call for human rights education to be introduced in all countries from the first years of a child's school education."
"There's still a lot of work to be done to develop curricula and secure commitments from governments and others whose support will be needed to carry this forward," he said.
"We are looking forward to working with Leslee and her team as they turn what is a great idea into a practical programme capable of being rolled out in as many countries as possible."
Ms Udwin's film, which was originally scheduled to be aired on TV channels round the world on March 8 to coincide with International Women's Day, was premiered in New York last week.
At the event, Ms Streep urged people to support Ms Udwin's project and said the issues it raised were a global problem, and not Indian. She said the film had left her speechless and she felt it deserved an Oscar.
She added: "I'm on the campaign now to get her nominated for best documentary."
Register for free to continue reading
Registration is a free and easy way to support our truly independent journalism
By registering, you will also enjoy limited access to Premium articles, exclusive newsletters, commenting, and virtual events with our leading journalists
Already have an account? sign in
Register for free to continue reading
Registration is a free and easy way to support our truly independent journalism
By registering, you will also enjoy limited access to Premium articles, exclusive newsletters, commenting, and virtual events with our leading journalists
Already have an account? sign in
Join our new commenting forum
Join thought-provoking conversations, follow other Independent readers and see their replies