Education department goes cap in hand to Parliament for emergency funds after £3bn 'overspend'
Presenting evidence, the Department said it was yet to consolidate finances of the growing number of academy trusts in England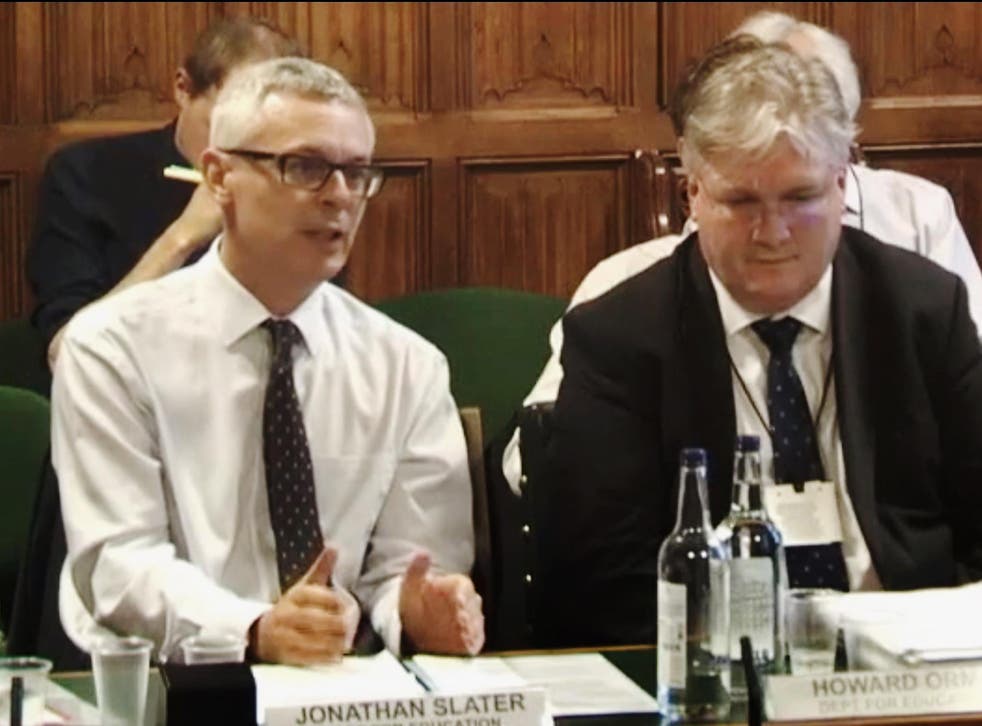 The Department for Education has been forced to go to Parliament for emergency funding after exceeding its budget by over £3bn.
This is the second year in a row in which the Department has had to seek a vote for excess funds, fuelling claims that public money is being "wasted" through poor accounting.
Labour have accused the Department of breaching its budget – which stands at around £60bn in total – and failing to admit to the problem until the "last possible moment".
The Government insists the matter is not indicative of a cash overspend, however, but rather a quirk of the accounting process, since the DfE and academy school trusts operate using different financial years.
Every year, Government departments that are about to exceed their expenditure limit must request an excess vote from Parliament to have more money granted to them.
In its annual Statement of Excesses, the Treasury said the DfE was the only government department to request excess funding this year.
The Department was unable to meet the statutory deadline for presenting its 2014-15 financial statements to Parliament, it added, when it overspent by £3.07bn.
Presenting evidence to the Public Accounts Committee, DfE permanent secretary, Jonathan Slater, said the problem had arisen because the Department was "not yet on top of" the consolidation of the growing number of academy schools and trusts in England.
The most expensive schools in the world

Show all 10
Mr Slater said: "The Department is consolidating thousands of academy trusts that operate a different system of accounting from Government… because they are charities and we are not, they value their assets on a different basis than we do, to a different timeframe than we do.
"We need to put that right. We need their help. The problem is not that we are not getting their help. The problem has been that we are learning as we go."
The comments come amid high debate over the accountability of academy trusts in England.
In a Select Committee report published last month, MPs said multi-academy trusts (MATs) had been able to expand too quickly, and warned there was not enough evidence to warrant their further expansion, as proposed by the Government.
The DfE has one of the largest accounts in Whitehall, in part due to the thousands of school buildings under its care.
Sex education to be made compulsory in all schools in England
The Treasury reported that in 2014-15 the Department overspent by over £3 billion, partly due to financing school building repairs.
In the 2015-16 financial year, the Department breached both its capital and resource expenditure limit by over £290m.
An NAO report last month recommended another £6.7bn was needed in order to bring all existing school buildings up to a "satisfactory" standard – a problem that is forecasted worsen as the majority of the school estate was built more than 40 years ago.
Commenting on the expenditures, Mike Kane, the shadow schools minister, said: "This is exactly what we have come to expect from a department riddled with accounting problems and totally unwilling to properly fund our children's education.
"Theresa May needs to get a grip on her Department for Education which time and again is failing to account properly and putting education in this country at grave risk."
A DfE spokesman said the accusations were "a complete misunderstanding of the accounting process", however, but added that the issue "would not be happening again".
He said: "It is misleading to describe this as a cash overspend – this issue refers to the way spending is accounted for. We conducted a review of the way we accounted for academy trust land and buildings and made a number of changes.
"The timing of this review meant that we couldn't amend our budgets with the corrected accounting, giving rise to this issue. The Public Accounts Committee has accepted this explanation and we do not expect these issues to re-occur."
Register for free to continue reading
Registration is a free and easy way to support our truly independent journalism
By registering, you will also enjoy limited access to Premium articles, exclusive newsletters, commenting, and virtual events with our leading journalists
Already have an account? sign in
Register for free to continue reading
Registration is a free and easy way to support our truly independent journalism
By registering, you will also enjoy limited access to Premium articles, exclusive newsletters, commenting, and virtual events with our leading journalists
Already have an account? sign in
Join our new commenting forum
Join thought-provoking conversations, follow other Independent readers and see their replies