Poorer pupils in England are a whole GCSE grade behind their peers in maths, report finds
'Government's reforms have failed some of the most disadvantaged learners.This should be a national scandal and education ministers should be ashamed'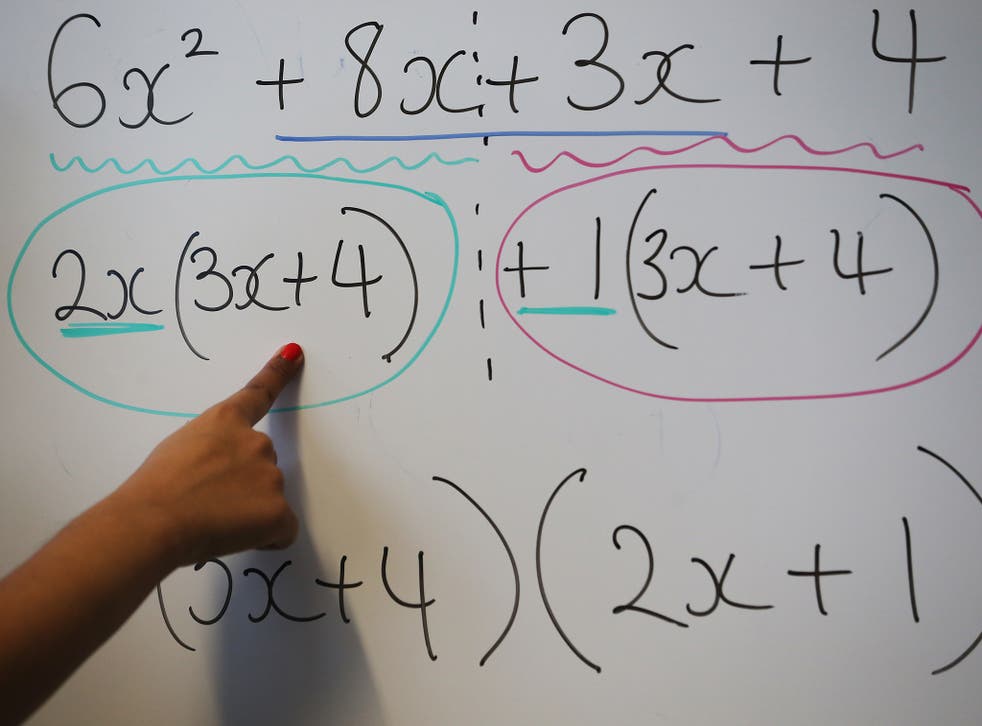 England would have to double the number of disadvantaged pupils achieving top GCSE grades in maths to match some of the best countries in the world, a new report has found.
The country is in the bottom half of developed nations for the attainment gap between disadvantaged pupils and their peers in maths, analysis from thinktank Education Policy Institute (EPI) and UCL Institute of Education (IOE) academics has revealed.
The gap between disadvantaged pupils in England – children eligible for free school meals – and their peers is equivalent to one whole maths GCSE grade, placing them at 27th out of 44 nations.
Just one in 10 disadvantaged pupils in England achieve the top GCSE grades in maths, while nearly twice as many disadvantaged pupils in Singapore achieve these top grades.
The report concludes that the countries that achieve both high academic performance and equity between pupils from different backgrounds tend to avoid selection by ability, streaming and setting – and they have a significant focus on attracting and retaining high quality teachers.
Natalie Perera, report co-author and executive director of the EPI, said: "This report provides a reality-check on educational equality in England.
"If we wish to improve on these measures and ensure our school system works for pupils of all backgrounds, learning from the experiences of these nations is essential."
Mary Bousted, joint general secretary of the National Education Union (NEU), said: "This report confirms that the government's education reform programme has failed some of our most disadvantaged learners. This should be a national scandal and education ministers should be ashamed of their record."
She added: "The government's inability to confront the harmful practice of ability grouping, coupled with its desire to further expand selective schools, will exacerbate the challenges highlighted in this report and further entrench educational disadvantage."
UK news in pictures

Show all 50
Geoff Barton, general secretary of the Association of School and College Leaders (ASCL), said: "We have to improve outcomes for disadvantaged students, and the greatest barrier in doing so is teacher shortages, which are particularly acute in schools with high levels of disadvantage because these schools often face the greatest recruitment challenges.
"It cannot be a coincidence that maths outcomes for disadvantaged pupils are the most concerning finding in this report given that teacher shortages are very severe in this subject."
He added: "The government must do more to ensure they have the vital resources of teachers and funding – both of which are in desperately short supply."
A separate report from charity Sutton Trust found that more than a fifth of teachers and school leaders believe funding for the poorest youngsters is being used to plug holes in school budgets.
Among the senior leaders polled, 24 per cent said pupil premium funding - extra money to support disadvantaged youngsters - was being used elsewhere, up from 30 per cent last year.
A Department for Education spokesperson said: "Thanks to our reforms and the hard work of teachers, we are seeing real improvements in English schools – and this report confirms the progress that is being made to raise standards.
"There are now 1.9 million more children in good or outstanding schools than in 2010, our GCSE and A-levels rank among the world's best qualifications and the attainment gap between disadvantaged children and their peers has narrowed at GCSE and Key Stage 2.
"But there is always more to do – that's why our Social Mobility Action Plan set out measures to drive improvements in key skills including numeracy, targets areas that need the most support through our £72m Opportunity Areas programme and builds on the almost £2.5bn we provide each year to schools to help raise the attainment of disadvantaged pupils."
Register for free to continue reading
Registration is a free and easy way to support our truly independent journalism
By registering, you will also enjoy limited access to Premium articles, exclusive newsletters, commenting, and virtual events with our leading journalists
Already have an account? sign in
Register for free to continue reading
Registration is a free and easy way to support our truly independent journalism
By registering, you will also enjoy limited access to Premium articles, exclusive newsletters, commenting, and virtual events with our leading journalists
Already have an account? sign in
Join our new commenting forum
Join thought-provoking conversations, follow other Independent readers and see their replies