Ditch French and German lessons for Mandarin, says David Cameron as his visit to China draws to a close
PM announces language plan for UK schools on last day of China trip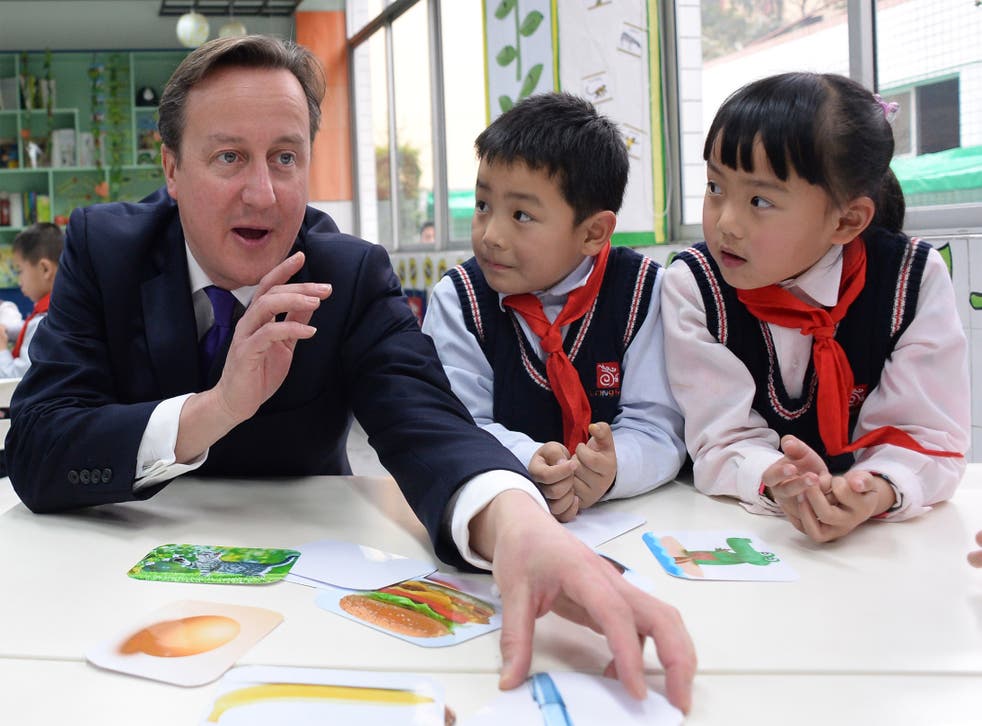 David Cameron has thrown his weight behind efforts to prioritise the teaching of Mandarin in UK schools.
The Prime Minister, speaking on the last leg of his visit to China, urged them to "look beyond the traditional focus on French and German and get many more children learning Mandarin".
His comments follow a report by the British Council late last month which put Mandarin Chinese in the top five of the ten most important languages that should be taught in UK schools. It was given second place ahead of French and German - and behind only Spanish.
Yet the report acknowledged that only per cent of people in Britain are fluent enough to conduct a conversation in the language.
As the Prime Minister ended his visit, it emerged agreement had been reached between the British Council and the Hanban (the Chinese national office for the teaching of Chinese as a foreign language) to double the number of Chinese language assistants in the UK by 2016 - with a view to also doubling the number of pupils learning the language to 400,000.
Funding will be increased to schools to reducing the cost of training teachers to teach the subject and, in addition, 60 headteachers from the UK will be invited to go on study visits to China next year.
Mr Cameron said: "I want Britain linked up to the world's fast growing economies - and that includes our young people learning the languages to seal tomorrow's business deals.
"By the time the children born today leave school, China is set to be be the world's largest economy. So it's time to look beyond the traditional focus on French and German and get many more children learning Mandarin.
"As Mandela once said: 'if you talk to a man in a language he understands, that goes to his head. If you talk to him in his own language that goes to his heart."
Mr Cameron is not the first UK politician to highlight the need to increase the number of UK pupils learning Mandarin but - despite good intentions - reaction from schools on the ground has been lukewarm.
Ed Balls when he was Education Secretary said every secondary school pupil should have the right to learn an "up-and-coming" language such as Mandarin whilst at school, He also encouraged primary schools to put languages like Mandarin, Japanese and Arabic on the curriculum.
However, despite that exhortation, growth has been slow with the number of GCSE candidates this year 600 down compared with the highest figure on record of 3,650 three years ago.. At A-level, the number of candidates fell by 99 to 3,326 this summer.
Over the past decade, GCSE numbers have risen by just 377 while A-level candidates have gone up by 1,590.
The British Council believes that the lack of trained teachers in the subjects has played its part in limiting the take-up.
However, Dr Anthony Seldon, master of Wellington College - which has a mandarin centre at the school, believes exam boards should set separate papers for native speakers and those approaching the language for the first time - as has happened with the International Baccalaureate. Exam boards, however, reject this approach - saying it has not been necessary with other minority languages such as Urdu.
Some principals and heads say it is the perceived difficulty of the exam that is putting them off entering more pupils for the subject. "I guess some headmasters are not keen on taking Chinese on," said one. "The reason for that is because they are more keen on league tables and they think Chinese may be too difficult for students and will affect their status, which is understandable."
After this year's exam results, exam regulator Ofqual said it was carrying out an investigation into languages - which is expected to look at claims it is harder to get a top grade pass in the subject than in others.
Whether it is a difficult language to learn in itself rather than just - as is suspected of all modern foreign languages subjects - harder to get a top grade pass at either A-level or GCSE is debatable.
"Some people say it's a difficult language to learn but I think that's a misconception," said Tony Xu, principal and managing director of the Confucius Language Academy in Leeds. "They look at the characters and think 'how can I learn that?' But Chinese is not a difficult language to learn. It's easier than English and other European languages in many ways."
Language experts add that - as with any other language - successful learning is more likely the earlier you take up the subject. That is why they enthusiastically support the Government's stricture that language learning should be compulsory for all seven-year-olds from next September. Mandarin is one of the languages that can be offered under this extension to the national curriculum.
Further to the announcement on Mandarin, Downing Street also revealed that a group of UK maths teachers would also go to China to study their maths and science teaching in the hope of coming back with ideas about how to improve the UK's world ranking in these subjects.
Shanghai, China, topped the international league table of PISA (Programme for International Student Assessment) test results published yon Tuesday. Their 15-year-olds were said to be three years ahead of those in the UK in maths.
Register for free to continue reading
Registration is a free and easy way to support our truly independent journalism
By registering, you will also enjoy limited access to Premium articles, exclusive newsletters, commenting, and virtual events with our leading journalists
Already have an account? sign in
Register for free to continue reading
Registration is a free and easy way to support our truly independent journalism
By registering, you will also enjoy limited access to Premium articles, exclusive newsletters, commenting, and virtual events with our leading journalists
Already have an account? sign in
Join our new commenting forum
Join thought-provoking conversations, follow other Independent readers and see their replies