Do teens who stay in bed longer learn better? A £6m neuroscience study will find out
Innovative programme aims to put Britain at the forefront of global education policy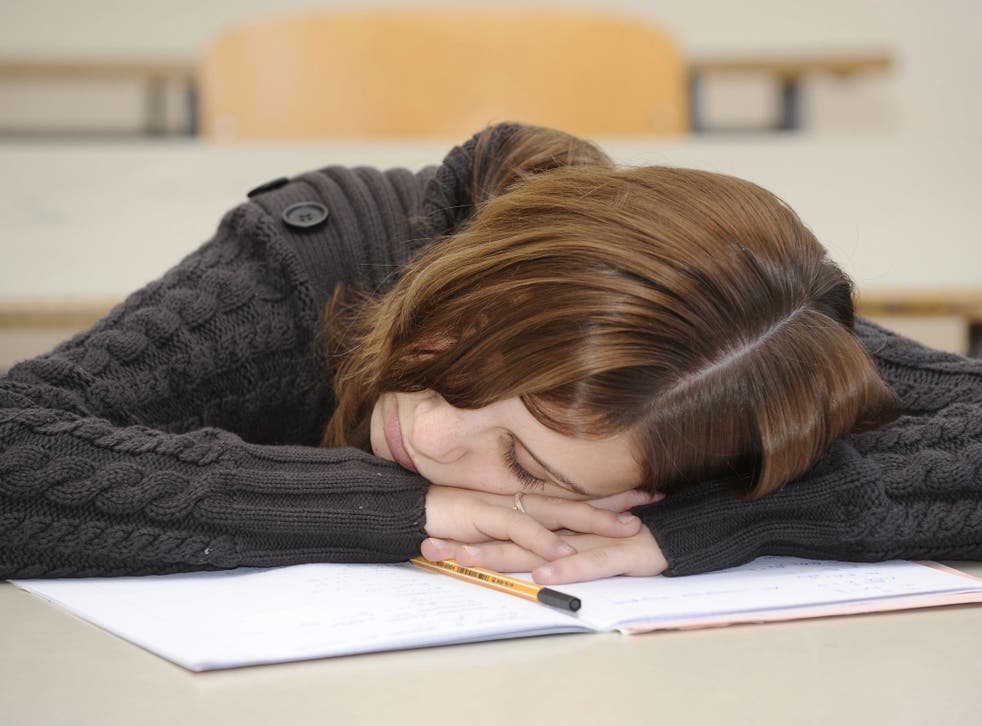 An innovative £6 million research programme launched today will look at how neuroscience can best be used to improve standards in UK education system.
The project will put Britain streets ahead of the rest of the world in providing teachers with data on how their pupils' brains function, which can then be used to boost attainment in the classroom.
Issues to be tackled would be likely to include looking at sleep patterns to determine whether teenagers benefit from a later start to the school day because their brains do not function so well early in the morning.
Some schools have already experimented with the idea. Monkseaton High School in North Tyneside moved to a 10am for older pupils but reverted to 8.50am while the UCL academy in north-west London, changed its start-time for sixth-formers to 10am - but so far there has been no rush to see whether staggering school hours would help improve learning. A more thorough investigation would determine whether it would be worth introducing such a scheme on a wider scale.
Researchers may also look at classroom organisation - and whether the traditional 45-minute period is the best way of engaging pupils' brains or whether they would benefit from bite-sized chunks (briefer periods) or possibly even long lessons to enable them to finish experiments in subjects like science.
Learning games could also come under the microscope to see whether they will enhance children's understanding. "Games are fun in the classroom," said Paul Howard-Jones, from Bristol University, "but we lack any understanding of how they support learning. Do they stimulate children?"
Kevan Collins, of the Education Employment Foundation, one of two organisations to behind the launch of today's Education and Neuroscience Fund, the other being global charity "the Wellcome Trust", which is dedicated to improvements in human and animal health, said his organisation was already involved in a study which aimed to determine whether attending Saturday morning classes could improve children's learning.
"We want to know 'is there any benefit from going to school on a Saturday morning as well as in the week or could you actually put children off by taking them away from a fantastic time doing something else?'," he said.
The research would hopefully show whether the brain would benefit from a lay-off at the weekend or be stimulated by a different style of learning - more relaxed.
The research programme is unique, according to Howard-Jones. "I don't think there is any comparable initiative anywhere else in the world," he added.
Under it, bids to carry out research can be submitted now with the funding being made available for those that are successful from October. The projects could span between one and five years - and include randomised controlled trials in schools to determine their effectiveness.
Dr Hilary Leevers of the Wellcome Foundation said the research could also be used to test out the claims made by manufacturers of various devices (iPads etc) for their effectiveness in improving children's learning.
"There has been very strong marketing of products," she said, "but we should be saying to them 'where is your evidence for this?'". They should, she argued, be under the same kind of advertising scrutiny as other commercial products - and the kind of research envisaged could help with that.
Ultimately, the Wellcome Foundation and the EEF, which was set up by the education charity the Sutton Trust to break the link between family income and educational attainment, want to build up a mass bank of evidence which will show how schools could make the best use of neuroscience to determine the best way for their pupils to learn.
The two organisations present at the launch acknowledge there is no one-size-fits-all approach to tapping the brain to determine how best children can learn. The results of their findings could, though, they argue, lead to government guidance on what could work.
What they would be loathe to see, though, is a ministerial initiative saying: "You must do it this way."
"Neuroscience is an exciting field that holds a great deal of promise both for understanding how our brains work and, through application, for improving how we learn and perform," said Dr Leevers. "Neuroscientists and educators both recognise and wish to explore this potential."
Sir Peter Lampl, chairman of the EEF and the Sutton Trust, added: "Improving our understanding of how the brain works will deepen our understanding of how pupils learn.
"Knowing the impact of neuroscience in the classroom will also make it easier to spot the plausible sounding fads and fakes, which don't improve standards."
Join our new commenting forum
Join thought-provoking conversations, follow other Independent readers and see their replies