Dulwich College: Elite London school reports pupils to police over sexual assault allegations
'It's really distressing, and we get lots of testimony like this,' says children's commissioner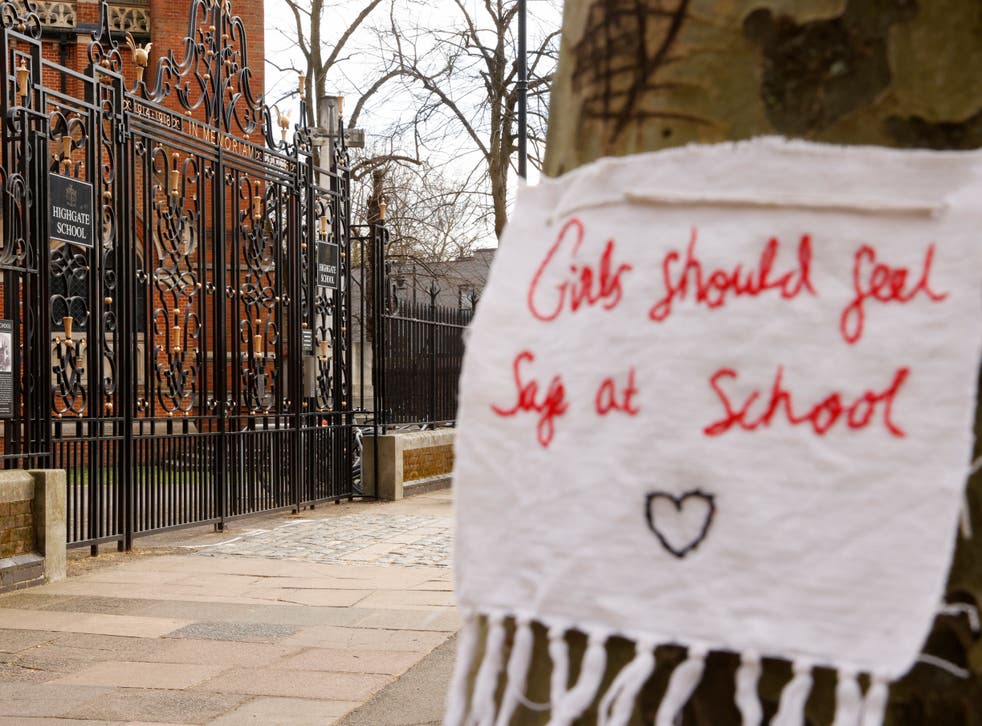 An elite London boarding school has reported multiple allegations of sexual assault against its pupils to the police, amid an outpouring of allegations of rape culture at largely private schools across the country.
In the wake of Sarah Everard's death, thousands of people have shared their accounts of a misogynistic culture some allege is common at fee-paying schools, with their testimonials published by a campaign set up in June for current and former students, called Everyone's Invited.
The litany of allegations, labelled "really distressing" by the children's commissioner, have sparked nationwide concern, and have prompted calls – including from education secretary Gavin Williamson – for pupils to come forward to their schools to report abuse they have suffered.
While the more than 5,000 allegations concern pupils from institutions across the country, many have been concentrated in fee-paying schools – with some of the UK's most illustrious schools implicated.
This week, Dulwich College reportedly informed parents that it had passed several cases onto the Metropolitan Police – in a move that could soon be echoed by other institutions.
A Metropolitan Police spokesperson told The Independent on Friday that Scotland Yard had received "two separate allegations of non-recent sexual assault" on Thursday, adding: "Enquiries into the circumstances are ongoing; there have been no arrests."
Read more:
In an email reported by The Times, headmaster Dr Joe Spence said the school apologised "to anyone who has experienced abuse or harassment perpetrated by a pupil of Dulwich College", adding: "We will act on any case where an individual pupil is named."
It follows the publication of an open letter by former pupil Samuel Schulenburg, who alleged that the school – whose annual fees exceed £21,000 – was "a breeding ground for sexual predators".
The 19-year-old's letter accompanied a dossier containing some 250 testimonies from pupils from nearby schools carrying allegations of sexual assault, harassment and bullying by boys at Dulwich College.
"Since the publication of the Open Letter a small number of individuals have come forward naming their abusers and in these cases Dulwich College has either disciplined those pupils or, where there has been an allegation of criminal behaviour, passed the case on to the police," Dr Spence was reported as telling parents in his correspondence.
"We understand why victims of harassment or abuse may not wish to be named or to name perpetrators, but we welcome the opportunity to deal with specific cases, both so that wrongdoing can be punished and so that individual pupils against whom allegations have been made have an opportunity to defend themselves."
It added: "I reiterate that Dulwich College as a community condemns unreservedly the behaviour and attitudes reported in the Open Letter and is united in its determination to challenge them and to ensure that such a report could not be compiled in the months and years ahead."
UK news in pictures

Show all 50
The Independent has approached Dulwich College for comment.
Meanwhile, in another email to parents, Dr Spence reportedly said he had warned pupils that they would be fined by police for breaching lockdown restrictions if they attended a protest on Friday – now apparently cancelled – billed as "a demonstration against the predatory culture of Dulwich College", according to The Guardian.
Elsewhere, Highgate School announced it had commissioned an immediate independent review into allegations against a number of its pupils, to be led by ex-Lady Justice of Appeal of England and Wales, Dame Anne Rafferty.
"We will make public its findings when they are available, and we are committed to taking whatever action is required to achieve the necessary culture change at Highgate," the school said in a statement.
Asked about the nationwide testimonies, England's new children's commissioner, Dame Rachel de Souza told the BBC's Newsnight on Thursday: "It's really distressing, and we get lots of testimony like this."
She said schools have "very clear advice on sexual violence and harassment", adding: "When it is serious it must be escalated to both social care and to the police and schools need to follow that."
Saying that the issue was not confined to independent schools, former chair of the Women and Equalities select committee, Maria Miller, said: "It's a problem with the way that we're allowing culture to develop in our schools.
"And if we hear the testimony of young women from across the country, it will be difficult to simply dismiss it out of hand."
And Everyone's Invited founder Soma Sara told the BBC last week: "If we start pointing fingers at certain demographics, or singling out individuals or institutions, we risk making these cases seem like anomalies … when really this problem is pervasive, it exists everywhere."
Register for free to continue reading
Registration is a free and easy way to support our truly independent journalism
By registering, you will also enjoy limited access to Premium articles, exclusive newsletters, commenting, and virtual events with our leading journalists
Already have an account? sign in
Register for free to continue reading
Registration is a free and easy way to support our truly independent journalism
By registering, you will also enjoy limited access to Premium articles, exclusive newsletters, commenting, and virtual events with our leading journalists
Already have an account? sign in
Join our new commenting forum
Join thought-provoking conversations, follow other Independent readers and see their replies