Dyslexic pupils not helped by reading method
Report reveals teachers doubt effectiveness of synthetic phonics as a literacy strategy for all
Richard Garner
Sunday 30 March 2014 02:24 Comments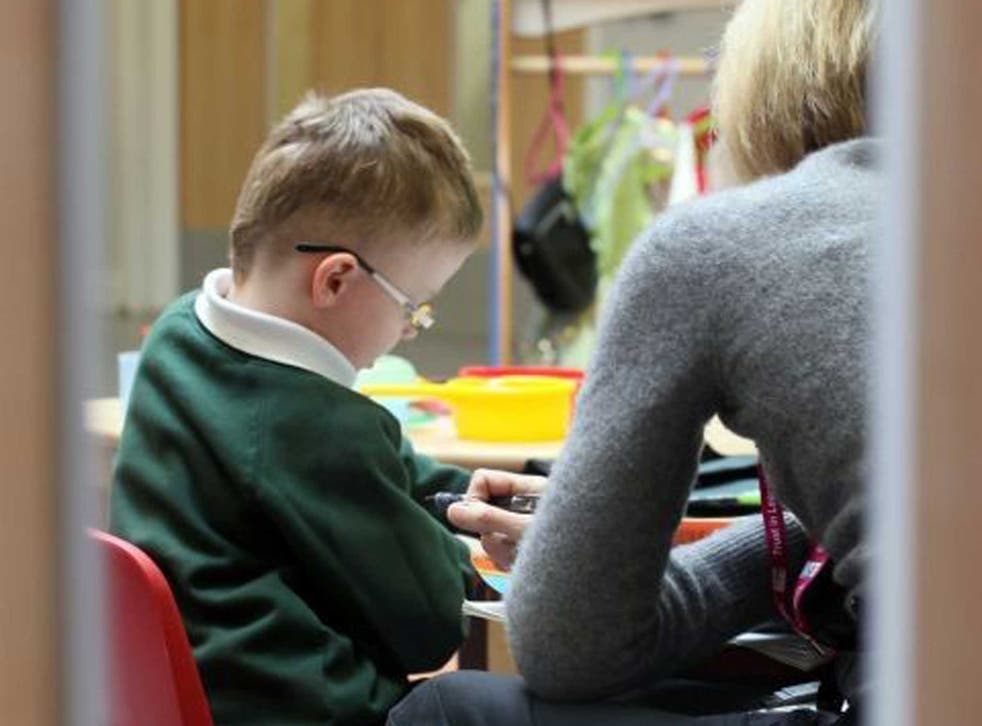 Up to 400,000 dyslexic children may be hampered in learning to read by the Government's insistence on the use of synthetic phonics to teach them, says a report to be published today.
A poll of more than 500 literacy teachers reveals that more than half (52 per cent) believe that the Government's approach is either "ineffective" or "not very effective" in helping dyslexic pupils.
They believe that children with other disabilities and the most able pupils could also be held back. The poll, carried out by ReadingWise UK – designers of online literacy materials – casts doubt on the Government's favoured strategy for improving reading.
"Literacy support needs to be tailored to the learning pace, experience and needs of the individual child – delivered by teachers with the appropriate specialist training to identify those who might struggle," said Dr Tilly Mortimore, senior lecturer at Bath Spa University's School of Education.
"Neither children who are fluent readers, nor those at risk of Special Learning Difficulties/dyslexia or other reading disabilities are likely to find a 'one size fits all' intensive synthetic phonics programme helpful. Furthermore, the Government's punitive testing regime risks undermining both teachers and learners."
The poll also found that only one in five teachers fully supported the Government's new phonics test for six-year-olds, under which children are asked to spell made-up as well as real words. Teachers have complained that brighter children get the answers wrong because they try to turn every word into a real word. However, the teachers do believe that synthetic phonics has an important role to play in the teaching of reading, with fewer than one in three wanting to see the emphasis on it reduced.
Many said that an increased emphasis on synthetic phonics had led to a measurable improvement in their pupils' reading standards – 81 per cent of teachers felt that it helped the average child.
Instead, they want a less prescriptive approach, with the overwhelming majority (98 per cent) believing that promoting "reading for pleasure" is the best way to encourage better reading standards. Synthetic phonics came fourth in the poll, with 79 per cent of teachers supporting it.
They also express reservations about the national curriculum tests for 11-year-olds in English, saying there is "widespread scepticism" among secondary school teachers over the results. Only one in 10 said that they gave a reliable measurement of children's ability. Teachers have claimed that "teaching to the test" becomes a test of memory, and means that children may not have absorbed the necessary background knowledge about the subject.
As a result of the Government's reform of the national curriculum, which comes into force this September, primary school children must be taught to "apply phonic knowledge and skills as the route to decode words". Pupils who struggle to decode and spell "need to be taught to do this urgently through a rigorous and systematic phonics programme so that they can catch up rapidly".
However, the report concludes: "While most teachers recognise the importance of synthetic phonics in teaching children to read, they see it as just one of a number of important strategies."
Victor Lyons, founder of the ReadingWise English literacy programme, said: "Phonics works well for most children but for those who struggle to read well it is really important to do more, using a range of educational and psychological techniques to suit the individual."
Last weekend, former education secretary Baroness (Estelle) Morris said that it had been "wrong" for two parties (Labour and Conservative) to pledge that, if they won the election, teachers would be told to adopt synthetic phonics in the teaching of reading.
A spokeswoman for the Department for Education said: "In the past, far too many children left primary school unable to read properly. Our phonics programme is at last addressing this unacceptable situation. Research shows overwhelmingly that systematic phonics is the most effective way of teaching reading to children of all abilities, including dyslexia.
"Thanks to the phonics check, 177,000 six-year-olds will this year get the extra reading help they need to catch up with their peers."
A personal view
When it comes to recommending how teachers should teach I usually remain on the sidelines, thinking they know better than me what they should be doing.
So I didn't have a strong personal opinion on the issue of synthetic phonics, until quite recently.
My partner's grandson is a cocky, forward five-year-old who can read sentences and words quite fluently. Since starting school, though, he no longer points to an object such as a church and says "church" but "ch-ur-ch". To my mind, that is not a step forward in his reading ability.
Thus, I have some sympathy with the literacy teachers surveyed, who say that while synthetic phonics helps the majority it is not necessarily appropriate for either bright or dyslexic children.
I think the former education secretary Baroness Morris summed up my thoughts last weekend when she said there was too much political meddling in education, adding: "You wouldn't tell a doctor he had to prescribe penicillin for his patients."
Richard Garner
Register for free to continue reading
Registration is a free and easy way to support our truly independent journalism
By registering, you will also enjoy limited access to Premium articles, exclusive newsletters, commenting, and virtual events with our leading journalists
Already have an account? sign in
Join our new commenting forum
Join thought-provoking conversations, follow other Independent readers and see their replies