Eastbury Community School in east London officially designated the kindest school in the UK
Education Editor Richard Garner visits Eastbury Community School, Barking, where exclusions are down, and results are up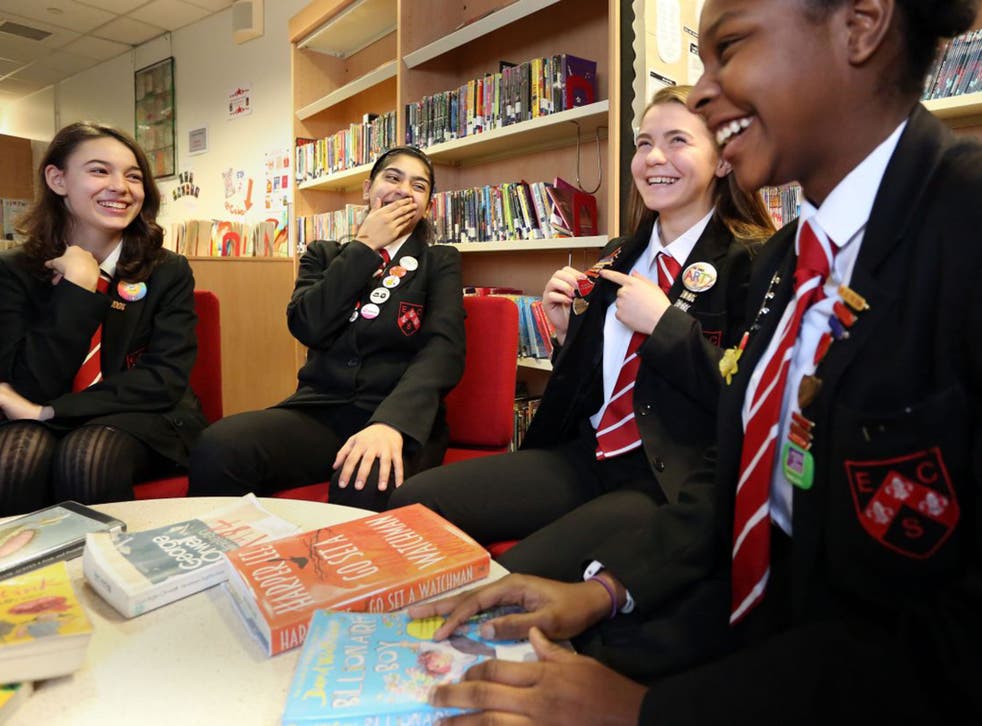 A comprehensive school serving one of the most deprived areas of the country has been officially designated the kindest school in the UK.
The school, the 1,850-pupil Eastbury Community School in Barking, east London, won the award after its pupils posted "choose kind" messages on a Wonder tree in a school corridor. Examples included "know how to give without hesitation, how to lose without regret and how to acquire without meanness" and "Why bully? Be helpful!"
The competition was inspired by the best-selling novel Wonder – about how a boy with a facial disfigurement copes at school – by R J Palacio. She chose Eastbury as the winner because she was impressed by how the whole school got behind the contest. "I was blown away by the dedication and passion the school had [for the competition]," she said. The contest was organised by publishers Penguin Random House Children's UK with support from the Anti-Bullying Alliance.
In some ways, Eastbury could be considered a throwback to the kind of school common in the UK a couple of decades ago. It is a large comprehensive maintained by the local authority – Barking and Dagenham.
Indeed, on the day I visited after heavy rain – leaving mud and puddles all around – executive headteacher David Dickson joked that it looked like a "bog-standard" comprehensive. It is anything but. The "kindness" trophy is one of a string of awards it has collected recently. Three years running it has won the prestigious national award for teaching English run by the Times Educational Supplement.
Its pupils will be performing in A Midsummer Night's Dream at the Barbican, London this April as part of the celebrations of the 400th anniversary of Shakespeare's death.
In sport, it has been chosen to represent England in the Futsal World Cup – a five-a-side version of the game developed in South America with a heavier ball to improve skills – for two years running.
It has also won a national award for art, and become a Stonewall Champion for the way in which it tackles lesbian, gay, bisexual and transgender issues. "In my lifetime as a teacher, the approach to lesbian and gay issues has been odd," said Mr Dickson, who has led the school for eight years. "At one time you couldn't even discuss them and now you get into trouble if you don't – which is good."
Eastbury is now playing its part in helping the area cope with a shortage of primary-school places due to a bulge in the birth rate. It is being redesignated as a three-to-19 school, taking in primary-aged pupils for the first time. It will eventually grow in size to 2,250 pupils, becoming one of the largest in the country.
UK news in pictures

Show all 50
The school has adopted this approach because local authorities are not allowed to open new community schools, but existing schools are allowed to expand.
Eastbury, it seems, is proof that it is the quality of teaching that matters most. Its central message is to have high expectations of its pupils. "We're not putting any ceiling on pupil performance at all," said Mr Dickson. "We're actually saying 'the sky's the limit'.
"Obviously, with some students, the target could be considered quite low, but what we want to ensure is that they make progress." Two years running, Eastbury has been among the 100 most improved schools in the country.
The school, at which 57 per cent of pupils are entitled to free school meals, has set up a "Brilliant Club" for the 12 brightest pupils in every year. They are taken on trips to universities like Oxford and Cambridge, and given more demanding work which is marked by PhD students to prepare them for higher education. "We don't just spend the pupil premium helping pupils to get a C grade at GCSE," said Mr Dickson.
Kindness, though, maintains a strong influence. The pupils have raised thousands of pounds for charity in the past few years. And the school has adopted a "peer mediation" initiative in which 60 Year 9 and 10 pupils (13- to 15-year-olds) a year are trained to act as mediators in conflicts between students.
Mr Dickson believes this approach to conflicts has been a major reason behind a reduction in exclusions - there have been no permanent exclusions this academic year and only six fixed-term exclusions.
Join our new commenting forum
Join thought-provoking conversations, follow other Independent readers and see their replies