Edinburgh University apologises after thousands of students mistakenly told they would not graduate
University officials blame the rogue email on a 'system error' but insist there has been no breach of its security systems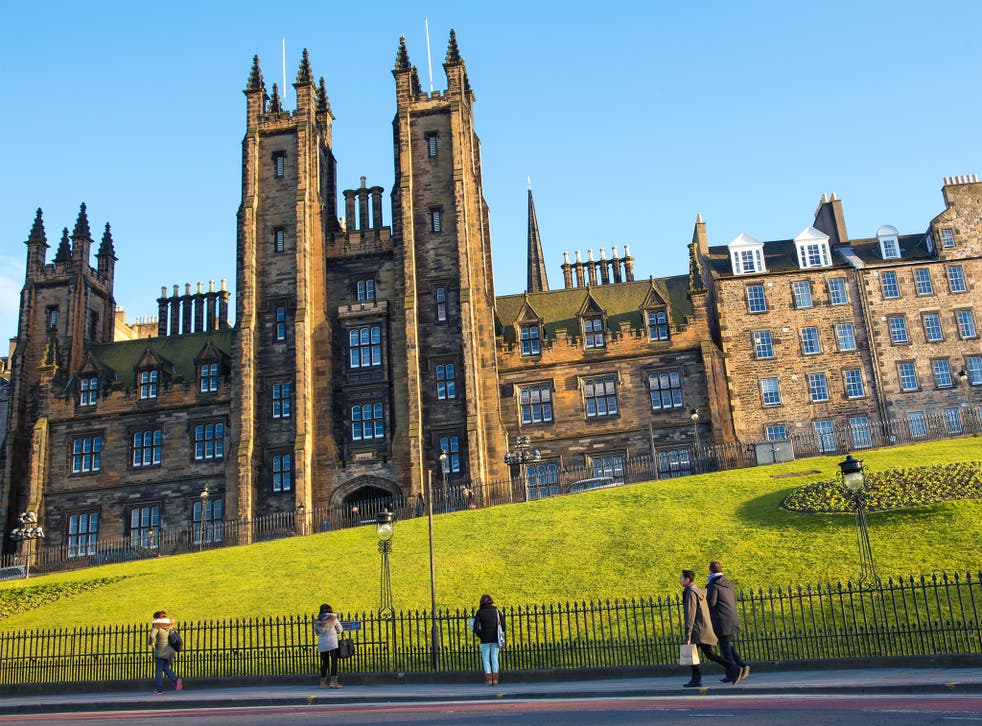 One of the UK's most prestigious universities has been forced to apologise after mistakenly informing its final year students they would not be graduating on account of not finishing their studies.
Students at Edinburgh University were to ignore an email sent to them with the subject title "Graduation Ceremony Cancelled – No Award", blaming a "system error" for the mix-up.
The message read: "You recently registered to attend a graduation ceremony this summer.
"However, we are now advised that you are not expected to complete your studies until later in the year, and therefore we presume that you may be eligible to attend the next available graduation ceremony."
A similar message also appeared when students logged into the university portal.
One 22-year-old politics student – who preferred not to be named – said she was one of many to endure a sleepless night worrying she may have somehow failed her degree.
"I felt a lot of confusion and frustration," she told The Independent. "There were a lot of panicked phone calls and messages being sent back and forth but little real information was available.
"Changes were also made to the student portal which echoed the content of the email which made the message seem to be legitimate. Few people have their dissertation marks back yet and so there was concern that people may have failed."
Because the email was sent in the middle of the night, nobody could get in touch with Student Administration services to find out what was happening until the morning, she added.
"When I called the line was busy for 15 minutes. The person I spoke to when I did get through described what had happened as a system error and couldn't say much more."
Another student, Calum Mackie, 24, discovered the message in his inbox just after midnight on Thursday.
Top 10 universities in the UK according to the Times Higher Education

Show all 10
He said: "I panicked because we just finished exams a couple of weeks ago and it would be around now that results would start to be known to the university, and if there would be any resits, so I immediately thought I had failed something and would not be able to graduate."
Phone lines to contact Student Administration were busy through the night, The Student newspaper reported, with thousands of students across different degree courses said to have received the panic-inducing email.
Mr Mackie said: "I checked on the portal in case it had been some kind of hoax and the university portal had the same message so I thought it was legit.
"I'm down to be doing teacher training this year so if I weren't to graduate this summer I thought it was going to mess up my plans for summer and this year. It was really worrying."
The English literature and history student said many of his friends studying different subjects also received the email.
Student's graduation held on train as he misses ceremony due to delays
He said: "Those that were up last night and found the email were really worried and anxious and others woke up this morning to find it.
"Everyone seems to have been very panicked and worried and now we have found out from the university that it was sent in error, everyone seems frustrated that it was sent to so many students."
Students were sent an email from the university at around 9.30am on Thursday telling them to ignore the earlier message.
It said: "We are aware that a number of final year students have received an email, apparently from the university, informing them that their graduation has been cancelled.
"Please ignore this message. No graduations have been cancelled. Your final degree results will be released in line with the published schedule.
"We are looking urgently into this situation."
A year ago, Edinburgh University came under fire after issuing advice to future graduates that was deemed "classist and sexist".
In an article in the university's newsletter, students were advised to visit Harvey Nichols department store and spend costly amounts on clothes and accessories – with women advised to buy a £785 bag to store their "lippy and smartphone".
Graduation ceremonies are due to take place at the university in late June and early July.
An Edinburgh University spokeswoman insisted there had been no breach of their systems and no student data had been compromised.
"Our preliminary investigation suggests that these emails were regrettably issued as a result of a system error," she said.
"The university has written to all students affected to reassure them that their graduations have not been cancelled and asking them to ignore the emails."
Join our new commenting forum
Join thought-provoking conversations, follow other Independent readers and see their replies