Cash-strapped schools axing classes and cutting back on trips, headteachers say
Budget pressures mean design and technology, languages and art among subjects being dropped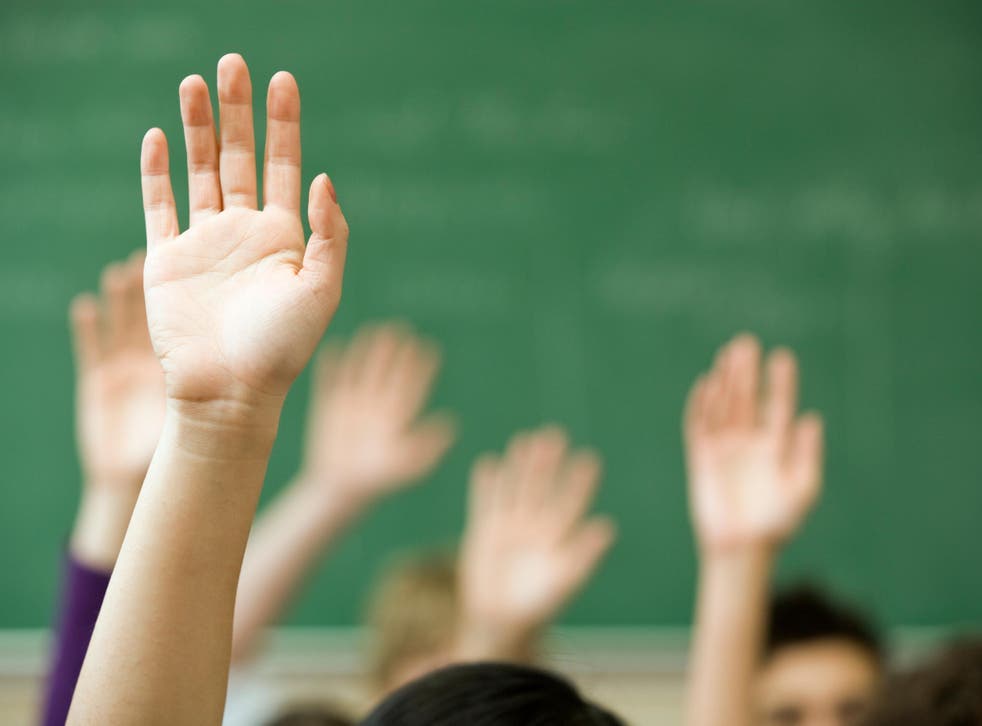 Schools are being forced to scrap GCSE and A-level courses, increase class sizes and cut back on trips and after-school clubs as a result of a funding crisis, headteachers have warned.
Design and technology, languages and arts are among the subjects being dropped as schools struggle to deal with severe budget pressures, according to the Association of School and College Leaders (ASCL).
In a new report, based on a poll of more than 1,000 members, the union warned that pressure to cut costs is having an impact on all areas of school life.
Interim general secretary Malcolm Trobe said school leaders are being forced to make "impossible choices".
The Government has argued that school funding is at its highest ever level.
More than seven in 10 (72 per cent) of those whose schools teach 14-16-year-olds said GCSE or vocational courses have had to be dispensed with in the past 12 months, while 79 per cent whose schools teach sixth-formers said courses have been cut.
The most common GCSE subject to be removed was design and technology (indicated by 44 per cent) followed by performing arts courses (26 per cent), music (18 per cent), German (18 per cent), art and design options (16 per cent), drama (14 per cent), Spanish (8 per cent) and French (6 per cent). Some 45 per cent said other subjects had been cut.
At A-level, the most common course to be scrapped was again design and technology (41 per cent), followed by music (39 per cent) and German (37 per cent).
More than eight in 10 (82 per cent) of those surveyed said they have had to increase class sizes. On average, school leaders – including heads, deputies and other senior staff – said their largest class size is 33, while around one in eight (12 per cent) said it was 35 students or more.
One school leader told the union: "Increasing numbers of students are taught in badly maintained and leaking buildings. They are using out-of-date IT equipment which frustrates them as they tend to have the latest computers and tablets at home. Text books are becoming increasingly dog-eared."
UK news in pictures

Show all 50
Another said: "Through no fault of their own, students will have restricted subject choices, in larger class sizes with less pastoral support, whilst still being expected to perform at the highest of standards – nonsense!"
The vast majority – 95 per cent – said their school had cut back on support services, including equipment such as books, special needs support, IT and mental health support.
Over two-thirds (68 per cent) said they have had to scrap activities such as trips, visits and clubs.
Mr Trobe said: "The survey shows the impossible choices school leaders are having to make. Reduced budgets means fewer staff and, with fewer staff, class sizes have to increase. Schools cannot sustain the level of support they provide to pupils, or the range of subject options and enrichment activities."
He added: "Unless the Government invests more in the education system, there will be a significant impact on the lives and life chances of young people."
"The funding crisis is caused by rising costs – such as employer National Insurance and pension contributions – without additional funding from the Government to pay for them," ASCL said, adding that the situation will be made worse for many schools by the introduction of the apprenticeship levy next month.
World news in pictures

Show all 50
A recent report by the National Audit Office has warned that schools will have to save £3bn by 2019-20.
A Department for Education spokeswoman said: "The Government has protected the core schools budget in real terms since 2010, with school funding at its highest level on record at more than £40bn in 2016-17.
"But the system for distributing that funding across the country is unfair, opaque and outdated.
"We are going to end the historic postcode lottery in school funding and, under the proposed national schools funding formula, more than half of England's schools will receive a cash boost.
"We recognise that schools are facing cost pressures, which is why we will continue to provide support to help them use their funding in cost-effective ways, including improving the way they buy goods and services so they get the best possible value."
Press Association
Register for free to continue reading
Registration is a free and easy way to support our truly independent journalism
By registering, you will also enjoy limited access to Premium articles, exclusive newsletters, commenting, and virtual events with our leading journalists
Already have an account? sign in
Register for free to continue reading
Registration is a free and easy way to support our truly independent journalism
By registering, you will also enjoy limited access to Premium articles, exclusive newsletters, commenting, and virtual events with our leading journalists
Already have an account? sign in
Join our new commenting forum
Join thought-provoking conversations, follow other Independent readers and see their replies