Entire class learns sign language to communicate with deaf classmate
Just three months later they can chat with six-year-old Zejd Coralic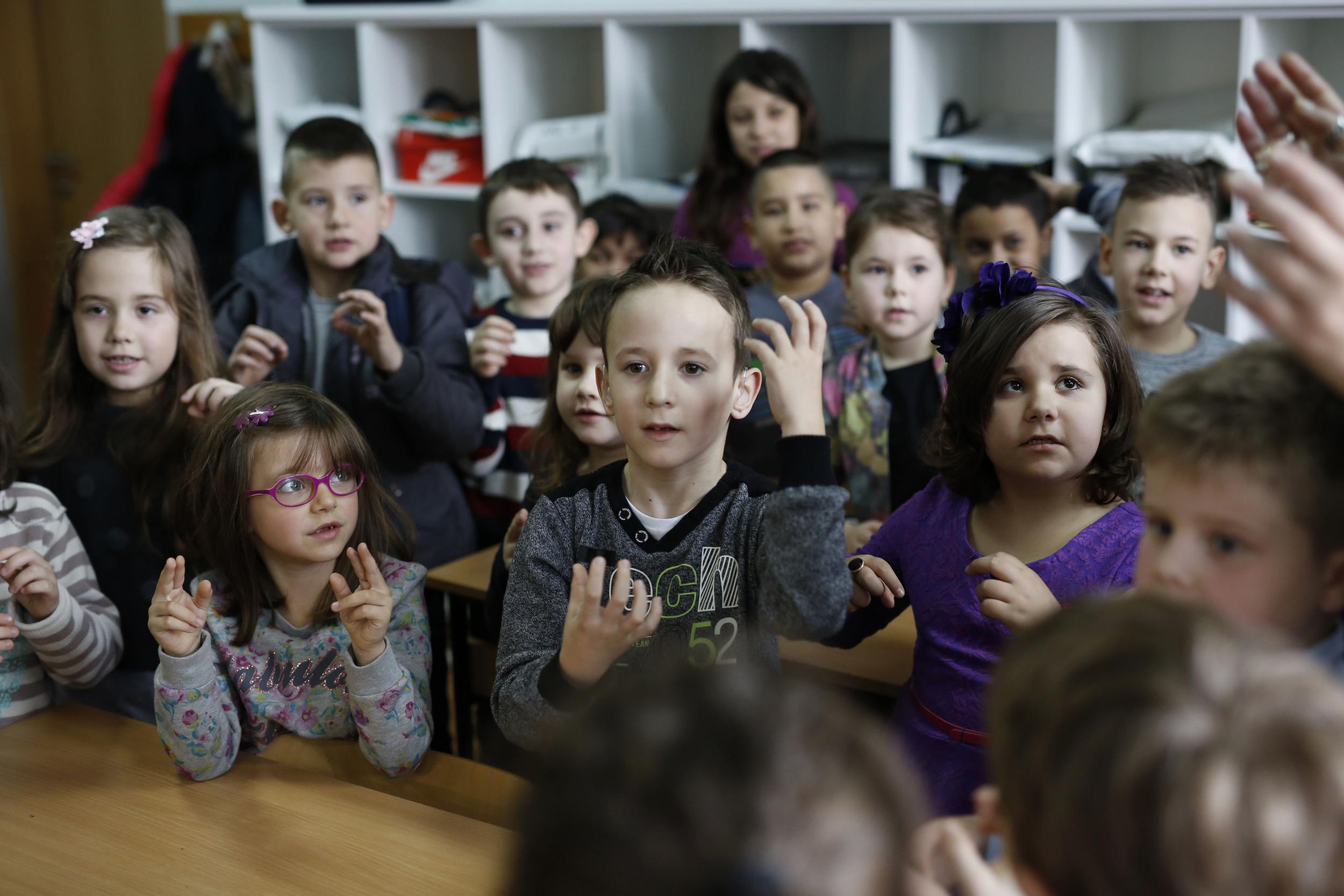 An entire class of pupils in Bosnia are being taught sign language so they can communicate with a deaf classmate.
Teacher Sanela Ljumanovic decided to help the children in her class at Sarajevo's Osman Nakas primary school learn to sign, after noticing six-year-old Zejd Coralic had become isolated from his peers.
It comes after Bosnia adopted laws in 2003 that meant children with disabilities should be fully integrated into the classroom.
Ms Ljumanovic said: "We are all happy as we are learning a new language. The goal, however, is also to teach Zejd to read lips … he is a good kid, a smart kid."
After just three months, the children have learned the basics of sign language and are learning to communicate with their classmate.
"Zejd," said Uma Nadarevic, 6, crossing her arms to sign his name.
"Please," she then put her palms together as if she would be praying. "Can ... you ...show ...me ...our ...homework ...in ... math?" Uma waved the signs with her little arms as she slowly pronounced each word.
His mother said he was now excited about going to school.
She said they tried to learn sign language together before he went to school but that he was not very interested.
"Now he is happy and motivated," she said.
Still, Zejd is an exception in Bosnian society, said Anisa Setkic-Sendic, the class's sign language teacher.
"When he sees how much others insist on communicating with him, it is motivating. This should be normal. " she added.
Zejd's classmates are enjoying learning the language.
"I like to learn Zejd's language so I can talk to him and to other deaf people," said Tarik Sijaric, one of Zejd's best friends. "It is fun."
Ms Ljumanovic explained that learning was good for Zejd, but that it was also good for children to generally be more sensitive to those with disabilities.
Join our commenting forum
Join thought-provoking conversations, follow other Independent readers and see their replies