'Impossible, messy and meaningless': Teachers react to news they will set grades
'I can't help but feel that teachers are being set up to fail'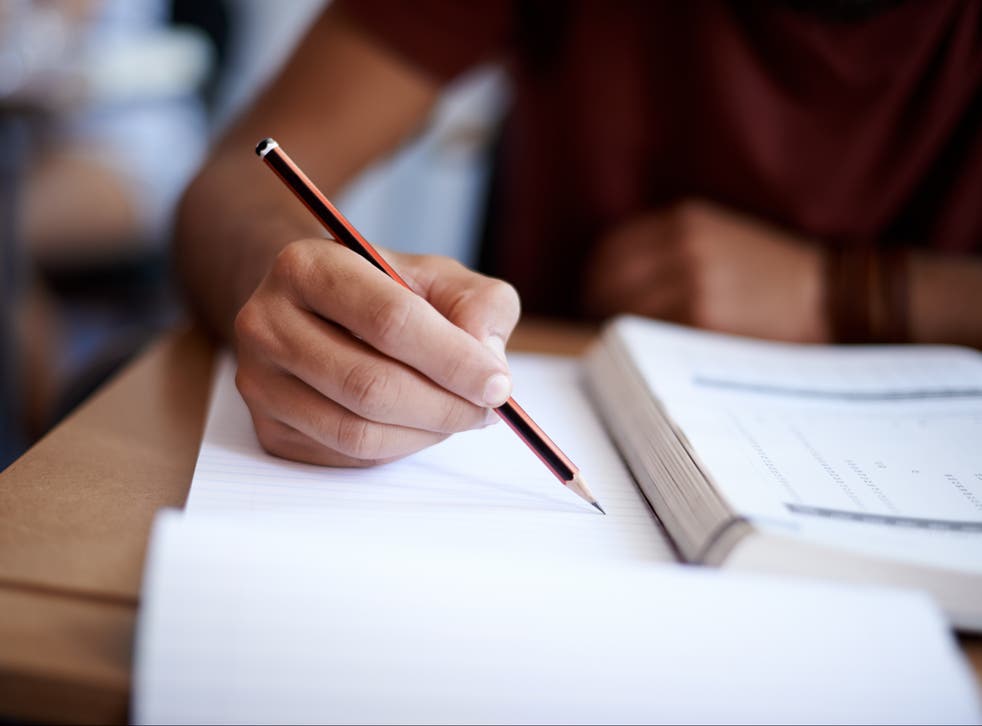 Teachers have been left concerned by the system under which they will set exam grades this summer, warning it will be a "tricky" and "impossible" job.
The education secretary, Gavin Williamson, said the government will be "putting trust in teachers" this year, when teacher-assessed grades will be awarded in the absence of exams, which have been cancelled due to disruption from the pandemic.
Under plans, schools will be given wide flexibility in deciding how teachers form judgments, students will be assessed on parts of the curriculum they have been taught and no algorithm will be used to moderate grades like last year.
But teachers have told The Independent they have doubts over the fairness of this system for students across England, as well as concerns over the potential for grade inflation.
"It's offloading the responsibility of grading onto individual schools, which will have to come up with their own methods for calculating, moderating and awarding grades," one teacher, who wished to remain anonymous, told The Independent. 
"There can't possibly be a uniform approach across the country. This messy mixture will mean that pupils won't know how their grade fits in the national context."
A-level student Charlie Nott told Sky News he was still unsure whether grades would be "fair" and was worried teachers will not be able to compare their students against others across the country.
"I think that is what is going to worry people the most, whether their teachers will have enough evidence to go on, or good enough representation of how hard [students] work, to give them a grade that represents their ability," Charlie Nott said.
Meanwhile, secondary school teacher Pete Bowdery told The Independent: "I can't help but feel that teachers are being set up to fail."
"With the government standing back and 'trusting teachers', we will surely see grade inflation like never before."
He adds: "It seems that the decision to give teachers the power is far more political than anything else – the government doesn't want a repeat of last year, so are doing what they can to stay clean."
Assessments descended into chaos last year with the A-level results of thousands of students downgraded due to a controversial algorithm used to standardise teachers' estimated grades, before a U-turn allowed pupils to take original teacher predictions.
With no algorithm used to moderate marks this year, the schools minister said the government trusts "the judgment of teachers" and insisted there are checks to ensure consistency for the hundreds of thousands of students in England hit by coronavirus disruption.
But Dame Alison Peacock of the Chartered College of Teaching said: "We welcome the 'trust teachers not algorithms' rhetoric, however, there is a definite concern that this sudden desire to trust teachers and hand over the process to them is a smokescreen which leads to the government pointing the finger of blame at the profession come results day."
Meanwhile, Jonathan Mountstevens, a deputy headteacher, told The Independent he thought statements over trusting teachers were "irrelevant" as "it is meaningless to trust people to do a job which it is impossible for them to do".
He said: "Teachers cannot award grades with any degree of fairness or accuracy when the evidence used will vary wildly between schools, when there are no standardised conditions for assessment, no common grade boundaries and nothing to anchor grades to any standard."
Mr Mountstevens, of Beaumount School in Hertfordshire, said he also expected teachers to be "under immense pressure from students and parents to mark generously".
But Pepe Di Iasio, a headteacher in Rotherham, welcomed the flexibility granted to schools with assessments this year, saying it was the "right decision".
Under the plans for this year, teachers will be able to use "a range of evidence" when determining grades, including the option of using questions set by exam boards, as well as classwork and mock exams, and pupils will only be assessed on what they have been taught.
"It will certainly be the fairest way to respond to what has been an incredibly difficult year for any young person preparing to sit an exam and nobody would want to see a return to the fiasco of last summer," the Wales High School headteacher told The Independent.
"Students will feel reassured that their teachers know them best and will be able to tailor their assessments to ensure they represent a fair challenge for the learning they have had chance to cover."
William Gill, an A-level student, said he thought teacher assessed grades were "the better option" over exams, as it "limits the pressure on students which was one of the primary aims of cancelling the exams in the first place".
Another student, Charlotte Davis, told The Independent she liked the idea of "mini-exams", with teachers able to "choose what suits and best shows their students", and was happy there would be no algorithm, which she called a "problematic".
A-level student Shai Rutherford said she thought the plan for teacher assessments was the "best solution to a difficult problem" but worried awarded grades could be affected by bias and this could disproportionately affect poor and ethnic minority students - which the government was warned about in last year's grading when teachers estimated marks.
Plans for grading this year have been broadly welcomed by unions, with the National Education Union saying the approach was the "likely the least worst option available".
The Association for School and College Leaders said the system was the "fairest way of giving [students] grades in these very difficult circumstances" and supported flexibility offered, while the NAHT union said plans seemed to "chart a path which avoids the awful chaos of last year".
A poll by the Chartered College for Teaching found their members were split in how they viewed plans, with 41 per cent saying they supported this year's system, with the same figure saying they disagreed with it, and the rest unsure.
Respondents were mainly concerned about "consistency, teacher trust and blame and added workload", the body said.
One teacher, who wished to remain anonymous, told The Independent she thought setting grades will be "tricky for teachers".
"Obviously some will inflate grades – not even on purpose – so grades are going to be very high and less meaningful," the secondary school teacher said.
"The inflation will be up even on last year as I think teachers feel they should be more generous to this year group who have missed out on a lot."
Revealing plans following a consultation into how grading should be done this year, the Department for Education said schools will conduct multiple checks, such as checking consistency of judgements across teachers and that the correct processes were followed, to ensure as much fairness as possible.
At the same time, exam boards will conduct their own checks, through a combination of random sampling and more targeted scrutiny where they identify cause for concern.
But Robert Halfon, the Tory chair of the education select committee, said he was worried there may be a "wild west" approach to grading this year, given variations between schools.
"There's very little standardisation," he told Times Radio. "It's just going to be based on what an individual child has been taught."
Frank Norris, special advisor on education and schools to the Northern Powerhouse Partnership, said: "Without the requirement to establish moderation between schools, there's a real risk that the government's approach will create grade inconsistencies."
On Thursday, the education secretary said exam boards will carry out checks to "root out malpractice" and insisted teacher-assessed grades will be fair.
He said there will also be a "full and fair" appeals system. GCSE and A-level results day will also be moved earlier than usual, to give students more time to appeal grades.
Additional reporting by Press Association
Register for free to continue reading
Registration is a free and easy way to support our truly independent journalism
By registering, you will also enjoy limited access to Premium articles, exclusive newsletters, commenting, and virtual events with our leading journalists
Already have an account? sign in
Register for free to continue reading
Registration is a free and easy way to support our truly independent journalism
By registering, you will also enjoy limited access to Premium articles, exclusive newsletters, commenting, and virtual events with our leading journalists
Already have an account? sign in
Join our new commenting forum
Join thought-provoking conversations, follow other Independent readers and see their replies