Ousted Ofsted chief Baroness Sally Morgan accuses David Cameron of purging non-Tories from public bodies
Education Secretary to dismiss Lady Morgan after weeks of tension with inspectorate as furious Lib Dems complain to Cabinet Secretary over Tories' partisan approach to public bodies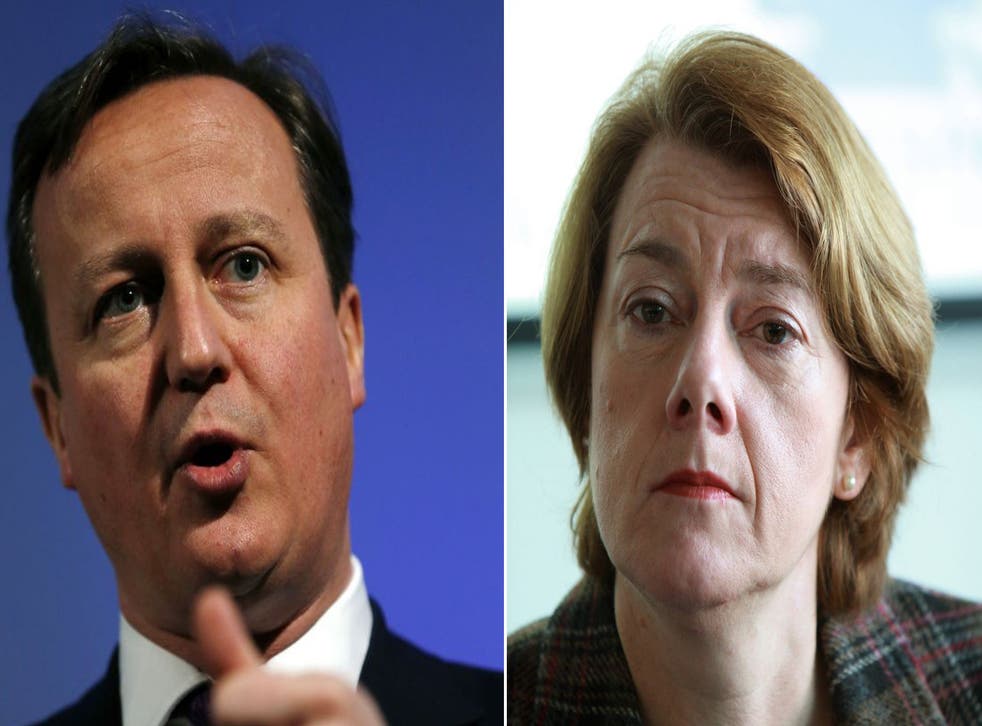 The outgoing chair of Ofsted Baroness Sally Morgan has accused David Cameron of trying to purge non-Conservatives from public bodies after The Independent revealed that Michael Gove would not be renewing the Labour peer's term as head of the schools inspectorate.
Lady Morgan said her removal was part of a pattern which had seen a series of non-Conservative supporters on bodies like the Arts Council and Charity Commission replaced with loyal Tories.
"I am the latest of a fairly long list of people now who are non-Conservative supporters who are not being re-appointed. I think there is absolutely a pattern. It's extremely worrying," she told the BBC Radio 4 Today programme.
The Independent revealed last night that Michael Gove, the Education Secretary, would not appoint Lady Morgan for a second three-year term working for Ofsted.
Mr Gove has decided he wants a fresh face at the watchdog, The Independent disclosed. Her current term, which was due to end this month, will be extended to the autumn while a successor is found but she will not be given a second spell.
Lady Morgan said: "One of the really important things about public appointments is that they are made on the basis of merit and they are seen to be transparently made. I think there is something going on in the centre that's mitigating against that."
"I think there is an absolutely determined effort from No 10 that Conservative supporters will be appointed to public bodies. I think that is an issue for the Cabinet Secretary and the Cabinet Office to look at.
"It has been a quiet, quiet drip. I'm not talking about Labour people being replaced, I'm talking about non-Conservative supporters being replaced by Conservative supporters.
"There is a lot of concern about it. Often they are people who have been working really well with their organisations and, indeed, with their host departments, so I do think this is coming from No 10. I don't think it is coming from individual departments."
The surprise move has infuriated the Liberal Democrats, who are increasingly at odds with Mr Gove over education policy. Nick Clegg is believed to have complained to Sir Jeremy Heywood, the Cabinet Secretary, in an attempt to stop Tory ministers making what the Liberal Democrats regard as "party political" appointments to public bodies.
Lady Morgan, who was one of Tony Blair's closest aides while he was Prime Minister, was appointed by the Coalition in 2011. The move was seen as a coup for the Government because she is a strong supporter of Mr Gove's free-schools policy.
There has recently been tension between the Education Secretary and Ofsted. Sir Michael Wilshaw, the Chief Inspector of Education, was angry about media reports that two right-of-centre think-tanks were considering plans to reform or even replace Ofsted. They include the Policy Exchange, set up by Mr Gove in 2002 when the Conservatives were in opposition.
The Education Secretary had to issue a statement expressing his full support for Sir Michael and promising to dismiss any of his aides or advisers if they were found to be part of any "dirty tricks" campaign, which he denies.
Whitehall sources insist that Lady Morgan's departure is not connected in any way to last month's controversy. Mr Gove decided not to give her a second term before Christmas, when she was informed. The sources said there had been "no row" between Mr Gove and Lady Morgan.
Mr Gove told The Independent: "I would like to record my thanks to Sally Morgan for her tremendous contribution to the work of Ofsted. She has brought great knowledge and insight, leading the board strongly through a period of significant change."
Lady Morgan, 54, said: "Ofsted plays a crucial role in delivering independent inspection that is trusted by the public and particularly by parents. I am proud of helping lead Ofsted through a period of reform that has strengthened our inspections.
"Our tougher regime is driving improvements with more good schools and colleges than ever before. There is also a renewed focus on raising expectations in all parts of the country and for all children, including the most disadvantaged."
However, her departure will cause surprise at Westminster. She was also a champion of the academy schools programme launched by the Blair government, which has been extended with enthusiasm by Mr Gove. She has advised the New Schools Network, which promotes his free-schools policy.
The decision about Lady Morgan is bound to put the relationship between Mr Gove and Ofsted back in the spotlight. The controversy was an unusually public one. Sir Michael admitted he was "spitting blood" about speculation casting doubt over Ofsted's future.
The Education Inspector is believed to have demanded an unequivocal statement of support to allay his fears of a co-ordinated attempt to undermine Ofsted linked to supporters of Mr Gove. Sir Michael made clear in a conversation with the Education Secretary that he would not be intimidated.
Mr Clegg's complaint gives David Cameron and Sir Jeremy a dilemma over public appointments. Selecting the heads of quangos lies in the hands of the Secretary of State but the Liberal Democrats are demanding a say. A similar controversy is brewing over a move by Francis Maude, the Conservative Cabinet Office minister, to give Cabinet ministers more power to choose their permanent secretaries. That has been rebuffed by Sir David Normington, who heads the independent Civil Service Commission.
Profile
Baroness Morgan of Huyton is a former geographer teacher who changed course to become a Labour Party official in 1985.
Seen as the ultimate party loyalist, and a no-nonsense, efficient operator, she climbed the ladder at Labour HQ and held several posts, including director of campaigns.
She joined Tony Blair's office at Downing Street after the 1997 election as political secretary, a key role which included his relationswith Labour MPs. She was made a life peer in 2001 and served briefly as a Cabinet Office minister with responsibility for women before rejoining Number 10 as director of government relations, succeeding Mr Blair's "gatekeeper" Anji Hunter.
Lady Morgan, a mother of two, left Downing Street in 2005. She became a non-executive director at Carphone Warehouse and was a board member of the Olympic Delivery Authority.
Join our new commenting forum
Join thought-provoking conversations, follow other Independent readers and see their replies