Faith schools: Complaints over admissions rise as number of selective religious schools set to increase
'Allowing faith free schools to be even more religiously selective will make a bad situation worse'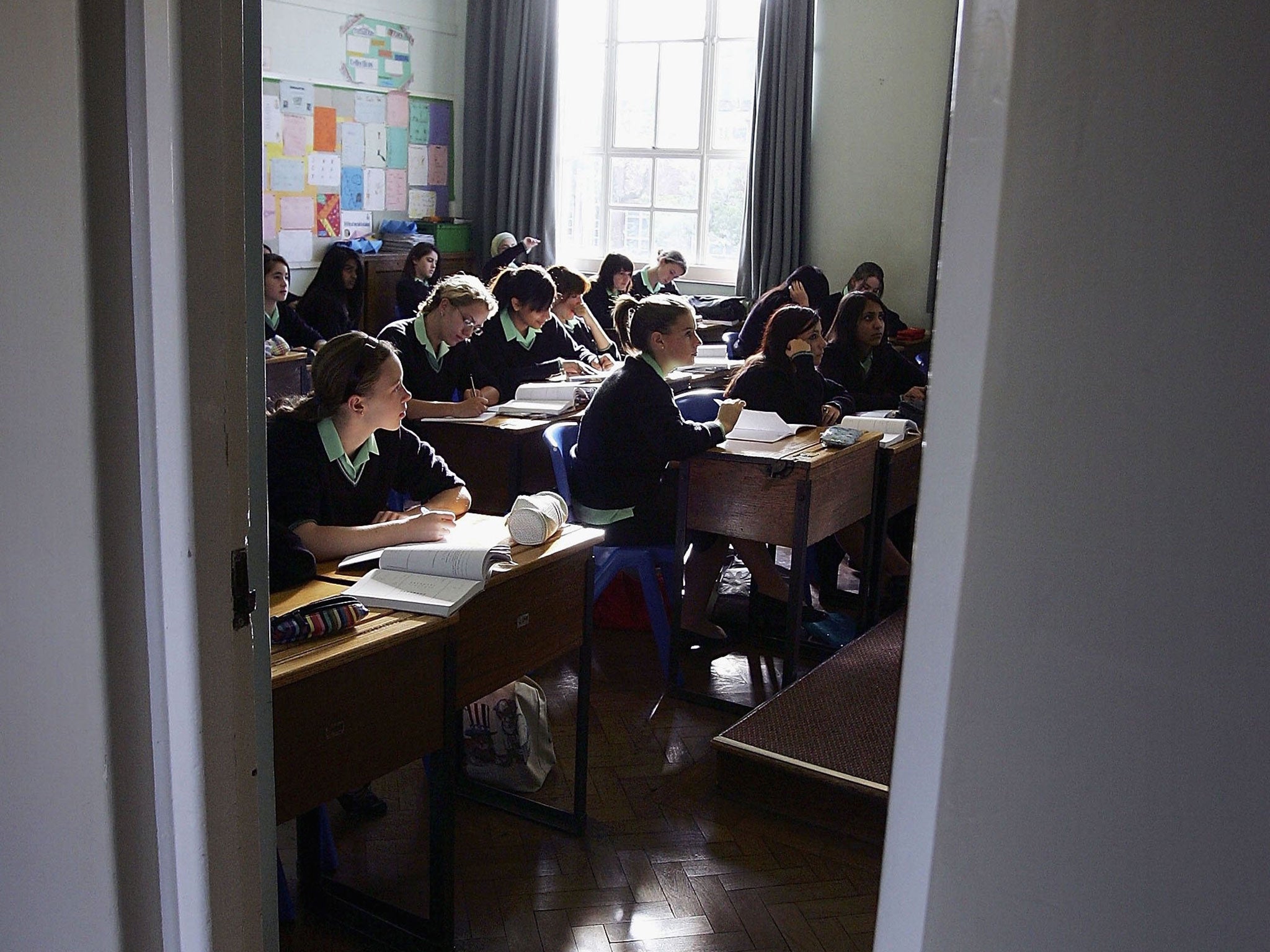 Complaints about faith schools' admissions policies are on the rise as the Conservatives push ahead with proposals that could unleash a new wave of more religiously selective schools across the country.
Many existing faith schools have complex policies for allocating school places when oversubscribed, which critics say advantage more affluent parents over families from working-class backgrounds.
Councils are also concerned children in care are "disadvantaged" by faith schools that give priority to children who belong to the religion of the school over vulnerable children who do not.
A new analysis by The Independent has shown the number of objections about religious selection made to the school admissions watchdog increased by 10 per cent in the past year.
From February 2017 to January 2018 there were 23 objections about faith-based admissions, up from 21 objections the year before. Over the two-year period, 33 of the 44 faith objections were upheld or partially upheld.
Meanwhile, faith-based admissions arrangements were the biggest reason for complaints to the Office of the Schools Adjudicator (OSA) over the past 12 months.
Education Secretary Damian Hinds is said to be pushing ahead with plans to abolish a cap on new religious schools that stops them from selecting more than half of their pupils from their religion.
In light of the new findings from The Independent, critics have warned that allowing new faith schools to take fewer pupils from different backgrounds "will only make a bad situation worse".
A report from the social mobility charity Sutton Trust in March last year suggested faith schools were among the most "social selective" of top state schools in the country.
Conor Ryan, director of research and communications at the Sutton Trust, told The Independent that he did not think the 50 per cent cap in new faith schools should be lifted.
"We think it is important that new faith schools are open to a wider group in the community. The danger [with removing the cap] is that you lose the community focus," he warned.
Earlier this month, Shan Scott, the chief schools adjudicator, noted in her annual report that a number of faith schools gave priority to families attending a place of worship, but she added they "did not make clear" how often they had to attend, or how long they had to have practised the religion for.
Reverend Stephen Terry, chair of the Accord Coalition, which campaigns for inclusive education, said: "Choosing pupils on religious grounds is inherently more complex and so more open to manipulation and error than other kinds of selection. It is consistently shown to advantage children from affluent families."
The OSA did not set out how many of the objections were about faith schools, but our analysis found that almost a third (30 per cent) of complaints lodged over the past two years were about faith-based admissions.
And of all the objections upheld or partially upheld by adjudicators in the past two years, from February 2016 to January 2018, 37 per cent were about faith-based admission arrangements.
A number of the objections were about supplementary information forms, which parents or guardians have to complete with details such as attendance at worship.
In November last year, one Catholic school was urged to remove the words "mother" and "father" from the school admission form after a parent said it discriminated against gay or step-parents.
Mr Terry warned: "Allowing faith free schools to be even more religiously selective will only make a bad situation worse."
If the Government goes ahead with proposals to lift the cap on faith-based admission, new Catholic free schools could be opened in areas where there is growing demand.
Helen Bates, assistant director at the Diocese of East Anglia Schools' Service, is hoping to open eight new Catholic schools in the East of England as she said there has been an influx of people from Catholic countries moving to the area.
But Ms Bates acknowledged that some faith-based admissions policies for schools can be confusing and can disadvantage working-class families.
She said: "There has been confusion among admission appeals panels about what evidence you need to show practice."
The East Anglia service does not ask for proof of church attendance from a priest, but ask for children to be baptised.
"Asking for a family to do flower arranging in the church every week does penalise parents that are working on Sundays and who don't have the flexibility that other parents have," Ms Bates added.
But some critics believe introducing new faith free schools will make the whole system more unfair.
Layla Moran, education spokesperson for the Liberal Democrats, said: "It is more important than ever for our children to interact with people their age of different backgrounds and faiths. Enforcing division, which the children themselves have had no say in, is only damaging to society."
She added: "The Tories seem hell-bent on segregating our children in any way they can, whether it is in pursuit of more grammar schools or faith schools. History has taught us the dangers of segregation, we must not encourage it in the next generation."
A spokesperson for the Catholic Education Service said: "The schools admissions code is incredibly complex and is accompanied by hundreds of pages of legal framework.
"Whilst we expect all schools to keep to the code, most discrepancies around clarity are unintended admin errors. This is something that affects all schools not just those with a religious character."
The spokesperson added that they have been working closely with the Department for Education to develop the Certificate of Catholic Practice – a certificate signed by a priest as proof of a pupils' faith – in order to make sure school admission policies are clear and fair for parents.
A Church of England spokesperson said: "It is not clear from the OSA's report what proportion of the 89 complaints that were upheld or partially upheld were about admissions policies to our schools. The majority of our 4,700 schools do not use faith-based oversubscription criteria."
A Department for Education spokesperson said: "All state-funded schools, including faith schools, must follow the School Admissions Code. Objections against a school's admissions policy can be made for a range of reasons and not all of these relate to the faith of a school."
"The Government is committed to offering parents and children a diverse education system with a variety of high quality providers, including faith schools. We will be responding to the Schools that Work for Everyone consultation, including plans for the faith cap, in due course."
Join our commenting forum
Join thought-provoking conversations, follow other Independent readers and see their replies