Far-right activity at universities rising as more young people deny Holocaust, experts warn
'There is no excuse for not knowing the full extent of the horrors of the Holocaust'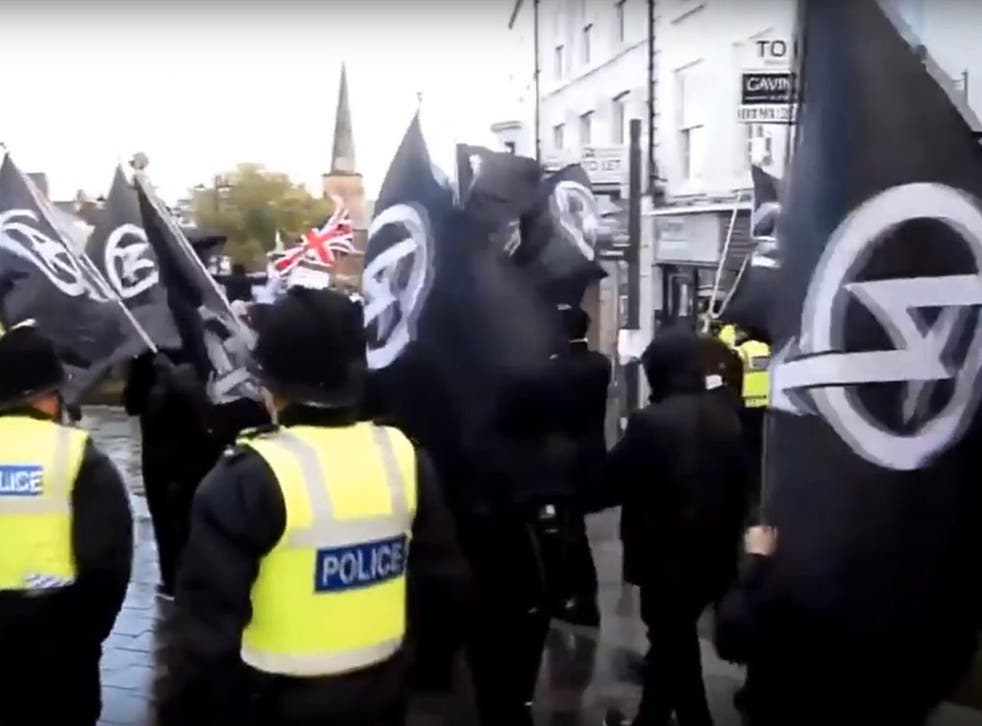 Far-right activity on university campuses is rising and Holocaust denial is becoming more prevalent among the younger generation, experts say.
As the number of Holocaust survivors continues to decline, and their first-hand testimonies will no longer be heard, the situation is likely to get worse, anti-racist researchers have warned.
Holocaust denial leaflets and posters, as well as antisemitic graffiti including swastikas, have emerged on campuses across the UK in recent years as more far-right activists target students.
The warnings come as data, collected by The Independent, shows that antisemitic incidents were reported at 19 UK universities between 2015 and 2017, with the number nearly tripling in two years.
And there are concerns that the scale of the problem could be much greater due to underreporting, as experts say that antisemitic remarks made online often cannot be easily tracked and tackled.
UK news in pictures

Show all 50
Ahead of Holocaust Memorial Day, Joe Mulhall, a researcher at anti-racism organisation Hope Not Hate, warned that Holocaust deniers are now more likely to be students than in previous years.
Mr Mulhall, who is a trustee of charity Holocaust Memorial Day Trust, said: "There was a time when Holocaust denial in the UK was an increasingly ageing pursuit. It was elderly men in duffel coats.
"With the internet, we have started to see a younger, newer generation of Holocaust denial emerging, which ties into things like the alt-right, and that is really really concerning."
After monitoring far-right forums, including neo-Nazi forums, the researchers have seen a growth of younger people denying the Holocaust in a "jokey style" through social media and online forums.
"Every year we get closer to the stage where there will be no survivors and first-hand testimonies. As these things fade deeper into history, people who are trying to destroy the truth of the Holocaust may begin to find it easier," Mr Mulhall warned.
The Community Security Trust (CST), which monitors antisemitism, has found online abuse is harder to track. Dave Rich, head of policy for the CST, said: "We do believe that incidents go unreported where Jewish students feel that they cannot change what has happened, especially online."
But students are also concerned about antisemitism and far-right extremism on campus – including swastika graffiti and Holocaust denial leaflets – rather than just online.
Mr Rich added: "There has definitely been an increase in far-right activity on campuses, whether this is from students or from far-right activists coming on to campus to put up their posters and stickers."
Last year, a group of men who spread neo-Nazi stickers around Aston University campus and performed a Hitler salute were found guilty of attempting to incite racial hatred.
Data, from freedom of information requests by The Independent, shows that antisemitic incidents reported to UK universities have risen – from three in 2015 to eight in 2017. However, many universities did not disclose the number of incidents as they said it risked identifying complainants.
Incidents took place on campuses of at least seven Russell Group universities – including Durham, where a student made antisemitic comments towards another student.
Holocaust denial posters and leaflets were distributed on the campus of Glasgow Caledonian University in 2017. And in the same year, a complaint was made at Sheffield Hallam University after a student made an anti-Zionist outburst during a seminar.
Fourth-year student Gabe Milne, who is president of the Jewish Society at Sheffield University, said he has experienced antisemitism throughout his university life.
He said: "It is often centred around jokes about the Holocaust or the use of the word 'Jew' as an insult. I've seen them mostly online but had a couple said to my face.
"One such example was, 'What's the difference between Harry Potter and the Jews? Harry Potter escaped the chamber'. Usually people who tell them to me haven't realised I'm Jewish.
"There is no excuse for not knowing the full extent of the horrors of the Holocaust, and cheapening Jewish people's suffering so carelessly, as these kinds of jokes do, is completely unacceptable."
Support free-thinking journalism and attend Independent events
A Union of Jewish Students spokesperson said they had seen "increasing trivialisation" of the Holocaust, with graffiti on campuses and students using Nazi imagery as jokes at parties.
They added: "It is the job of all of student society to counteract antisemitic language and imagery."
A Universities UK spokesperson said: "Universities take all forms of hate crime extremely seriously and all students and staff are entitled to a safe and positive experience at university."
Register for free to continue reading
Registration is a free and easy way to support our truly independent journalism
By registering, you will also enjoy limited access to Premium articles, exclusive newsletters, commenting, and virtual events with our leading journalists
Already have an account? sign in
Register for free to continue reading
Registration is a free and easy way to support our truly independent journalism
By registering, you will also enjoy limited access to Premium articles, exclusive newsletters, commenting, and virtual events with our leading journalists
Already have an account? sign in
Join our new commenting forum
Join thought-provoking conversations, follow other Independent readers and see their replies